Sports field represents a piece of Cal High history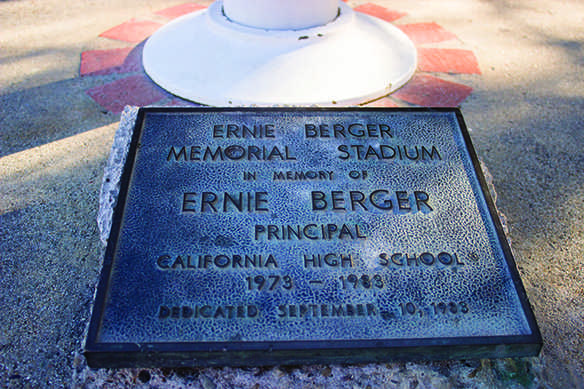 If you have ever been to a Cal High football game, or even walked the track during P.E., it is hard to miss the name of Ernie Berger on the scoreboard at the far end of the field.
The majority of people who see this name wonder who Ernie Berger was, and why Cal's home stadium is named after him.
Cal opened in 1973, in what was then San Ramon Village, before becoming the incorporated city of San Ramon 10 years later.  The school began under the leadership of Ernie Berger, Cal's first principal.  
Originally, Berger led Cal as an intermediate/high school, with students from grades seven through 10.  A few years after it opened, Cal added 11th and 12th grade classes.  In 1977, when Pine Valley Middle School opened, Cal became a traditional high school.  
Berger died of cancer in 1983.  The school's vice principal, Phil White, took over for Berger in 1983.  As an honor to Berger, Cal named its home sports stadium, "Ernie Berger Stadium," in 1984.
Longtime Cal math teacher Gary Triebwasser remembers Berger fondly.
"He was a quiet guy, and believed in a self-governing form of staff," said Triebwasser.  
Berger hired the original staff, all between the ages of 24 and 35 years old.  Berger hired teachers around the same age so they would work better together, which emphasized his belief in teamwork.  
Triebwasser said the original staff all got along very well, and his first years at Cal were "extremely fun."
"Berger didn't try to impose his will on the faculty," Triebwasser recalls. "During a faculty meeting, he was almost always silent and let the staff decide what they wanted to change."
Added retired science and computer teacher Steve Armstrong, "Ernie was a very personable man. He took you for your word, and he trusted all of the teachers."
As a last thought, Cal's snack shack should definitely sell Ernie Burgers. They would make a fortune.