Local bands rock San Ramon at concert
The third annual Teen Rock Band Showcase should have given out bread for all these jams.
The event held on Jan. 26 at the San Ramon Community Center was hosted by A Brighter Day, an organization created in 2015 by Elliot Kallen. He was the father of Jake Kallen, a teenager who sadly took his own life in January 2015.
The Lafayette-based organization aims to help teens improve their mental health and destigmatize the issue of mental illness, using music as a tool to reach a large group of teens.
Over the past three years that A Brighter Day has hosted the concert, the organization has managed to help more than 10,000 kids in the San Ramon and Danville area.
The turnout for this year's battle of the bands concert exceeded expectations, as 15 bands performed, including two Cal High bands.
Each band was given 10 minutes to play on stage and wasjudged by their performance andtheir creativity.
The bands that performed displayed a wide range of rock music from punk rock to classic rock.
Many bands performed original songs as well as playing covers for songs, such as "Basket Case" by Green Day.
The show had a great atmo-sphere as everyone enjoyed anice night while supporting their friends and family.
The rst Cal band to performwas Believe me Brother, and they absolutely killed it. They performed multiple original songs such as "Beef," which had a very energetic pace to it.
Lead Guitarist Bennet Agu- irre, who has been playing guitar for two years, said they choose their songs based on the energetic sound.
"It felt like a great connection and it was really fun having my friends out there supporting us," said Aguirre, a sophomore.
Believe me Brother has been together for about a year and a half and has been performing at shows for six months.
There were also some great performances from other bands such as Step Back, which fea- tured a female lead singer. Their performance of songs such as "Sweet Dreams" had the crowd rocking.
The second Cal band, Tier 9, had a very unique sound and featured saxophonist BrandonAmor, a junior who has been
playing the saxophone for seven years and added a great sound to the performance.
It was very obvious that this band has been together for multiple years as they hyped up the group of teens in a second.
Overall, students and parents alike agreed the performances were outstanding.
"The bands are absolutely amazing and the all-female band really was awesome,"said junior Courtney Harlan,who saw all 15 bands perform.
Other students agreed.
"The moshing and music isgreat," junior Jake Major said. "It's just all so good."
The winning band was award- ed at the end of the night after being voted by the audience.
The San Ramon Valley High band Raukh had everyone dancing, or at least nodding their heads along, to their award-winning set. The lead singer displayed an outstanding voice as the rest of the band tore up the stage.
This is de nitely an eventstudents should check out next time it comes to town if you have any interest in music since all the bands put on a great show for an even greater cause.
About the Writer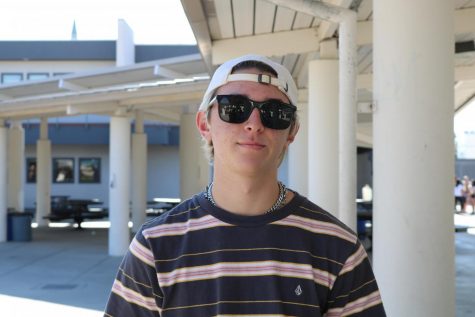 Aidan Trejo, Staff Writer
Aidan Trejo is a senior at Cal High and this is his third year for writing for the Californian. He has written in various sections such as A&E, News...