Food icons put to the test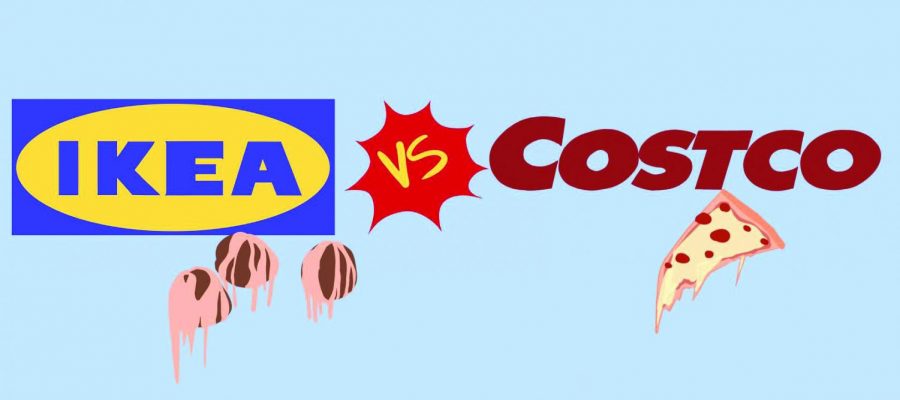 After a long, hard day of shopping, whether you've been weaving through the aisles of Costco or finding yet another one of IKEA's secret passageways, a warm meal never fails to hit the spot. 
But when it comes to the question of which renowned food court reigns superior over the other, things get a little more tricky.
I decided to answer that unanswerable question, and pit the two against each other. 
I graded the meals based on their presentation, taste, and the overall experience. 
IKEA 
I tried Ikea's chicken tenders ($6.99), the salmon filet with dill sauce and veggie medallions ($6.99), and the princess cake ($2.99). 
I meant to have the Swedish meatballs as well, but they were out of chicken meatballs. This was a little disheartening, I'm not going to lie. IKEA is known for its Swedish meatballs, and I'd heard a lot of good things about them. Although they did have vegetarian ones, I wasn't in the mood, and passed on them altogether.  
The chicken tenders tasted great, but had the worst presentation, nothing more than a few chicken tenders under a pile of French fries on a plate. But it was to be expected, since they're more of a snack than anything else.
The salmon fillet and dill sauce were also nice, but the veggie medallions, which were just mashed cauliflower, potato and broccoli pressed into fried patties, fell short. They were vaguely tasteless and soggy enough that the inconsistent texture ruined the entire experience of chewing.
Out of all the food I tried at IKEA, the princess cake was the real winner. 
Though strange, the presentation was the best out of all the dishes. It was covered with pink or yellow marzipan, with chocolate icing drizzled across it. A thin layer of raspberry jam separated the vanilla ice cream and spongy cake filling.
I thought it was a balanced dessert. I don't have a huge sweet tooth or appetite, so it was a nice way to finish the meal. 
Eating at IKEA was quite a relaxing experience. Although the store is usually busy to some degree, the food court is pretty calm, depending on the time of day.
Since it's located at the very end of the top floor, it's fairly isolated from the rest of the store.  
It was also remarkably well decorated. The walls of the cafeteria were adorned with paintings and intricate lamps, which made sense for a furniture store.
Costco
I bought a slice of cheese pizza ($1.99), the chicken bake ($2.99), and a churro ($1) at Costco.
The presentation for all three was bare minimum, served on a paper plate with a napkin if necessary. But it has to be conceded that Costco pizza is superior for a reason. A beautiful, greasy, cheesy reason. 
It was a fairly large slice, and although I usually don't like when the cheese is burnt in places, I thought it tasted really good. It took me a while to finish it, and even then, I had to pack up half of the slice to finish at home. It was definitely satisfying, if a bit oily.
I'm a picky eater and tend to read books by their cover, so I probably wouldn't have tried the chicken bake if I'd known its contents before taking the first bite. 
 The fluffy bread is stuffed with chicken, three kinds of cheese, bacon, and Caesar salad dressing.
The Caesar salad dressing in particular struck me as odd. Despite the unexpected choice of components, it adds up to a surprisingly interesting and somewhat addictive flavor. 
It's a pretty large serving, similar to the pizza, so I set it aside to eat later. 
The churro was definitely something I'll eat again. It was a length of fried dough longer than my forearm covered in cinnamon sugar, and it tasted heavenly. 
The size of it, like the other Costco dishes, made it difficult to eat in one go, though. 
Compared to IKEA, the experience at Costco falls somewhat short.
Costco is essentially a huge warehouse with a food court at the end. It's almost always noisy, and usually either busy or eerily empty. 
The tables are fairly standard, with the seats and tables painted red. The umbrellas add a nice kick to the atmosphere, but the fluorescent lighting grates on the nerves.
IKEA is definitely similar in theory, but in function, the layout of the warehouse and its different sections and rooms gives the food court its own ambiance. 
Though Costco may have a bland appearance, it has another virtue: its accessibility.
No one in their right mind is going to drive to IKEA in Emeryville on a weekday because they're craving meatballs. 
But Danville Costco is closer, than IKEA. It's just a more feasible place to eat at regularly. 
When it comes down to it though, the IKEA food court is better suited to an occasional splurge, and well deserved after struggling through the twisting maze of its halls. 
Costco trips are more casual, and the food is the same way, though ultimately satisfying.
About the Contributors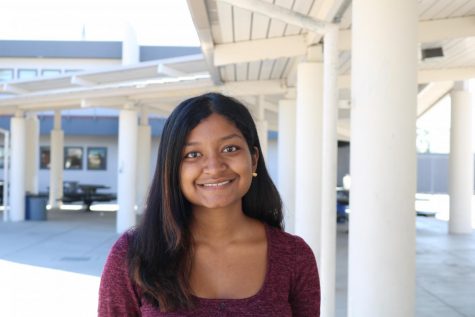 Varsha Ravi, Managing Editor
Senior Varsha Ravi is a managing editor in her second year with the Californian. Her favorite story she has written for the paper is her review of the...