New production brings attention to the arts
Remember kaleidoscopes, those fun cylinders given to us as kids, with colorful, geometric shapes inside? 
Well, that's the idea for this year's performing arts concert. 
Cal's performing arts department will host Kaleidoscope on April 25-26. The show will feature 20-minute performances by the dance, choir, theatre, and band departments. Ticket  prices will be released next month.  
The show will include numerous different scenes, songs, and dances performed on stage and even in the audience. So when one performance is done, another will begin in a different part of the theatre. 
This makes the audience turn their heads in all directions to look at all the different talents happening around the room, replicating the feeling of looking through a kaleidoscope.
"We did something like this five years ago, and we sold out, it was a huge hit," drama teacher Laura Woods said. "The idea behind a kaleidoscope concert is that there is no applause in between. You're listening to a solo singer, but then there's another scene happening and the quartet comes out, and there's dancers coming down the aisle, and you're constantly looking through a kaleidoscope at the different movement." 
The idea behind getting all the performing arts together for one show is to bring attention to these arts and recruit more students to the programs next year.
Although this performance may not be as big as the school musical that's generally performed by drama, Kaleidoscope will be a large show that requires a lot of technical support.
"I've never heard of them extending the stage before this year, so that should be interesting," said junior Andrew Simpson, who is in the play production class. 
Woods, choir teacher Nicholas Patton and band teacher Kent Johnson agreed that it would be a good idea to bring more attention to the school's performing arts as a whole.
"All the performing arts teachers wanted to bring visibility to our programs, so we all wanted to do something collaborative," Woods said.
Despite its seemingly exciting outcome, the creation of Kaleidoscope is going to be a lengthy process for all involved. 
"It's a ton of work," Woods said. "We need everyone on board. It's an eight-week rehearsal process."
Since Kaleidoscope is going to be a combination of the different performing arts programs, it will bring together students who normally wouldn't perform together. 
"I never really thought about the idea of working together but once Mr. Johnson told us that we were going to this year, I started thinking about how cool and exciting it would be to be able to show people all of our talents through this show," said junior  band member Jewel Cha. "I'm glad we have the opportunity to join other performing groups and I look forward to Kaleidoscope." 
But not all students are excited about replacing the musical.
"It makes me sad that there won't be a musical this year because I had considered auditioning and I was unable to do it last year," said Alexis Rauba, a junior in chamber choir. 
Some students even feel a strong distaste for the change in this year's production. 
"I feel this whole production is a takeover of what our little theater has, which is our production," said Michela Slaydon, a junior in Theatre 3 who was looking forward to the musical. 
Though there are some students who are upset about the change in production, many still love the art they perform and are happy to share it with the public. 
"Choir is like a family," Rauba said. "It's a very accepting and positive environment. Choir has made my life so much better." 
But the show isn't just for students in band, choir, theatre, and dance. 
Kaleidoscope has even been offered to any student with a performing art talent, from singers and actors to comedians and dancers. These students, who don't have to be in a performing arts class, had to audition a short performance earlier this week. Those selected will be included alongside the performances from choir, band, dance and theatre. 
The teachers involved hope to bring in more students to their departments. They even hope eighth-graders in the area and their parents also come to see the show to encourage incoming freshman to join. 
About the Writer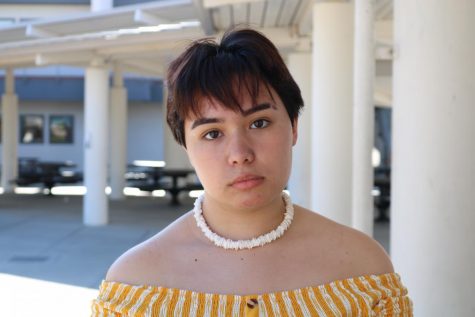 Ceci Musgrove, Features Editor
Ceci Musgrove has been in the newspaper class for the past two years. As a senior, they are one of the two features editors. Last year they were a reporter...