Some students choose military after graduation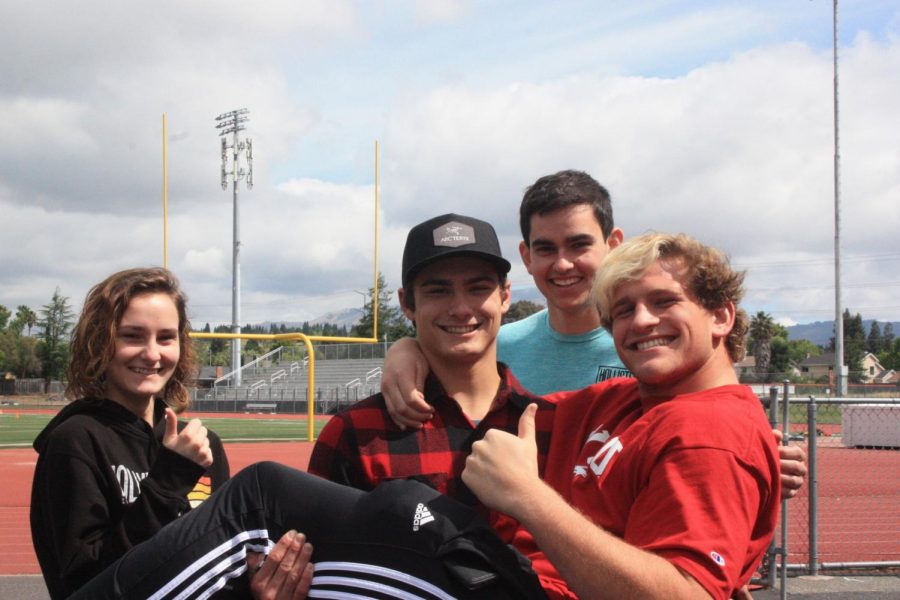 With the school year drawing to a close, the majority of seniors look forward to joining thousands of other bright-eyed freshmen at our nation's countless universities. 
But some seniors feel a duty to join a much more exclusive group.
Less than one percent of the entire population of the United States becomes an active duty member of the armed forces. This low percentage is because joining the armed services has never been described as an easy task.
But these seniors are prepared to endure all adversity to achieve enlistment in their respective military branch and goals within and beyond.
This year Cal High has seven Grizzlies joining either ROTC programs or enlisting in the military after graduation: Samantha D'Arpino, Josh Ferrer, Ezekiel Nunez, Luke Nye, Aiden Otero, Cole Waskey, and myself, who is joining the Marines.
Otero is commissioning at the Naval Academy in Annapolis with the goal of becoming an officer in the Marine Corps. 
"I want to join the Marines because they are the first in," Otero said. "It's a group of dedicated warriors who answer the call to be the spearhead of any military operation." 
Enlisting in the Navy is Joshua Ferrer. 
"Traveling the world and meeting people around it is what peaked my interest for the Navy," said Ferrer, who is enlisting as a medical technician, a practical education he hopes to take advantage of. "The Navy does just that [allows for travel] and allows me to get an education at the same time."
Nye, Nunez, and D'Arpino are all joining the Air Force.
Nunez is already a member Air National Guard out of Moffet Federal Airfield and plans on becoming an active duty Airmen after graduation.
"For anyone considering the military, I'd say talk to a recruiter," Nunez said. "Recruiters are generally nice people but you have to understand they have a quota for recruiting a certain amount of people."
Nye is joining an Air Force ROTC program.
"ROTC is a great way to pay for school and serve my country at the same time, so it's a win-win situation," Nye said. "Both my parents were in the Air Force."
D'Arpino is enlisting in the Air Force shortly after high school.
 "I want to help people and the benefits are a great incentive," D'Arpino said.
Waskey is joining an Army ROTC program. 
"It [the military] represents a really rigorous lifestyle I want to be in," Waskey said.
To other students considering the military Waskey recommends following your heart. 
"If you want to do it definitely do it," Waskey said. "People are going to tell you not to but if it's something you want to do be yourself."