San Ramon community joins in support for the Black Lives Matter movement
Protests in cities throughout the Bay Area bring attention to police brutality and racism in America
Hundreds of people swarmed the streets of San Ramon and surrounded City Hall the afternoon of June 3 in support of the Black Lives Matter movement.
In coordination with the San Ramon Police Department, the peaceful protest lasted from 5-7:30 p.m. and followed other similar protests in Dublin, Livermore, and Pleasanton earlier in the week.
These peaceful protests were very different from the ones that happened in Walnut Creek and throughout Alameda County. Riots and lootings happened throughout Alameda County in cities such as Oakland and San Leandro. During the looting of stores in Walnut Creek, police set off tear gas and one woman was even shot in the arm, according to Berkeleyside.
Neighboring Danville, which is a few miles south of Walnut Creek, promptly canceled its protest, set a curfew, and boarded up stores after the incident in Walnut Creek.
At San Ramon's protest, there was a diverse set of races that came together in solidarity to express their frustrations with police brutality in the wake of the death of George Floyd, a 46-year-old African American man who died on May 25 after Minneapolis police officer Derek Chauvin kneeled on his neck for 8 minutes and 46 seconds.
"It was important to see my community stand up for people who look like me who face daily injustices not just from police brutality, but [also] racism from peers and strangers," current Cal High senior Mona Abbas said. "People were genuinely passionate about this whole movement."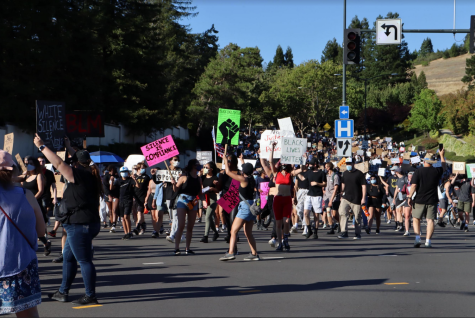 The planning and the buildup to San Ramon's protest turned out to be successful as many people showed up to make their voices heard.
"I think to see all the different backgrounds and ethnicities, this is what our community is," Courtney Smith told the Pleasanton Weekly. "We are not just one demographic.We are a whole lot of different people and this shows it right here. I can't be proud enough to say I am from San Ramon because we do care too."
The protest began at Valley View Park behind the Safeway shopping center at Bollinger Canyon and Dougherty roads. Protestors marched west on Bollinger Canyon Road to City Hall, where there was a rally and speeches by many people. Streets were shut down by police to ensure the safety of everyone involved.
"What we witnessed with George Floyd, there is no place for it in our profession. It has certainly cast a dark cloud over our entire profession," San Ramon Police Chief Craig Stevens told the Pleasanton Weekly. "That is going to take a lot of work and effort on the part of law enforcement throughout the world to try to overcome and get past this."
People have been protesting worldwide for the past few weeks in support of the Black Lives Matter movement despite the ongoing coronavirus pandemic. Many people believe the issue of racism and discrimination have reached the point where this moment in history is so important they have to be heard instead of staying home silent while sheltering-in-place.
Many doctors and medical works have also been supportive of the ongoing protests. Medical workers in New York held a rally which was organized by a group called White Coats for Black Lives.
"If people were to understand that racism, and all of the social and political and economic inequalities that racism creates, ultimately harms peoples health, they would see that protest is a profound public health intervention, because it allows us to finally address and end forms of inequality," Dr. Rhea Boyd told Time magazine.
So far, the worldwide protests continue to have a profound impact on Floyd's case as well as police reform.
Chauvin, the police officer who kneeled on Floyd's neck before he died, had his charge upgraded to second-degree from third-degree murder, and the three other officers who were with Chauvin and witnessed Floyd's death have also been charged with aiding and abetting murder.
Cities all over the U.S. are banning the use of choke-holds by police and many are pushing to cut funding to their police departments and redirect the money toward community-focused programs for people of color.
In Washington D.C., Mayor Muriel Bowser renamed a street leading to the White House Black Lives Matter Plaza and had Black Lives Matter painted in a bold yellow along the street.
As the cry for reform in the police force continues and the awareness of racism spreads through protests and activism, protesters are still going strong with the determination to make change happen. This has made 2020 an even more historically significant year in history.
"When my kids or grandkids ask me if I was there protesting, if I had to be there, I [will] have to tell them yes," Abbas said.