High school sports start date gets pushed back even further
New health guidelines prohibit any competitions until at least Jan. 25
When sophomore water polo player Briana Farias heard that the upcoming season was being pushed back yet again, needless to say she was disappointed.
"This would be my first season playing water polo ever," Farias said. "I was really excited to play, and when I found out the season start date got pushed back again, I was bummed out."
High school athletes have been sidelined since mid-March when the California Interscholastic Federation (CIF) put prep sports on hold because of the coronavirus pandemic. The CIF postponed the fall sports season this summer and athletes were expected to start officially practicing on Dec. 7.
But the CIF announced on Dec. 1 that the December start date for Season 1 sports – football, water polo, cross country and song/cheer – was pushed back Jan. 1, 2021 at the earliest because of the increased number of California's counties entering the most restrictive purple tier.
When the CIF made this decision, it did not expect the California Department of Public Health (CDPH) to issue any guidelines allowing for school sports to return to full practice and competition until after Jan. 1, 2021, according to its statement.
But the CDPH released new guidelines on Monday stating no competitions can begin until Jan. 25. It also categorized sports into the state's four colored tiers: purple (widespread risk of coronavirus), red (substantial), orange (moderate), and yellow (minimal).
What this means is that only outdoor sports that include minimal contact – cross country, golf, swimming, tennis, and track and field – can be played when counties are in the purple tier. Outdoor sports with moderate contact such as baseball, girls lacrosse and softball can be played in the red tier. Currently, every county in the Bay Area is in the purple tier, and there are only three of California's 58 counties that are not in the most restrictive tier.
High contact outdoor sports such as football, water polo and soccer, and low contact indoor sports like volleyball, can't be played until a county is in the orange tier. The last time the county was in the orange tier was early November. Indoor sports with high- to moderate contact like basketball and wrestling are only allowed in the yellow tier, a tier Contra Costa hasn't experienced in nearly two months.
As a result of the new CDPH guidelines, all Season 1 athletes excluding cross country runners will be waiting even longer before heading back to competition. The news is hitting some students especially hard.
"I was heartbroken, to be honest," said senior Anthony Green, a wide receiver for Cal's football team. "A lot of us are seniors, so it was definitely hard news. We've been working for this team for four years, and to have our last season be postponed again was hard to accept. I understand the health reasons for postponing the season, but it's still difficult."
There also have been other major changes, such as the men's volleyball season being pushed to the spring season. The girls golf team was moved to the spring as well when the CIF originally postponed the season last summer.
"The change for the girls was the most disruptive as the entire season was shifted to spring," girls and boys golf coach Mike Pottinger wrote in an email. "We hope they will still be able to compete at the same time as the boys with few issues or golf facility conflicts."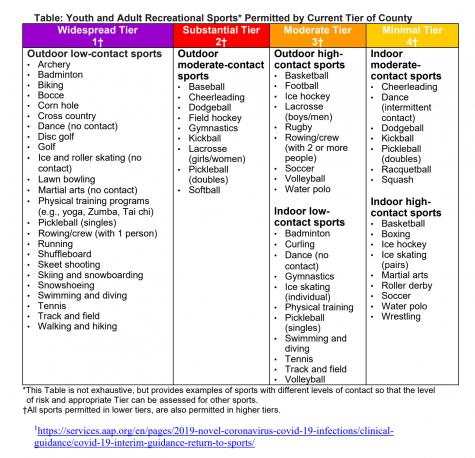 Both athletes and coaches expressed disappointment by the changes, but they say that the outcome was unavoidable.
¨Most [athletes] are expressing disappointment and understanding,¨ said Nick Shea, Cal High's fifth-year cross country coach. ¨For so many, athletics is a part of our identity and when you've cultivated a part of who you are around sports, and to have that one consistent presence in your life being put on hold, that can really throw a wrench into things."
Because of the postponement of Season 1 sports, it's not known how the start of Season 2 sports – which now combines all winter and spring sports, plus the two fall sports that were moved – will be affected. These sports were originally expected to begin in February and March.
When the CIF made its original announcement in late July, new sports calendars indicated that soccer would open practice on Feb. 22, while swim/dive, tennis and wrestling would begin March 8. All other sports were slated to open practice on March 15.
"I haven't heard anything yet about it [ start date of Season 2 sports ] Right now everything is about fall sports getting pushed back," sophomore swimmer Megan Nguyen said. " Hopefully we hear something about it soon."
Like Nguyen, many other athletes are waiting to hear more about their seasons.
"It's definitely a little dispiriting when the sports seasons keep getting pushed further and further back, said sophomore Tiarre Vasconcellos, who runs cross country and plays lacrosse for Cal. "But of course, I understand that we have to wait in order to stay safe."
Student athletes across the board are upset about their seasons being postponed, but many of them have been able to still practice since September when the San Ramon Valley Unified School district approved Small Group Activities (SGAs). These allowed for a maximum of 12 players to work with one coach for up to four weeks.
Unfortunately, the school board put SGAs on hold until at least Jan. 19. Before SGAs were approved, teams were not allowed to get together in person but were able to have their players practice individually through Zoom.
But with the state and county's current situation, most students realize that the decisions being made are for the best.
"No one was prepared for a pandemic, so there is no right or wrong way," senior water polo player Jackie Holden said. "They are doing their best to have sports seasons continue."
Sports editor Andrew Sousa contributed to this story.