Outdoor sports are back
Student athletes return to the fields, pools, tennis courts and golf courses for the first time in nearly a year as CIF gives green light to play again
After an 11-month hiatus because of the coronavirus pandemic, students who participate in outdoor sports are finally back in action.
All outdoor high school sports throughout the state were given the green light to fully return on Feb. 26 regardless of county tier status if the COVID-19 adjusted case rate is equal to or less than 14 per 100,000, according to California Interscholastic Federation (CIF) guidelines.
Contra Costa is one of two Bay Area counties that remains in the most restrictive purple tier, but it could be moving the red tier soon. The county had an adjusted case rate as of 9.4 per 100,000 as of March 8, according to covidactnow.org.
The new CIF guidelines, which were most recently updated on March 2, also call for student athletes playing football and water polo to be tested for  COVID-19. The San Ramon Valley Unified School District also has its coaches getting weekly COVID tests on campus.
Many students and coaches are relieved that outdoor sports are now in session and feel that it is safe to return to play.
"The protocols in place are sound," Cal High swim coach Ross Dautel said. "They were reviewed and bedded at the state and county level using the Californian Public health guidelines."
The CIF, which governs high school sports throughout the state, issued a list of guidelines and modifications for each sport in January. Protocols such as social distancing and wearing masks that have been in place are consistent from sport to sport, but some teams are required to take extra precautions.
For example, golfers are discouraged from touching the flag stick or rakes in the bunkers, while tennis players are encouraged to use new balls or spray used ones with disinfectant spray at the end of play.
"We are not allowed to share equipment either," junior golfer Leah Keswani said. "We also do not have as many practices because we are not allowed to meet all at once."
Most coaches of purple tier teams feel that their sport follows the CDC guidelines without an issue and that the students are doing a good job following them.
"Swimmers enter the pool and make their way to separate sides of the pool," Dautel said. "Maximum of three swimmers per lane, socially distanced from the team. The mask is worn outside on the pool deck and is the first thing on, last thing off."
Unlike indoor sports, which still can't be played, outside sports also allow for good airflow so the coronavirus is not trapped in a contained area. There's also more room for student athletes to distance themselves.
"I think for other sports like cross country and tennis, [students] are also able to stay away from each other, so I feel it is safe for purple tier sports to return," Keswani said.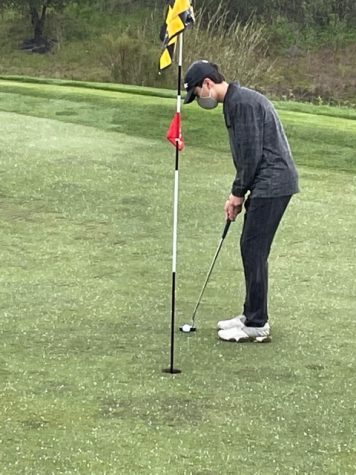 While purple tier sports returned in early February, contact sports such as football were able to have students participate in small group camps until the CIF updated its guidelines. Although all outdoor sports can begin competition, there are some students who feel that high contact sports shouldn't be allowed yet.
"I think that some sports are safer than others, like non-contact sports," sophomore Collin Gillespie, who runs cross country, wrote in an email.
Sophomore football player Bryan Tang said he doesn't feel entirely safe returning right now, but mentioned that his team didn't wear pads during camp and players focused on conditioning while social distancing.
"Purple tier is the highest risk of contracting the disease," Tang said.
Like Tang, some students' and coaches' experiences during this time have been vastly different from pre-COVID.
"We usually do a lot more stunting and tumbling but you can't do that without touching each other," freshman cheerleader Ava Chestnut said.
Most sports have limited the time the students are in the general vicinity of one another, too.
" [Now we] show up, race, go home," cross country coach Nicolas Shea said. "Everyone is responsible for their own water bottle and no sharing sweatshirts [like before]."
Another major change that will affect some sports such as football and baseball more than others is the CIF's guideline that prevents fans from attending any games or even practices. Not having a crowd on hand to cheer for the team really upset Tang.
"Not having spectators and fans at the field just makes me feel unmotivated," Tang said.
Chestnut also felt similar about cheer leading.
"It definitely makes me a little sad because cheer is meant to pump people up, but I'm still grateful to be able to do my sport," Chestnut said.
With sports such as swimming and cross country, the crowd doesn't entirely affect the students' performances as much.
"Not having spectators doesn't really impact swimming," sophomore swimmer Megan Nguyen said.
Without the spectators, students and coaches are still able to have fun.
"It's my favorite thing to do in the world," Dautel said about working with his swim team. "Best two hours of my day. I've had the same enjoyment in this season as in previous seasons."
Having outdoor sports return to action has had a real positive impact on many of the coaches and students, who have been prevented from competing since the state shut down high school sports in mid-March 2020.
"Being able to be together has been awesome and great," Shea said. "With not only being able to interact with other people, it's a sense of normalcy that is not just being at home."
Most students are relieved that they even have time to play and get together this year.
"I do [have fun] because we are fortunate enough to even have a season," Nguyen wrote.