Cal High heads to the polls virtually to elect ASB, Leadership positions
Cal High students will be voting on Thursday and Friday for their Associated Student Body (ASB) President, Vice-President, and two Masters of Ceremonies for next school year.
Students will also vote for class leadership positions. Voting will take place in English classes.
Class leadership organizes events and fundraisers for their individual class, while ASB approves the budgets for those events. ASB also connects class leadership to the administration.
"[ASB is] the connector between admin and leadership when planning those events," Gabby Meidberg, who is running for ASB Vice-President, said.
Most of the positions are uncontested, including ASB President. For that position, junior Riley Hughes is the only candidate. The contested ASB positions are Masters of Ceremonies, which has four candidates, and ASB Vice-President, which has two. The only contested class position is for the 2024 Vice-President, which has three candidates.
The Californian has interviewed the two ASB Vice-President candidates, juniors Aine Keenan and Gabby Meidberg, about their platforms. Candidates are ordered alphabetically.
Aine Keenan: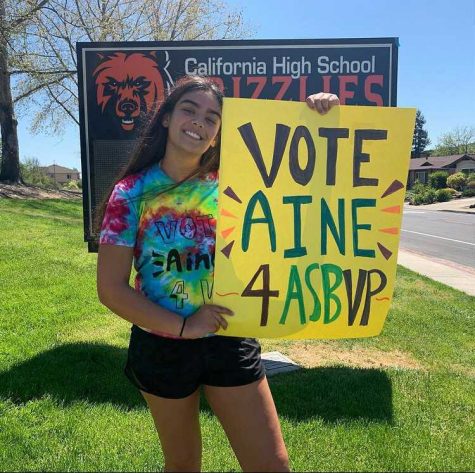 Keenan said her top three priorities were reopening schools and having events, making the leadership program more inclusive, and bringing new ideas.
If Cal reopens in fall, as is currently planned by the San Ramon Valley Unified School District, Keenan said she would advocate for a Thrive Week-like event to welcome students back, if health guidelines would allow.
Keenan also said she would want to host a rally or other event on the football field, as well as potentially split homecoming into multiple events if health guidelines wouldn't allow a traditional homecoming.
Part of Keenan's focus on inclusion regards clubs. Keenan said she believes athletics often gets too much attention, to the detriment of clubs and other extracurriculars at Cal. She wants to have ASB lead a lip dub, which is a music video where people film themselves lip syncing and then dub over themselves in post-production, partly to help boost the image of clubs and other extracurriculars.
"All the groups on campus [would] fill segments and parts, and it gets uploaded into a giant video and it's really awesome," Keenan said.
In addition, Keenan said she wants to support clubs by implementing a "Club of the Week" program, much like the current Athlete of the Month. Keenan said she would also want to work on improving the reputation of ASB by hosting town halls to develop trust between ASB and the student body.
"I think [leadership] can get a negative notation of being for certain groups of people," Keenan said. "I would work with all my power to expel that notation."
Keenan said she believes the structure of ASB could change, and specifically said she would advocate for blind readings of leadership applications. She said she would work to change the application process by ensuring all students who submit a complete application would receive an interview.
When asked about priorities for using the ASB budget, which stands at $99,575.16 as of November 24, 2020, Keenan said she would use funds to ensure next year's events are following health guidelines, as well as that they provide more options to students.
"Not all students want to be dancing for three hours," said Keenan, in reference to homecoming.
Keenan said she wants to place boxes around campus for students to provide feedback to ASB, as well as hang up blank posters in the hallways that students could write their ideas on. She also said she wants to be held accountable for her campaign promises.
"I would love people to come up to me at school and say, 'You said you would do this and I think you could do it this way'," Keenan said.
Gabby Meidberg: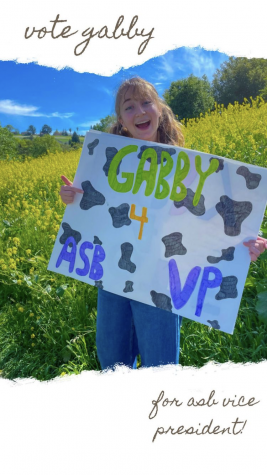 Meidberg said that if elected her top three priorities next year would be the transition from remote and hybrid learning to in-person learning, improving campus climate, and improving equity and inclusion at Cal.
Rather than focusing her transition priorities on events, Meidberg said she would want to host monthly town halls to allow students to provide feedback on the process. Like Keenan, she said she also wants to implement feedback boxes on campus.
To support clubs, Meidberg said she would advocate to allow club fundraisers, including food vendors, at dances. She said she would push to allow food vendors at dances to help clubs fundraise. Meidberg also supports hosting monthly meetings between clubs, leadership, and the administration to talk about issues affecting clubs.
Meidberg said she believed many students have a poor view of leadership. She said one proposal she would work on to address inclusion within ASB and the school in general is to host mini-lessons on social issues that the student body could attend. Such mini-lessons already exist, but Meidberg said she would want to allow non-leadership students to attend.
Meidberg said she would want to use part of the nearly $100,000 ASB budget on providing free spirit wear to students who are unable to purchase it due to financial stress.
Meidberg said she would want to improve transparency by allowing non-leadership students to attend budget approval meetings held by ASB. Like Keenan, Meidberg said she wants to be held accountable by students for what she promises to do.
"I'm running just to be a voice for people at Cal High and hear what everyone has to say," Meidberg said.