Frazier flies high to win state
Hang on for a minute...we're trying to find some more stories you might like.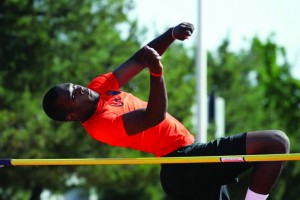 Luke Finkel
Sports Editor
Noel Frazier saved his best for last.
The senior cleared a season- best 6-feet-10-1/4 inches to win the high jump title on Saturday at the California Interscholastic Federation state track and field championships at Buchanan High School in Clovis.
Frazier is the first East Bay boy to win a state track title since 2009 and the first Cal High athlete since 2006, when David Klech earned his second straight title in the 300 hurdles.
Frazier tied for second in the high jump at state last year.
"(This year was an) absolutely awesome experience. It was really exciting." said Frazier, a three-time state qualifier. "It was a lot more competitive this year.  I had to really push it."
Cal also was represented at the state meet by sophomore sensation Madison Ricks and senior Tori Edwards, but it was Frazier who grabbed the spotlight.
He led his qualifying section by tying for first with a jump of 6-feet-8.  That performance paled in comparison to the show he put on in the finals.
First place in state means that Frazier is now invited to another invitational meet in California.  He also will travel to Indiana to practice with the U.S. Junior Olympic team after graduation.  If Frazier qualifies, he will represent the U.S. in the Junior Olympics this summer.
At the NCS Meet of Champions  on May 26 at UC Berkeley, Frazier jumped a height of 6-feet 10 inches to win his second straight NCS high jump title.  He placed third as a sophomore.
Throughout this season, Frazier dominated the event by winning every league meet.  He will graduate second in the school record books with a jump of 6-feet-11 his junior year.
"It was great motivation this season to get just a little bit better and to be the best in the state," said Frazier, who is headed to UC Berkeley in the fall on a track and field scholarship.
Unfortunately Cal's other senior, Edwards, was not so lucky at state.
Edwards placed fifth in her preliminary meet in the 300 hurdles, which was not enough to advance into the finals. She had a time of 45.75 seconds.
"It was just so nerve racking knowing how fast all of these other runners are," said Edwards.
This came after she ran a 44.72 at NCS to place second.
Ricks fared better in her second straight trip to state in the 800 meters.
Ricks recorded a time of 2:11 in the preliminaries, which was  just good enough to push her into the finals.
In the finals she ran another 2:11 which placed her as the seventh fastest 800 runner in the entire state.
"It was a great experience," said Ricks. "I really wanted to get into the finals."
In her remaining two years at Cal, Ricks has nowhere to go but up.
"My goal is to place top three in the state," said Ricks.
This goal could have been achieved if she ran just as fast as she did at NCS.
Ricks ran a blistering 2:09 at the NCS Meet of Champions to win the 800 title, beating her closest competitor by more than a second.  A time of 2:09 would have placed Ricks third in the state.