District forces Donovan to stop coaching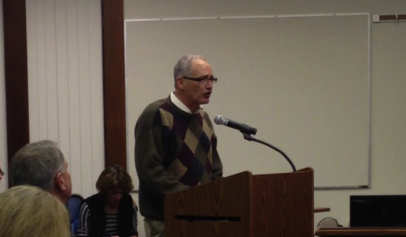 High tensions, tears, and standing ovations filled the school board meeting on Tuesday when former Cal High head basketball coach Bob Donovan spoke out against his forced resignation, which he said came as a result of unsubstantiated parent complaints.
Donovan, who coached the Grizzlies for two years, was the last of three coaches to step down this past year because of parent involvement. Women's varsity basketball coach Eghosa Obaiza and varsity baseball coach Dan Ward also resigned.
"We teach our kids if somebody is bullying you, you come forward and we address it," Mary Lynn Harp, a district employee whose son played for Donovan, told the school board. "Why did we let the bully win?"
Harp joined many Cal High faculty, students, and local coaches who packed the school board meeting to support Donovan, who has taught social studies at Cal since 1983.
Donovan asked the board to reconsider their method of coach removal and reevaluate the power of parents in the district.  He did not ask to be reinstated.
"No matter how long we've faithfully served our students and our community, no matter how many programs we've started, no matter how felicitous the claims made against us, our reputations and careers are not safe in the hands of this district," Donovan told the board.
Donovan said his resignation came after parents complained multiple times to the district about his judgment. These accusations about his language and conduct were allegedly submitted via anonymous email during the past school year, but they were later disproved upon investigation, Donovan said.
A formal complaint was filed last June regarding an incident that occurred in October 2010, when Donovan invited former high school and collegiate basketball coach Michael Phelpsto observe a varsity practice.
Phelps, who coached Bishop O'Dowd High School in Oakland for nearly 25 years, was charged in 2003 with lewd and lascivious behavior with a minor for an incident that allegedly occurred in 1966. Charges were dismissed the same year, according to the San Francisco Chronicle.
Phelps has more victories than any other high school basketball coach in California, and he won several CIF state titles with Bishop O'Dowd.
The district questioned Phelps' presence at a student practice, and Donovan's judgement for inviting him, about a year and a half after the incident occurred.
Donovan has been the coach of the Grizzlies varsity basketball team for the last two years and previously coached the team from 1983-1990.
"Bob Donovan is one of the most caring, supportive, and honest coaches I've ever had the pleasure to be with," said his former assistant Miguel Campos at the school board meeting.
Donovan was still coaching the team last summer when tensions rose after a parent allegedly confronted him on the court during a scrimmage because of his son's lack of playing time, using profanity and threats, such as, "I'm going to get you. I'm after you," said Donovan.  Several team members witnessed the confrontation as well.
The father who filed the formal complaint about Donovan declined comment for this story.  The Californian is not naming the father because he has multiple students attending Cal High.
"Parents want what they want, and they fight tooth and nail, and they get it, yet the coach gets nothing," said Oren Abrahams, senior basketball team manager, to the board.
Although abrupt, Donovan's forced resignation was not completely unexpected, according to a member of the committee that hired Donovan as coach two years ago.  The member of the committee, who wished to remain anonymous, said there were parent concerns with Donovan from the beginning of his coaching tenure.
Principal Mark Corti and district spokesman Terry Koehne would not comment on the matter because they said it is a personnel issue they cannot discuss.  Both were in attendance at Tuesday's meeting.
"Personnel decisions are not made by parents, period," said Koehne.
Although administrators can't discuss personnel issues, teachers can, especially when it involves them. Obaiza, the varsity women's coach the previous three years, wasn't forced out, but she chose to resign after last season over similar parent pressure.  She said she felt unfairly represented in the review process in which parent complaints were discussed.
"We have a school that systematically does not handle these situations well," said Obaiza, who also teaches English.
During Obaiza's 2010-11 season, she said two of her players and their families went to the administration with a list of concerns, many of which she said were untrue.
While her job was under review, Obaiza remembers being confronted after a game by one of the parents who had issued a complaint, saying he knew people in the district.
"I perceived it as a threat," she said.
Though Obaiza was not forced to resign after further administrative review, she chose to leave.
"Did it seem worth it? No," she said of coaching in an environment of parental scrutiny. "The parent's voice is bigger than mine could ever be."
Ward, a PE teacher at Windemere Ranch Middle School, faced a similar situation at the end of last season despite nearly leading the Grizzlies to the NCS baseball championship over De La Salle, said Abrahams and several  players.
Ward declined comment for this story.
The previous varsity baseball coach and AP Chemistry teacher Brian Coburn also stepped down for similar reasons.
Coburn, who coached from 2002-2009, said that most parents are level-headed and only a small minority try to exert influence.
"I don't know why the school district listens to this small minority," he said.
Multiple coaches including Coburn and Campos mentioned that parent wealth plays a part in the issue.
Campos said that decisions are made out of the fear of rich parents threatening lawsuits. He said that they even had one mother threaten, "We are very wealthy, I don't work and we have nothing but time. I'm gonna fight this until the end."
Coburn said that 20 years ago, when sports were funded completely by the district, parents had less of a say.
Parents and students are divided on the issue, though agreeing that parent involvement can have a negative result.
"Parents have a right to be supportive, but when they get negative they've gone too far," said Marci Abrahams, Oren's mother. "They lose sight of what's good for their kid, and focus too much on the outcome."
Senior basketball player Jessica Catson agreed.
"They should be involved, but they shouldn't be the ultimate power," she said. "They just want the best for their kids."
Some do not believe that involvement is a large problem at Cal.
"I think that the influence level is where it should be," said Rajesh Jalihal, father of a varsity swimmer. "There is lots of parent influence in some sports, but less in others so overall it evens out."
Senior volleyball player Devon Haley also said parents are involved an appropriate amount.
Coburn believes a bigger issue is at hand, saying parents who are involved care for their kids, but they don't know how to give their kids freedom.
"You have to give your kids space and freedom to experience some disappointments in life," he said. "Not all parents see that."
See Donovan's speech at the school board meeting here:
https://www.youtube.com/watch?v=ksldENcCl2Q&feature=channel&list=UL