Seniors attend military seminars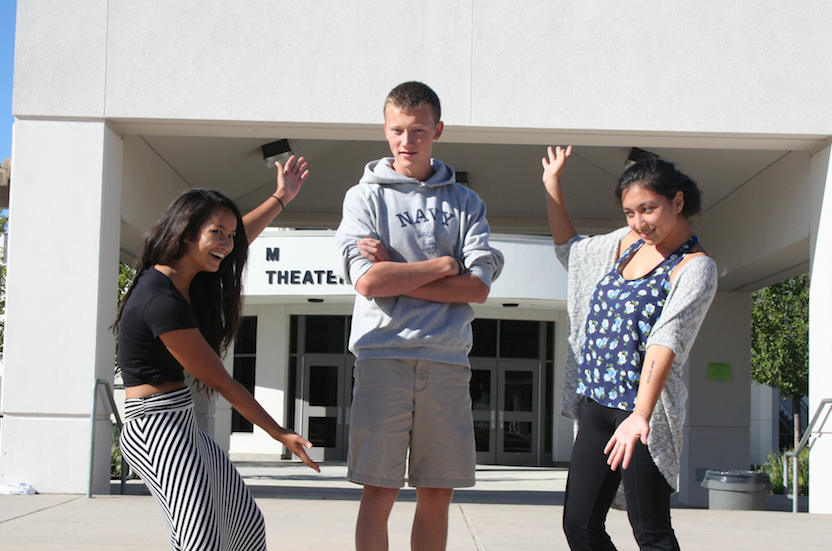 While most students usually breathe a sigh of relief when released for summer and plan to be lazy until the next school year, four Cal High seniors, including myself, got accepted into the nation's highly competitive military service academy summer seminars.
Instead of sleeping until the afternoon, we all hopped on a plane the day after school ended and flew to the East Coast. Carson Wood and I attended the United States Naval Academy Summer Seminar (NASS) in Annapolis, Md., while Samantha Dalal and Lauren Liebow attended West Point's Summer Leaders Experience (SLE) in West Point, N.Y.
"[My time there was] something you have to experience," said Liebow.  "[I] can't really describe [it] to other people."
Each of the academies have several seminar sessions. All four of us applied to the last seminar session that started on June 14.
Both NASS and SLE are week-long programs that are physically and mentally intensive.
According to the SLE and NASS websites, both seminars teach about life at the respective academies,  including the academics, athletics, and professional/military training involved.
The summer seminars give participants a glimpse of what to expect, as most of the participants are mainly future applicants who want to become either cadets at West Point or midshipmen at the Naval Academy. NASS says the seminar is designed to "challenge your limits" and "take you beyond anything you have ever done before."
At SLE, only 1,000 applicants are accepted, while NASS accepts 2,550 applicants.
And then there was me, who just did it for the experience.
I originally was not planning on attending, but my rationale into going to this prestigious program was that I knew I would regret not going.
It turned out to be one of the best weeks of my life. One of my favorite activities at the Academy was getting "wet and sandy" during one of the stations at Sea Trials. It was basically what it sounds like: wading in water and then rolling around in the sand after, all the while performing physical activity.
The Sea Trials consisted of challenges such as trudging through a rope course full of obstacles. It was extremely difficult, but stopping in the middle of it was not an option.
Looking back, I definitely got out of my comfort zone, and it was weird coming back home after calling officers "sir" and "ma'am" for a whole week.
One of the biggest accomplishments I am proud of was passing the Candidate Fitness Assessment (CFA). These tests include basketball throws, pull-ups, shuttle runs, crunches, push-ups, and a 1-mile run.
Another proud moment I had was after completing Indoc Night, where the detailers (officers) yelled at the attendees.
The people I met there also stood out. They all had high academic achievements, excelled in athletics, and had a common goal of getting in to the Academy. They all inspired me.
The food there was decent because after physical training, we were all so hungry, anything tasted great.
The Academy also gave the attendees amenities for the entire week, including shirts and shorts.
Carson Wood, who attended NASS with me, applied to the program with the intent to attend the Academy next year. The Naval Academy is Wood's first choice for college.
"I figured going to the Seminar would give me a perspective on what the Academy might be like if I went there," said Wood.
He became really close with all of his squad mates, and while at NASS, Wood's favorite classes, Computer Robotics and Naval Weapons Systems, were geared towards his interest in Systems Engineering.
History teacher Scott Hodges thinks Wood is a good fit for the Academy.
"[Wood's] level of commitment is high, and he is an outstanding student," said Hodges.
Another senior, Samantha Dalal, was accepted into all three of the military service academy summer seminars: SLE, NASS, and the U.S. Air Force Academy's Summer Seminar, but ended up attending West Point.
She most vividly remembers the Reception Day reenactment on the first day,  where officers yelled at attendees as they disembarked the bus. It was her first glimpse of what life inside West Point would be like.
"It was a great experience, and you meet so many new friends," said Dalal, noting that she met people she would never find in California.
She received multiple opportunities to handle guns, an experience that she enjoyed. She took classes in English, foreign language, and math.  Dalal will apply to West Point for college, but she is not sure she is ready for the commitment to serve for five years.
West Point is Liebow's first choice, as she  has been wanting to apply to West Point for a long time. She attended English, leadership, and history workshops at the SLE.
Cheri Liebow, Lauren's mother and an English teacher at Cal, is proud of her daughter's accomplishments at the academy.
"I was thrilled and excited that Lauren got into West Point's SLE, but at the same time I will miss her if she goes so far away [for college]," she said.
French teacher Patricia Goldin had both Dalal and Liebow in her class.
"[They] are young women who can achieve anything they put their minds to and are excellent students," said Goldin.
English teacher Sean King also supports all four students  in their military pursuits.
"[The students] have good attitudes and work ethics, strong in voicing their opinions, are responsible, and of good character," said King.
As a whole, for all who went to either Navy or West Point's summer seminars, it was an amazing week, and I personally would encourage students to apply as juniors.
It was truly a life-changing experience, and it will widen one's perspectives. It is highly competitive, but worth going to.
To apply to these two summer seminars, main requirements are to complete junior year, having shown "superior high school performance" with respect to their GPAs and the standardized test scores that are required for West Point and highly recommended for Navy, and "demonstrated achievement in athletics and extracurricular activities" that showed leadership potential.
I wrote a blog about my experience after the conclusion of my week at NASS which can be found at: http://usnass2014.blogspot.com.