Sister scandal = sayonara snake
Joshua Nichols, Staff Writer
May 29, 2019
I cannot believe I am using my talents to write this. 
Now I'll be honest, the only time I have ever watched anything James Charles is when it is being spoon fed to me, dank meme style on Twitter. 
In case you were in a coma and you still don't know who Charles is, then just remember these keywords. "Coachella, Razor Burn, Twerking, Makeup". There, all better. 
Now let's talk Tati. Not the "B.B. saggin', fly like a dragon" Tati, but Tati Westbrook, the YouTuber. 
On May 10, Tati decided to cancel Charles like measles. Oh, wait… 
Anyway, a homegirl pulled a FORTY THREE minute video out of her guru brain and, wow, just wow.  Tati essentially talked about some dumb vitamin crap for a while, which is apparently important, and then she starting laying out some real fun stuff. 
Tati went on to talk about Charles' predatory behavior directed at multiple straight men, and in particular a waiter in Seattle.
This was later confirmed by another beauty influencer, Jeffree Star. However, Star probably wants you to forgot all of the nasty stuff he's been accused of in the racism department.
Charles of course, needed to let everyone know that this could not, under any circumstances, be Tati's time to shine and eight hours later he released a punctual eight minute cry-baby "feel bad for me" response. 
Has anyone thought that Charles could have just done this response over text or phone call, instead of using his own terrible situation to exploit money and views from his viewing audience? On top of this, his pathetic response has garnered over 2.5 million dislikes. And counting. 
Rebecca Black is desperately  trying to find a way to become more hated than this man. 
Anywhome, #SisterCancelled was trending within hours on Twitter, and then the memes started appearing. 
I have not seen something get eviscerated as bad as Charles since, well, the 2018-19 Knicks. 
Then came the unsubscribers. Charles has lost 3 MILLION subscribers and counting. To put this in comparison, the city of Pyongyang, North Korea has a population of around 3.28 million. Charles has literally lost a Pyongyang of subscribers.
Charles also owns the record as the only YouTuber to ever lose a million subscribers in just 24 hours. 
Logan Paul could literally film a video with heinous amounts of stereotyping, appropriation, racism and a dead person and not receive this much backlash. Could you imagine?
The situation has gotten so bad for Charles that even Demi Lovato took a quick break from sobriety to come and unfollow Charles on all social media. And she isn't alone. 
Kim Kardashian, Kylie Jenner, Hannah Montana, The Dolan's, Shane Dawson, Jeffree Star, Miley Cyrus, Katy Perry, Emma Chamberlain, Laura Lee, Tana Monageau, Halsey, and Iggy Azalea have all parted ways with Charles on social media as well. 
I have been a constant pain to pro athletes and celebrities on the internet, but even I am only blocked by a single person,  Raiders quarterback Derek Carr. 
Zara Larsson and Olivia O' Brien both revealed that Charles had messaged their boyfriends on social media and left inappropriate comments under their pictures. 
Then the catfishing stuff came out. It was then revealed by a former peer of Charles' that he had posed as a girl on social media to catfish members of the school's soccer team. 
So in addition to not being a major promoter of his friends vitamin brand, which is apparently a very egregious crime, Charles is also acting like a high-key sexual predator. 
Oh, and did I mention his Coachella boyfriend-turned-victim-turned-confused dude who just wanted to discover himself? Yeah. That too. 
But after all of this I just gotta say, that poor waiter. He really was used and emotionally pressured by a dude who looks like the spider from "A Bugs Life". 
So in short, James Charles bad. bad, bad, bad, bad, bad, bad, bad, bad, bad. 
Viva 2019. 
About the Contributor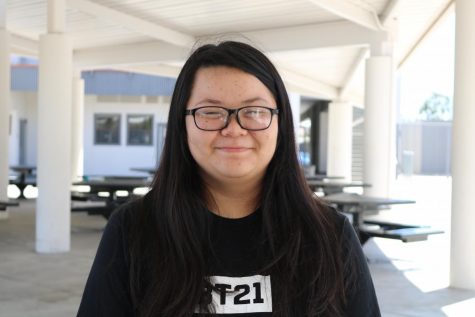 Michelle Nguyen, Features Editor
Michelle Nguyen is a senior at Cal High and is features editor for the Californian Newspaper. She's also the publicist for Cal High Interact, Interact...