Veteran inspired by visit
Vietnam War veteran Steven Burchik visited Cal High two years ago as a guest speaker with a small assortment of pictures and some stories to tell.
But enthusiastic student interest inspired him to turn those pictures, along with many others, into a book.
The book, "Compass and a Camera: A Year in Vietnam," was published on Nov. 7, 2014 and documents a year of Burchik's service, where he was responsible as a forward observer for keeping track of his platoon's location.
The book includes pictures he took with his personal camera and letters he had written to his fiancée (now wife).
But Burchik had no intention of writing a book before his visit to Cal. Most of his approximately 4,000 photos had been sitting in a closet since his return from Vietnam.
That all began to change when his neighbor, English teacher Arlene Addison, first approached him about visiting her classes to talk about the war.
Addison had planned a war unit to accompany Erich Maria Remarque's "All Quiet on the Western Front", which is required reading for sophomores.
Although "All Quiet on the Western Front" takes place during World War I and not Vietnam, Addison realized her students had little previous knowledge about Vietnam and thought Burchik's visit would be beneficial.
"We'd never talked about it, but I knew that [Burchik] had been in the war," Addison said. "I thought it would be interesting if someone that had served from that time could come and fill in the gaps."
Burchik agreed to be a guest speaker, but with slight reservations.
"My biggest concern when visiting Mrs. Addison's class was that it would be difficult to hold the attention of the students," Burchik said.
"I was also slightly concerned about the possibility of anti-war or anti-military feelings among the students," he added.
But neither concern was a problem. Burchik recalled the students were "attentive and respectful," and that they all asked "many thoughtful questions about [his] personal experience."
The biggest controversy turned out to be the Kodak Carousel Slide Projector that Burchik had brought  to present his photos.
Senior Olivia Bouchet, who had been in Addison's class at the time, remembered it with a touch of humor.
"He joked about being a little old and that his tech wasn't up to par," Bouchet said. "[The projector] was very cool. Vintage."
As for the presentation itself, Bouchet thought it was interesting to hear about the war from someone with first-hand experience. But it was not exactly what she'd been expecting.
"It was mostly just soldier life, being in helicopters, and scenery," Bouchet said. "It wasn't glorified like in the movies."
The students in Addison's classes later wrote letters to thank Burchik, who was shocked and surprised to receive over 60 handwritten letters a few days after his visit.
"I am not sure that the students realized it when they wrote the letters," he said, "but this was the first time that anyone had said anything positive about my service."
Addison recalled that Burchik told her he had teared up when receiving the letters.
It wasn't until a few weeks later that the thought of writing a book began to take root.
Burchik mentioned his prior visit to Addison's class to some members from the sailing club to which he belongs , and they asked him if he could show some of his photos at a meeting.
Burchik agreed, and he spent the following four months scanning his photos onto his computer.
"At the end [of the showing], someone asked when the book was coming out," Burchik said. "I had not planned to write a book, but started to consider it seriously."
After a year and 11 different edited versions, Burchik had sorted through more than 4,000 photos and spent countless hours researching specifics on war tactics and equipment.
One of his biggest roadblocks came while researching the names of the men who had died during his tour of duty. In his search, he discovered that one of his friends had been killed in combat about four months after Burchik was sent home.
"He had been deceased for more than 40 years, but it felt as if it had just happened on the day that I saw his name among the Vietnam Wall soldiers," he said.
Burchik stopped writing for a couple months, until he managed to connect with the brother of his late friend.
They exchanged emails, and Burchik later sent the family a copy of the book once it was published.
Since the publication of "Compass and a Camera," Burchik has also exhibited 65 of his photos at the Lindsay Dirkx Brown Gallery in San Ramon this past December. The exhibit is now closed, but he plans to open another exhibit at an East Bay bookstore in the spring.
The publication of "Compass and a Camera" was no easy feat, and Burchik says he owes a lot to Addison and Cal students.
"[Addison] made a simple request to speak to her class for 45 minutes," he said. "If I had not received that invitation, most of the photos and negatives would still be sitting in shoe boxes in the back of a closet, where they had laid unopened for more than 40 years."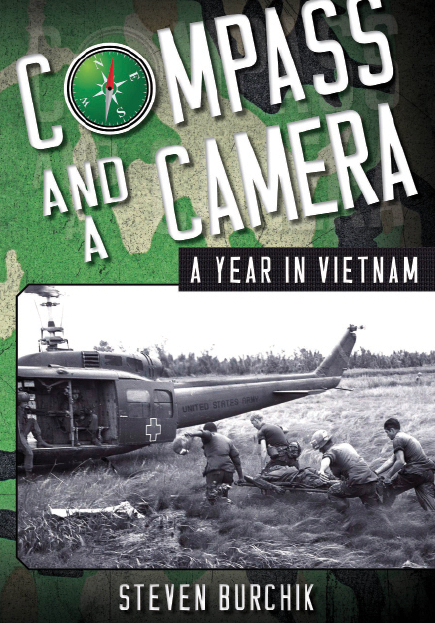 War veteran Steven Burchik compiled pictures and letters.