Mock trial wins consecutive titles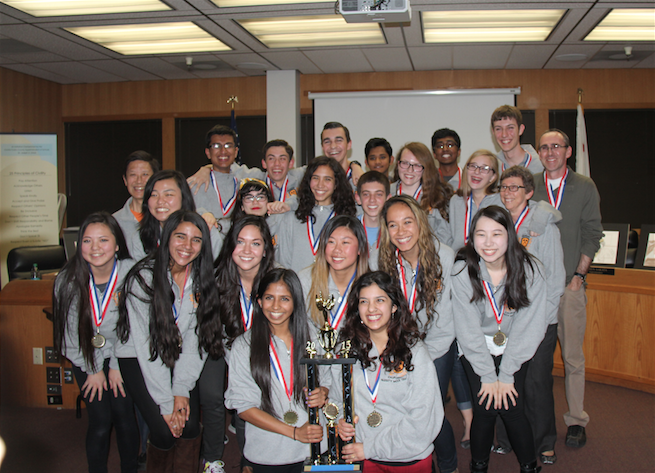 Cal High's mock trial team won its second consecutive county title on Feb. 26, but that's not the real story.
What students should be concerned about is that most of the mock trial team can be considered clinically insane.
No person in his or her right mind would take on mock trial as a commitment.
All students involved are sure to come to school half asleep for the entire month of February, attend lengthy emergency meetings on a minute's notice, and have multiple emotional breakdowns along the way.
Grades plummet, children cry, but almost every team member can't wait to come back and do it again.
I know this because I am one of those deranged mock trial individuals, and I have been putting myself through this perfect nightmare for the past four years.
"I'm only a lifeguard, not a doctor, but, [the team is] a little loco," said sophomore Patrick Rettig, a first-year witness.
The much awaited county competition took place throughout the entire month of February.
Trials were held on Tuesdays and Thursdays. All the days in between were reserved for intense preparation and overwhelming anxiety.
Each trial was crucial to the advancement of the team in the tournament. All trials were scored by a group of law professionals, as well as the presiding judge. In some cases, the future of the team was decided by two or three points. This sort of close competition was prevalent this year.
"The level of competition, especially at county this year, is higher than we have ever seen it before," said senior team captain Smita Balaji, a four-year team member. "It is safe to say there never was an easy trial."
Almost all team members can agree that our lowest point this season was the loss of our first preliminary match to Miramonte, Cal's arch rival.
"We were very confident going in," said Balaji, "but we were given a very harsh reality check."
Fortunately, we got our revenge by beating Miramonte in the quarterfinals.
Even though all team members waved goodbye to their personal lives for all of February, this was the finished product of months of work.
"Mock trial is not a class, not a club, not a sport, but all three of them combined," said freshman clerk Amir Udler.
Upon being chosen for the varsity team by teacher coach Brian Barr, all team members are required to attend countless meetings. These usually take place during brunch, lunch, tutorial, and at team members' houses on the weekends.
It is not unusual for there to be three or five of these meetings per a week, causing widespread stamina issues for all members.
"It takes a lot," said senior captain Shalaka Phadnis. "If you expect the same pace after making the varsity team then your stamina is just going to wear out pretty quickly and you're not going to be able to handle it."
Of course, in order to be a part of the varsity team, one must make it into the first semester A period class which requires a tryout. If one is to make it into the class, they must demonstrate the necessary skills and psychological disconnect that makes a mock trial student.
"To be in mock Trial you need to have a bit of crazy and weird in you," said Udler.
Such qualities are necessary. After four years of personal experience I can testify that absolutely nothing we do makes sense to those outside the team.
The team has something special that I'm almost positive is unparalleled by any other club or sport at Cal, and it has somehow found a way to retain that "special" atmosphere each year, even after team members graduate.
The team will be taking this argumentative spirit to the State Finals in Riverside next week. After that, the season will be over.
Countless trials, meetings, team sweatshirts, bowls of spumoni, and inside jokes later, my time is up.