Is sex ed in health class sufficient?
Some students question the relevance of curriculum covered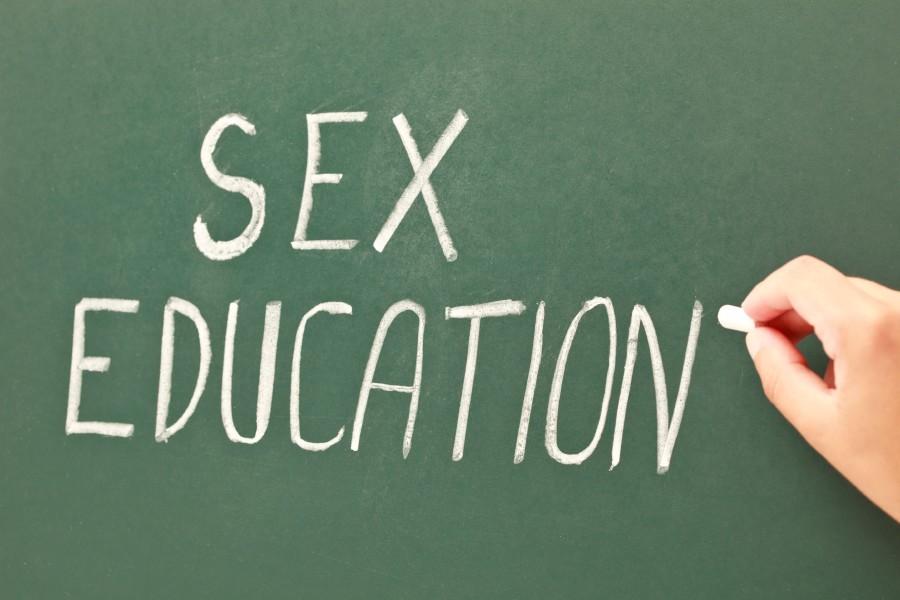 Like any other class at Cal High, health is subject to state standards.
Within the health standards, many sensitive subjects such as mental health, drugs, and alcohol are covered in a straightforward manner.
But the hypersensitive subject of sexual health is shrouded in clouds of ambiguity. What are students being taught and, more importantly, is it enough?
For some students, the answer is no.
"It really sucks," said junior Olivia Duba. "The topics they explain are really vague and I don't understand them."
Vagueness is a common theme  in the school district's parent/guardian health course notification letter when it comes to the descriptions of sexual health standards and subjects covered in health classes.
The letter promises that the district "provides pupils with the knowledge and skills necessary to protect his or her sexual reproductive health from unintended pregnancy and sexually transmitted diseases."
In the letter, the district states that students will  achieve this goal through "comprehensive sexual health education."
The letter explains the eight California Health Education Content Standards. It also informs parents that they can review teaching materials and remove their children from the course if they so choose.
But what "comprehensive sexual education" includes or should include is nowhere to be found.
This leaves the idea of comprehensive sex ed open to interpretation depending on the teacher, textbook, and personal beliefs.
In the standard issue health textbook, the definition of comprehensive sex ed includes scientifically accurate descriptions of body parts and diseases, as well as a strict adherence to the values of abstinence.
When it comes to advice about safety and sexual activity the book provides gems such as, "Stay away from unsupervised parties and dark rooms."
Ironically, the textbook publisher, Glencoe, also publishes a supplemental text that is titled "Human Sexuality."
In this book, students can find accurate and realistic information pertaining to a variety of topics, such as contraception, prenatal care and sexual orientation.
This book is scientific and objective in the way it describes how to use condoms and other forms of contraception. Health teachers Randy Cahn and Joe Sussman both say they use parts of this book to supplement their health classes' sexual health and STD units.
Some students in Barbara Carpenter's health class remembered using this book as well, while others did not. Carpenter declined comment for this story.
In Sussman's health class, he said comprehensive sex ed is meant to help students develop their own morals and beliefs when it comes to the subject. Unlike the textbook, his class does not strictly preach sexual abstinence. He says it addresses the pros and cons of different forms of contraception, such as condoms, birth control pills, and hormonal injections.
While contraceptives are discussed, students will not find any demonstrations portraying how to use them in Sussman's or any other health class at Cal. Sussman and Cahn said Cal has historically not been a school for demonstrations.
"[The material I teach is] basically just parts and plumbing," said Sussman.
The only reason contraceptives are discussed is that it comes up while covering the standards, said Sussman.
In Cahn's 32 years of teaching, health has gone from an abstinence only program to a hybrid that mentions contraception methods and jumbles of scientifically accurate diagrams because of the vagueness of  "comprehensive sexual education."
Cahn's version of comprehensive sex ed is not even called sex ed. He uses the term "Family Life," a program that includes roles of family, sexual identity, and supplemental information from the textbook.
When it comes to sexual health standards, Cahn said he tries to follow what he was hired to teach while not letting his own personal beliefs get in the way.
Junior Aaron Velasquez remembers seeing the "Human Sexuality" textbook in Cahn's health class but not using it. He does not think  Cal's sex ed is adequate because all of the contraceptive methods were not taught or even discussed in his class.
Junior Mary Swisher had the same sentiment as Velasquez, regarding the teaching of all about all of the different methods of contraception.
"Teach 'em everything," said Swisher.
But not all students agree with this idea.
"A lot of things you can't just teach," said junior Laura Lampron.
She believes some issues related to sex and sexuality and are better left to students to learn and figure out on their own
Flipping through the pages of the "Human Sexuality" textbook, Velasquez was surprised by the wealth of information he had not learned in his health class.
"I don't know what a cervical cap is," he said while reading the chapter about contraception.
As it turns out, Velasquez was not the only one that did not know what a cervical cap was.
"It gets in your stomach right?" junior Madeline Gerbracht asked.