Novicain Road rocks 'n' rolls
All-girl band combines styles of alternative, hard rock and punk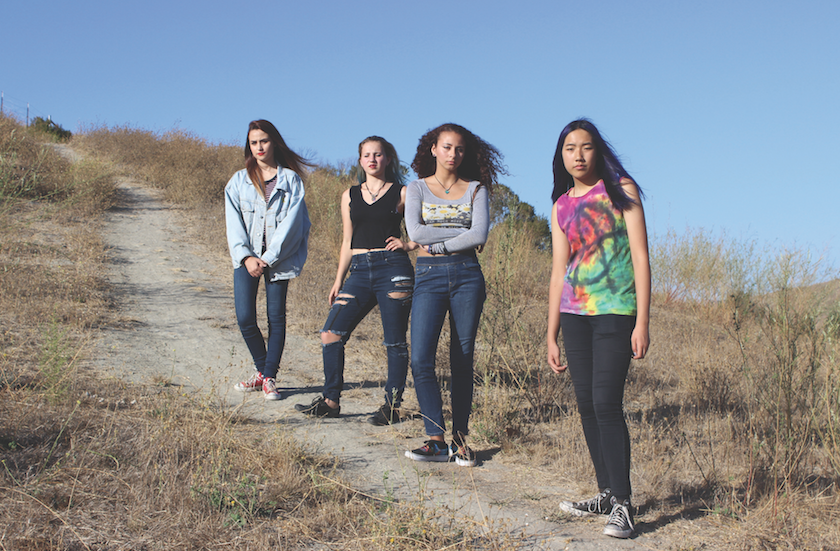 Hugo Suárez, Staff Writer
October 19, 2015
Ursella Cheung and Gabby Reid's love for the band Guns N' Roses brought the two sophomores together.
Their passion for music in general led them to start their own band, Novicain Road.
Founded in January by the two freshmen at the time, Novicain Road is an all-girl rock band featuring four Cal High musicians.
In addition to Reid on vocals and Cheung on guitar, the band consists of junior bassist Jessica Stephens and freshman drummer Mia Wallace.
"We want to bring back an all-girl rock band," said Wallace. "You don't really see that anymore."
Cheung, who has been playing guitar for about five and a half years, expressed a desire to become a musician since age six and grew up listening to classic rock. Forming a band had always been a lifelong dream of hers.
She decided to start a band once she befriended Reid, who had friends in bands and would often see them perform. Reid said her love of music, writing, and singing drove her to start a band of her own.
Through a mutual friend, Cheung met and recruited Stephens, who was raised on  classic rock and began playing the guitar as a freshman. She switched to bass after realizing she was better at bass than guitar.
The puzzle was complete once the band found a drummer in Wallace, who has been playing for almost two years. She said she was influenced by her father's love of rock and always listened to Led Zeppelin's John Bonham and Nirvana's Dave Grohl, who later became her inspirations for drumming.
The name Novicain Road is a combination of the Green Day songs "Give Me Novacaine" and "Christie Road," with the distinctly spelled "novicain" being one of the early names of the band Nirvana.
Influenced and inspired by such bands as Guns N' Roses and Nirvana, the girls from Novicain Road have described their style of music as being a mix of alternative, hard rock, and pop punk.
"It's kinda like a mix genre thing, like a hybrid of all those three," said Reid.
Added Cheung, "Anywhere from hard rock to pop punk."
The band members write their own songs, with such titles as "Girls Can't Play Rock 'n' Roll," "Cigarette Smile," "Stay Away," "Radio Prince," and "Glad You Stayed." In addition, they also perform a few covers of other bands.
When it comes to band practice, the girls say Reid and Cheung are the driving forces behind the band.
"Our practices are about five hours," said Wallace. "Three hours of talking, two hours of actually doing work, like songwriting, practicing, and performing.
"The rest will be like eating and talking about what happens in the music fandoms."
Reid joked, "We'd like to make them more serious, but that usually doesn't happen."
The band played their first gig on Saturday at the Red House in Walnut Creek.
Stephens, who plays bass for another band called "Stetson," with students from Amador Valley High in Pleasanton, was able to secure Novicain Road's first gig at the Red House.
"[Stetson was] having a show at Red House and they needed somebody to open," said Stephens, "So I was like, 'Hey my other band will do it' and they said OK."
Although no major gigs after Red House are scheduled, this all-girl alternative rock band looks for any opportunity to spread their music and put themselves out there.
The girls have all expressed a great interest and high hopes for Novicain Road, saying they plan to keep playing for the band after high school.
Like all aspiring bands, the girls from Novicain Road hope to one day achieve widespread success in the music industry and make Novicain Road a household name.