Sea of change coming
With the way student populations are shooting up in the East Bay, it is no wonder that the threat of potential overcrowding is now coming close to home, as Cal High looks to exceed 3,200 students within five years.
The San Ramon Valley Unified School District projects that Cal will break the 3,000 student mark by 2019, while Dougherty Valley High will have more than 3,000 students by the next school year, according to a presentation at the Aug. 4 school board meeting.
Within five years, Cal's enrollment will be approximately 500 students more than its current capacity of 2,750. Cal's enrollment this year is 2,671 students.
Dougherty will grow by about 1,000 students over the next five years, 700 students more than its current capacity of 3,100. Dougherty's current enrollment is 2,879.
To deal with the projected growing enrollment, Cal may have to add as many as 18 new portable classrooms and one restroom to campus before 2021, while Dougherty will be including as many as 24 new portable and permanent classrooms on campus.
Although nothing has been set in stone, the addition of new classrooms at Cal could start as early as this summer, with the construction of three portables and one restroom behind the main building on the basketball courts.  At Dougherty, two classrooms have already been added.
"If Cal High is going to go over 3,000 students, it needs to make some major changes to the system," said sophomore Paloma Maiorano. "It doesn't seem ready to take in so many students. We already don't have a lot of space. My group of friends and I sit on the dirty cement during lunch because there aren't enough tables."
The district report estimates that a little more than $15 million will be needed to handle the growing population at schools throughout the district. A projected $2.85 million will be needed to fund Cal's  additional classrooms and restrooms.
But the district's projected revenues for these projects are estimated at $12 million, leaving a sizable gap of approximately $3 million.
"In the past, state has provided funding for districts, but that districts, and the problem here is finding long term funding for them as it relates to its property," said Elizabeth Graswich, the district's director of communications and community relations.
It is not yet known how the district will resolve its funding issues.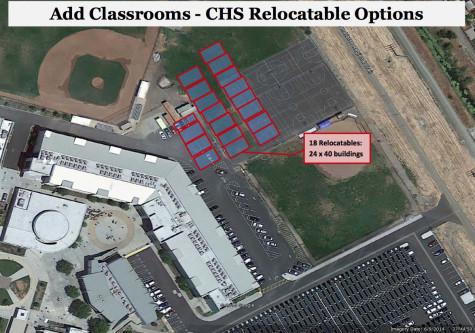 Cal is showing the second largest growth in the district among high schools, behind Dougherty.
Monte Vista is a distant third and San Ramon Valley fourth. By 2021, Dougherty and Cal are expected to max out at 3,832 and 3,277 students, respectively. Monte Vista will max out in 2020 with 2,635 students, and San Ramon in 2018 with 2,061.
"Dougherty Valley is really our area where we're seeing the largest growth," said Graswich.
The district is looking at a number of solutions to deal with enrollment peaks.
Several potential options include multi-track year-round schedules at Dougherty, multiple or full lunch periods, and grade level reconfiguration, with sixth graders moving back down to elementary school, and freshmen moving down to middle school.
The district is also looking at alternate schedule options, such as an increased use of A period, implementation of a seventh period, offering late afternoon and evening classes plus summer sessions, limiting students to six classes only, and early dismissal for seniors, who would be able to leave after lunch to go to DVC or work.
At this point, Graswich says no option seems more viable than the other.
"These measures are still very much preliminary, in preparation," said Graswich.
According to the Cal High counseling department, there are 703 freshmen this year, up from 689 last year. Following this trend, numbers are likely to keep rising.
The student body at Cal is already feeling the rise in population numbers.
"It's annoying to look for parking spots every day, so now I just walk home," said junior Aravinth Mohan. "There's also less space to sit at lunch. My group used to always have a table, but now we have to look for one every day."
Classroom shortages are not the only issues at Cal.
Bathrooms will need to be added as well, and the campus will need to be expanded in general.
Cal has always had a shortage of lockers, and with the influx of new students and rise of student population, this problem has been exacerbated even more.
With each passing year, the number of students continue to grow, while the number of lockers continue to stay the same. Cal has nearly 500 fewer lockers than students this year.
"I do think Cal High is too crowded, especially in the hallways and stairways during passing periods, and during brunch," said sophomore Claire Higbee.
The rising numbers of students pose a risk of compromising the quality of education.
"It's not rocket science," said  Spanish teacher Alita Acianoh, who has been teaching seven years. "The more people you have in a class per teacher, the less individual attention a teacher is able to give, so definitely, class size has a huge impact on how we teach, the building relationships among students, and the depth of thinking."
More students, will need to equal more teachers, which could become a problem.
According to the state Commission on Teacher Credentialing, there were approximately 45,000 people enrolled in teacher preparation programs in California in 2008. But by 2013, there were fewer than 20,000 people enrolled.
The California Department of Education estimates that districts will have to fill 21,500 slots with teachers this year, but the state is issuing fewer than 15,000 new teaching credentials a year. Cal High hired 18 new teachers this year.
"It's fair to say that most districts in California are challenged this year with the teacher shortage," said Graswich in an Aug. 15 article in the San Francisco Chronicle.
But as drastic as this all sounds, this is not a doomsday warning, and the Armageddon of overpopulation and overcrowding is not about to occur.
Cal assistant principal Crystal Lopez maintains that despite the growing student population, the average classroom sizes remain at a reasonable 35-36 students per class.