Grizzlies roar in NCS this fall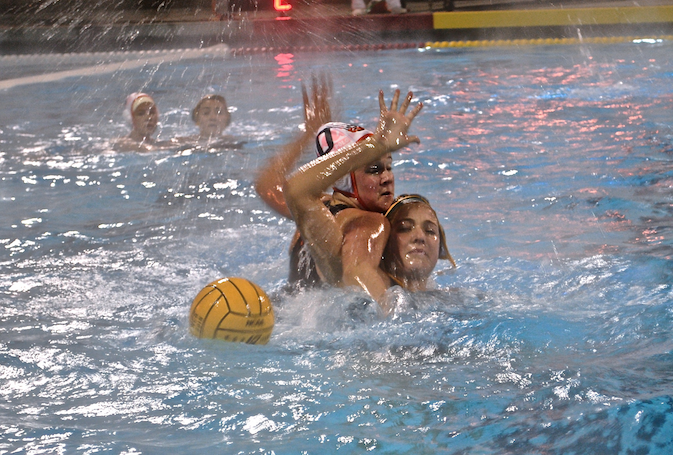 Women's Water Polo
The girls water polo team had their best season in school history by reaching the NCS semifinals before losing to eventual champion San Ramon Valley.
The girls, coached by former Cal player Kimi Noltensmeir, had an overall record of 19-6, with a 4-3 record in league play.
"I thought the season was spectacular," said Noltensmeir. "The girls had accomplished things we had never done before.  Before this year, NCS was a distant goal, and to go this year and finish 4th, made me very proud to see their hard work pay off."
The girls opened NCS on Nov. 5 with a 10-3 win against American High. They followed that up on Nov. 7 with a 15-5 win against Amador Valley in the quarterfinals.
Cal's historic run, unfortunately, came to an end in the semis on Nov. 11 when the Grizzlies lost 18-3 to SRV. All three goals were scored by sophomore Drew Halvorsen.
Halvorsen won the first team all-league honor, and juniors Haley Grimmer and Sydney Hammill were honorable mentions.
For the season, the girls shut out Novato 16-0 and had big wins against Granada 19-4 and St. Patrick-St. Vincent 20-2.
Football
Cal, once again, pushed its way into the NCS playoffs only to lose to national power De La Salle 47-0 in the quarterfinals on Nov. 20.
Cal (7-5, 4-2 EBAL) completed another winning season after beating James Logan 15-14 in the first round of NCS on Nov. 13.
That win came after a regular-season-ending 56-0 loss to De La Salle, which ranks third in the state and 10th nationally.
The highlight of the season came on Oct. 30 when Cal beat rival Monte Vista 50-49 in double overtime.
After Monte Vista tied the game with 35 seconds left in regulation to send the game into overtime.
Cal opened the first overtime with a quick touchdown, but Monte Vista responded to tie the game. The Mustangs then scored a touchdown in double overtime to take the lead.
The Grizzlies pulled within a point with a quick responding touchdown.
Coach Eric Billeci then was faced with the tough choice of kicking the extra-point to tie the game or going for the win with a 2-point conversion.
"We intentionally tried to get them to jump offsides, so we only had about a yard and a quarter," Billeci said. "That's why we went for [the 2-point conversion]."
Senior running back Justin Locklear scored the conversion to give Cal a 50-49 victory, leading Cal students to rush the Mustang's field in masses, celebrating with the team.
"The first thing I did was congratulate Justin for scoring," said senior Cal quarterback Jack Gerlach. "After that, I saw all of my friends running onto the field, and I jumped up and down and celebrated with them. It was a great atmosphere."
Gerlach had 1,149 total passing yards in 10 games this season, averaging 16.4 yards per pass. Locklear dominated the ground game this year with 749 rushing yards and 12 TDs.
Receiver Cameron Norfleet had 296 receiving yards this year, with 3 TDs.
– Nate Rankin
Women's Tennis
The women's tennis team has concluded arguably one the greatest seasons in team history by finishing15-9 and reaching the second round in the NCS Division I playoffs.
The obvious highlight of the year for Cal was their stunning opening round victory in the postseason over heavily favored Tamalpais High School, by a final score of 4-3 on Nov. 10. Cal had entered that affair as the No. 13 seed, while Tam was seeded fourth.
"This was new for us," coach Laurie Radanovich said. "This was the first time we'd ever won an NCS match. We are super proud of the girls."
Unfortunately, the clock struck midnight on Cal's Cinderella story when the Grizzlies' season came to a close on Nov. 12 with a 6-1 defeat at the hands of No. 5 Redwood High in the second round.
The season marked just the second time the team had made it to the NCS playoffs under Radanovich and Kal Peters, who are both in their seventh seasons with the program.
Some other notable achievements on the year for the Grizzlies were their win over rival Foothill and their placement in a few tournaments. Cal had not beaten Foothill in almost a decade before their victory in late September. This was a streak that included a first round loss to the Falcons in last year's playoffs.
"We went to more tournaments this year and did well," sophomore captain Jocelyn Yang said. "We were invited to play in the Battle of the Bay tournament against other teams outside the NCS."
Overall, the ladies really enjoyed playing together and have a very strong bond with each other.
"This is the most cohesive group of girls we've ever had here," Radanovich said.
Junior team captain Ana Maria Stoenescu added, "We are all very social and supportive with each other. It's pretty close."
The team likes to have fun and get creative before games, sometimes at the expensive of opposing sides.
"We always have different cheers," Yang said. "We will copy other school's cheers and make them into our own for fun."
– Brendan Ogburn
Cross Country
The cross country season came to an end in November with the EBAL Championships on Nov. 6 and the NCS Championships on Nov. 21.
The Grizzlies men's varsity placed fifth in EBAL overall and the women's placed eighth overall.
Senior captain Eric Perez ran the fastest for the men at EBALs with a 3-mile time of 16:20.11. He was closely followed by Alex Castillo and Travis Fleming.
Perez also had the fastest time for the men at the NCS Championships, placing 20th overall with a time of 16:26 for the 3-mile run.
Kayla Neumann was the fastest for the women at EBALs with a 19:39.13 3-mile run time, followed by Lauren Flom and captain Annie Kasenchak.
– Nate Rankin
Women's Volleyball
The women's varsity volleyball team wrapped up their season with another trip to the NCS playoffs.
The girls were seeded seventh and opened their postseason run with a four set victory over No. 10 Dougherty Valley on Nov. 11. Cal won 25-16, 25-20, 18-25 and 25-16.
Unfortunately, Cal  lost in the quarterfinals on Nov. 14 to No. 2 Foothill in straight sets, 25-14, 25-12 and 25-20.
"I think I can speak for the whole team and say we're excited and ready to try our best and see how far it can take us," senior Lauren Jarvis said before NCS started.
Cal finished the season 17-12, 4-10 in league play.
Despite winning only four games in league, Cal ended the regular season on a high note on Nov. 5 by beating Carondelet 3-1.
"Like we're not the best team at finishing out games," Jarvis said. "Even when we have a big lead we let teams come back."
Even though their season ended before they wanted, the girls still worked hard and had fun at practices. A tradition the Grizzlies have is if someone hits the ball under the net, they have to bring doughnuts for the whole team.
"You can say we get doughnuts a lot." Jarvis said.
When not snacking or joking around, coach Todd  Baham worked his girls constantly to make sure they improved.
– Danielle Anderson
Men's Water Polo
The Grizzlies' season came to an end with a 20-5 loss to Las Lomas in the first round of NCS.
Overall, Cal was 12-12, with a 2-5 record in league play.
The Grizzlies had two big wins against Livermore and Northgate, and the beat Pinole Valley and San Rafael by scores of 20-2 and 20-0, respectively.
The team was led by seniors Matt Miller, Josh Shapland, and Isaac Breinyn.
Miller led the team with 126 goals and was named second-team All-EBAL. Breinyn was the team's second leading scorer with 50.
Shapland, who earned all-league honorable mention, and Miller will leave quite a legacy behind, as they have started three of four years on varsity, and were captains for those teams for two of the three years.
"I think I had a good season individually, as I passed my goal of 300 blocks with a total of 350," said Shapland.  "I also think we had a really good season as a team."
With the three current leaders of the team leaving for college next fall, it will be interesting to see who will lead the team for the 2016 season.
Some frontrunners to lead the team next year are Tedd Botelho, Patrick Rettig, and Andrew Dowling.
– Kyle Tucker
Women's Golf
The women's golf season came to an end with an 11th place finish out of 21 schools at the NCS Championships with a team score of 466 at Boundary Oak in Walnut Creek.
"Our season was very steady," said coach Mike Pottinger. "We basically accomplished the same goals we had set the previous year."
He said the team shot its best score of the year and placed eighth at the NCS Qualifier despite freezing, horrible weather.
Senior Fericia Terciano was the team MVP. She shot an 80 in the NCS Championships, the lowest of the year by anyone on the team, in spite of pouring rain and lightning.
Terciano's score placed her in the Top 20 out of 144 players at the tournament.
"It is an honor to be the MVP and I am deeply humbled and thankful to receive this recognition," Terciano said. "It has been an amazing four year experience for me to play on the women's varsity golf team."
After an encouraging season, Terciano is confident in the team going forward.
"I believe that my team will be in great hands," she said. "They all have so much potential and their skillsets will continue to develop and get even stronger for the next golf season."
Pottinger shares the same sentiment.
"It'll be exciting. We have incredible potential with our young freshman, and I can't wait to see how hard they work over the summer to improve.
"We're starting with a clean slate. Hopefully we'll be even more competitive."
– Josh Iversen