Day of Silence sparks backlash
LGBTQ+ protest, curriculum not well received by everyone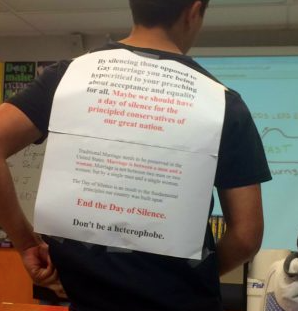 Hang on for a minute...we're trying to find some more stories you might like.
Duct tape slapped. Mouths shut. Silence spread.
Many students at Cal High and throughout the nation actively took part in Day of Silence on April 15 to protest the struggles the Lesbian, Gay, Bisexual, Trans, and Queer (LGBTQ+) community faces everyday.
"The point of Day of Silence is to bring attention to the struggles of the everyday lives of the LGBT+ community," sophomore Kai Choate said. "It also enforces support for the community, to show LGBT that there's support for them."
But a handful of Cal students did not accept Day of Silence.  Slanderous comments such as "don't be gay then" and "good!" were written on Day of Silence posters around campus that included astonishing hate crime and suicide statistics targeted at LGBT youth.
"I'm tired of this cultural Marxist (BS) that is tearing down American society by shoving a gay agenda down my throat," one Cal student posted on Twitter.
Opposition to this day wasn't confined to Cal.
San Ramon recently garnered Bay Area media attention when parents started a Conservative Rights Petition at Windemere Ranch Middle School. More than 750 parents from Windemere and other district schools signed the petition to protest the LGBT+ Awareness Week, which was an extension of the Day of Silence at the San Ramon middle school this month.
Windemere Principal Dave Bolin spoke at the April 19 school board meeting and remained firm on his support of the new awareness week that was April 11-15. He also said he plans to integrate more LGBT issues into school curriculum in the future.
He told the board about two leadership students who witnessed bullying of LGBT youth on campus and proposed the awareness week to help educate students.
The school board meeting room was overflowing as students, parents, and teachers addressed the petition and the board's support of the Day of Silence through a recent resolution.
Michael Arada, a parent who helped start the protest against LGBT Acceptance Week, opposed any LGBT curriculum and the Day of Silence Resolution that was passed a few weeks ago.
According to the petition posted on the change.org site, parents wrote, "The activities and week-long pressure planned for Acceptance Week will likely bring humiliation to students not in agreement with the LGBTQ lifestyle."
Repeatedly throughout the petition, parents emphasized they were not against the LGBT community, but only wanted an equal environment where students are not left out.
Bolin told the board that the school gave students the right to opt out of participation of LGBT Acceptance Week. He said more than 200 students opted out of the program.
He also mentioned that about 15 percent of the student body was sick the entire week, which was not too surprising. The petition includes a segment which read, "We are prepared to support a walkout Monday, April 11, 2016 if our demand (to eliminate the awareness week) is ignored and not met."
"I respect that parents chose to opt out their child," Bolin spoke at the meeting. "It saddens me that parents chose to pull their kids out of school for an entire week for a subject they may not even understand."
More than 50 people attended to speak on the issue, including Cal High Gay-Straight Alliance's adviser and Spanish teacher Julie Gilbert, and juniors Saadhana Deshpande and Aryana Nabavizadeh.
"Do we really want to create another generation of close-minded, ignorant youth?" Deshpande asked the board.
Several parent allies of LGBT youth were also in attendance to speak against the petition. Many parents told the board of their children's struggles and unsafe environments schools create for LGBT youth.
"We need this week of education," Jacquie Guzzo, president of the Parents, Families, and Friends of Lesbians and Gays (PFLAG) of San Ramon, told the board through tears. "I am extremely lucky that my son, a transgender male, is here, alive, tonight, considering the bullying and harassment this community faces everyday from K to 12."
Opposing sides disagreed with the focus on LGBT matters and claimed it showed intolerance toward heterosexuals.
"We need to teach tolerance to all," parent Rachel Edgren said. "If schools are having a LGBT week at the school, then there needs to be a week of heterosexuals at school as well. It's not up to the school districts to encourage lifestyles."
Parents protesting the LGBT week also said middle school was too early for students of this age to focus on LGBT issues. Several students and teachers disagreed, arguing LGBT issues must be introduced early to reduce bullying.
"At least a decade ago, people were still fighting for human rights for the LGBT community," Jeff Davis, a history teacher at San Ramon Valley High School, told the board. "The petition said it's too soon. I never know what's too soon. I definitely know what is too late, and if students are self harming and being bullied at school for their identity, it is definitely too late."
Internal medicine physician, Michelle Chang attended the meeting to discuss health issues.
"From my years as a doctor, I see so many medical illnesses related to LGBT youth," Dr. Chang told the board. "LGBT youth are suffering from insomnia, eating disorders, depression, etc. There's substantial improvement when there's community support for them."
Despite heated accusations and being in the minority at the meeting, parents against the LGBT curriculum stood firm with their beliefs. They said they didn't have any hate toward the LGBT youth and pushed for tolerance for all.
"Again, we're not against the LGBT community," Arada said. "But this LGBT focus is ostracizing kids who don't believe in that lifestyle and discriminating against any religion that does not agree, either. Principal Bolin is only enforcing discrimination, not eliminating it."
Parents agreed it was not the schools' decisions to choose an LGBT curriculum. Time spent focused on LGBT issues took away from real-time education and was impractical to daily life.
"First, you guys are all being hypocritical for not respecting the fact that we opted out our kids," another parent said heatedly. "Also, it's the parent's responsibility to talk about sexuality to their kids, not the school. That's taking away instructional time. Look at the amount of car crashes we have in this city! Yet we only spend two days on safe driving. Why are we spending an entire week on LGBT?"
The school board did not reach a decision on continuing with the implementation of LGBT education in schools. But board members did agree with the need for an acceptance week and commended the students and Bolin for standing up for the LGBT community.
Although the Day of Silence at Cal did not spark as much controversy as the one at Windemere, there was still the issue of student participation during instructional time.
Most teachers respected the day and did not require students to speak during class. But others did not support the interference of oral discussions and teaching.
"I understand its concept, but it interferes with my teaching," said a teacher who wished to remain anonymous. "What if a student needs to ask questions, or if they can benefit from a discussion that day? Support for a noble cause shouldn't stop education at any moment."
Board policy relating to Day of Silence indicates that teachers have the right to require students to participate in class, even during this day long protest. Students like senior Isabela Vanier can face consequences, such as zeroes for work, if they don't participate.
"Last year, a teacher asked me to not participate (in Day of Silence)," said Vanier. "She told me I couldn't take the quiz that day if I didn't (speak in class)."
Days before the national event, teachers were alerted about student participation.
"Teachers are sent this email asking to be sensitive about it," said Obaiza Eghosa, who teaches sociology and English 12. "I respect it. It's just one day. I don't think one day is even remotely detrimental to my teaching."
Gilbert, who is known for her open support of the LGBT community, agreed.
"It's really just one day," Gilbert said. "Students need to know that there are teachers who support them. School is supposed to be a safe place for all students, and it's the teacher's job to make sure the student has a supportive community to learn in."