Teachers implement meditation in class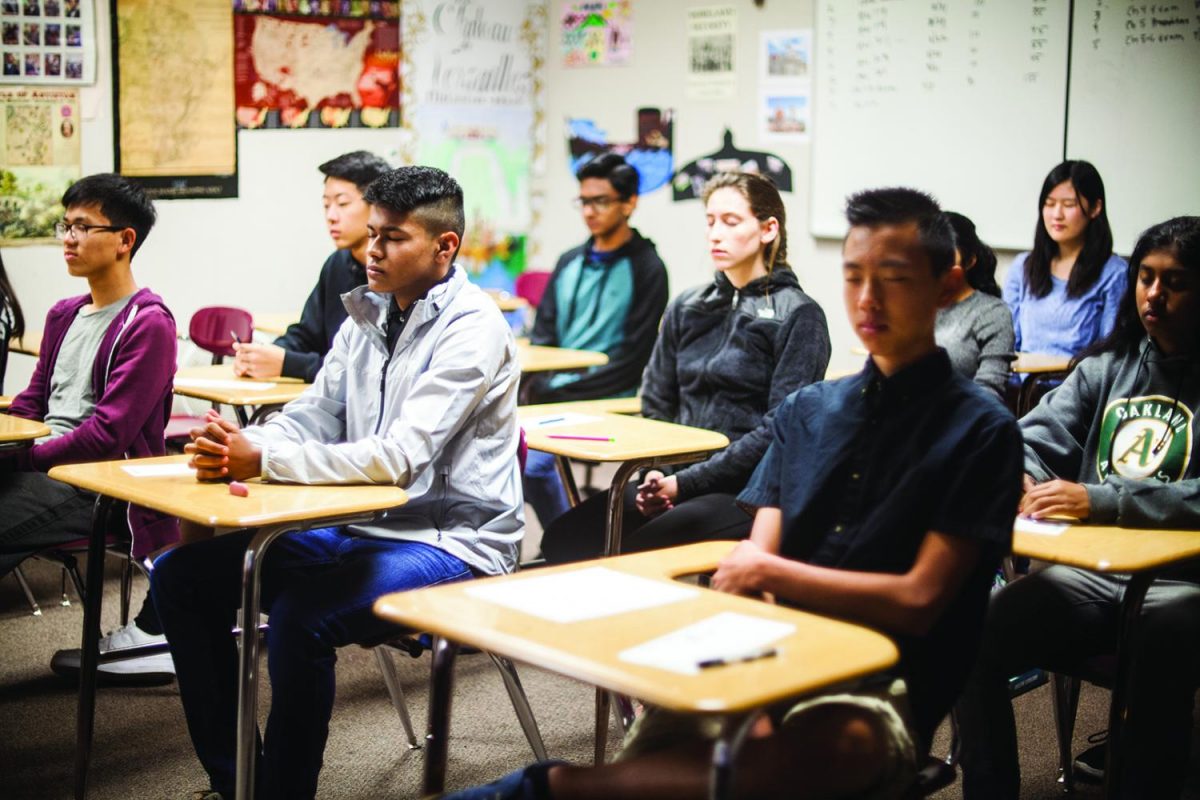 As 30 nervous students walk into Scott Hodges' AP US History class on a test day, they sit down, take out a pencil, and close their eyes.  
Hodges then leads his students through a calming, five minute meditation. 
This routine is not only being used by Hodges but also by other teachers around Cal High's campus.
Three teachers in particular integrate meditation into their lives and the lives of their students.
Brandon Quick, who teaches AP Psychology, uses meditation in his class very frequently.  
Toward the beginning of the school year, Quick teaches a unit on positive psychology, and introduces the practice of meditation to his students. After that, his class meditates regularly for the rest of the year.
"I think that meditation allows students to leave whatever happened during brunch or in earlier periods behind," said Quick.  "Meditation can change a student's mindset."
Quick usually has his class meditate when there are a variety of distractions in the room, but they will also do meditations if a student requests it. Quick also has his students meditate to "get a feeling for the room."
Seven years ago, Quick was introduced to a mindful meditation class at Kaiser by a therapist.  
Meditation has existed since 1500 B.C., with Hindu traditions of Vedantism. Eventually it became part of Buddhism.  Many have practiced meditation, such as teachers like Quick.
Quick started a meditation 'club' last year, and opened it up to all teachers and some students, but the two teachers who meditated consistently with him were Hodges and Carpenter. 
Hodges guides his students through a brief meditation before important tests. 
"Students have a lot going on in their mind throughout the day, especially if they have other classes before mine," Hodges said. "I think that the brief meditation allows them to re-focus their minds on what they know about history."
Hodges said meditation can really help reduce stress, especially before a test.
"I feel a lot calmer about the test after we do our mediation session," said junior Anish Gandhi, a student in Hodges' class.
Hodges uses a zen based practice for his meditations in class. When following this practice, students are supposed to breathe  deeply while focusing on their breath.
"It's OK if your mind wanders," Hodges said.  "Your mind wandering allows your brain to push all the stressful thoughts away for the time being."
Junior Ryan Innamorati, who is in Hodges' class,  believes that every student can benefit from meditation.
Barbara Carpenter, who teaches freshman health, also has her students meditate at different times throughout the school year.
Both Quick and Hodges had the opportunity last year to go to a meditation camp in Sonoma, lead by a Buddhist priest. 
At the camp, Quick and Hodges did not speak for a week, and meditated for up to five to six hours a day. 
Hodges said that the meditation camp changed the way he looks at life.
"At some point during the camp, I began to notice, or to be more present during the meditation," Hodges said. "Meditation became more effective and I began to be able to feel empathy for others."