AP art students showcase skills
Hang on for a minute...we're trying to find some more stories you might like.
Students from across the district have come together to display their beautiful artwork in an exciting event.
Face It, the San Ramon Valley Unified School District's visual art show, highlights high school students' work in a variety of mediums, including painting, sculpture and photography.
AP art students who participated in the show began presenting their pieces at the Village Theater Art Gallery in Danville on Thursday. The show runs through Dec. 17. 
This year, the focus of "Face It" is to portray work that displays the struggles that the participants face.
 The main goal of the exhibit is for students to create compelling personal artwork that is tailored to each individual's personal taste. 
Since art is subjective and everyone interprets artwork differently, the prompt of depicting a "problem" was left open to interpretation.
 Art teacher Jennifer Bible thinks the prompt presents a new way for students to showcase their abilities. 
"I believe that our students have the capacity to create truly influential and inspiring pieces," Bible said. "I know that our students have ideas and messages that they wish to share with others and the capacity to create visual art to do so."
Photo teacher Paul Fortayon also deeply believes that his students will do great work.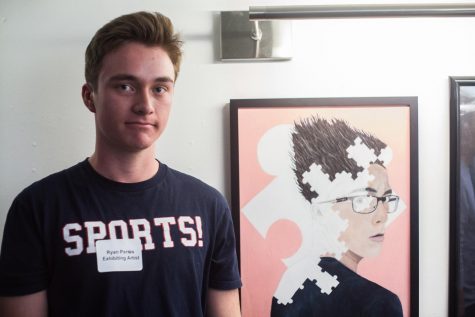 "They are going to be phenomenal," said Fortayon, who believes that the majority of the students participating in Cal art classes are extremely talented and will provide amazing pieces for the exhibit. 
Bible said she is thankful for  Dougherty Valley teacher Kelsey Wengel's support and help to get Cal its first submission eligibility for "Face It". 
Participants, such as  seniors Carolina Olvera, Ashley Tran, Laxmi Medikonda, Tyler Bush, Poloma Mariano and junior Sydney Furman , said they are all thankful for the opportunity to participate in the show this year.
 Participants have a range of topics in which they are presenting.
 Senior Jared Duffy is presenting a black and white film photo that displays himself in an older car. The title of his work is "Old Hollywood," and represents him embracing the past, present, and future.
Medikonda worked for a number of hours on her project, which was made to present the issue of environmental defamation, which she considers to be an ever relevant and important topic. 
"The defamation of the environment is a topic that continues to … get worse, so I wanted to bring attention to it with my art," said Medikonda. 
Not all of the AP art students participated in the show. Some said they felt the guidelines for submissions could have been more clear.
"I chose not to participate because there was no real guidelines or criteria," said senior Cam Cave. "I didn't feel as if I had the time or energy to create a project when I don't know what my final product is supposed to look like." 
The exhibit shows how talented district students are when confronting new and challenging topics.