iQuest helps seniors get ahead
Hang on for a minute...we're trying to find some more stories you might like.
For some students, career paths become clear before high school, so it's frustrating knowing there's still a long way to reach their career goal. 
But with Cal High's iQuest program, seniors are able to dive into their careers of choice much sooner through invaluable internships. 
"The only way to truly know if a job or industry is right for you, is to experience it first hand," said iQuest teacher Shanna Gagnon. "Gaining experience early can help inform decisions that will positively impact the next phase of academics for our students."  
iQuest is a class available to seniors where students learn professional and personal development skills to help them in a future career. They meet once per week on campus. On the rest of the class days, the 30 students enrolled spend time off campus at their internships. 
To help her pursue her passion for medicine, senior Nida Hasan interns in the gastroenterology department at a cardiovascular consultant. 
Gastroenterology is a study of medicine that focuses on stomach and intestine disorders. She shadows a doctor and watches the abdomen exams, later discussing the patient's case. 
Hasan is passionate about pursuing a career as a cardiothoracic surgeon in the United Nations.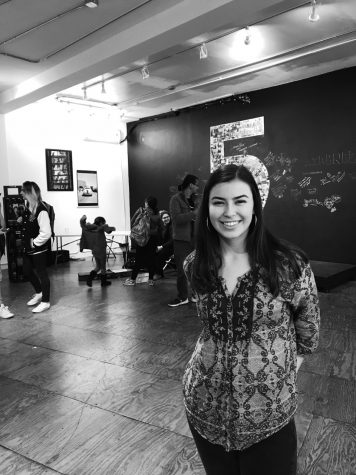 Although her internship is with a gastroenterologist, she said it's worth it because she has developed connections with other doctors and has been exposed to the different aspects of the medical field. 
"The science is basically is the same, all the fields of medicine are interconnected," said Hasan. 
This first step into this field of profession has taught Hasan that it is important to be professional in how she dresses and how she speaks to people. She's learned the best way to present herself to bring out her best qualities. 
Even though she's been interested in medicine since childhood, the best part about her internship is interacting with the patients and learning their stories. 
She mentions an 84-year-old woman who comes into their office frequently whose children refuse to take her in. 
The woman lives in a welfare home moneyless, so the gastroenterologist Hasan works with pays for the woman's medicines. Hasan said she realized the beauty in helping people through her internship and how rewarding it can be. 
For anyone interested in pursuing a medical career and getting in on the action through an internship, Hasan's advice is to take advantage of every opportunity and reach out to as many people as possible. 
"You're going to meet a lot of doctors who are arrogant and don't want to help," said Hasan. "Don't take no for an answer and learn how to accept rejection gracefully. Someone's going to accept you somewhere." 
The interests of senior Christina Monis are quite different. She interns with Youth Speaks and is on the leadership advisory board called Spokes. 
Youth Speaks, based in San Francisco, is one of the world's leading presenters in Spoken Word performance. They create safe spaces for young people to come forward and bring about social change. 
This program highly emphasizes the art in language as it is known for performing Spoken Word poets. 
Monis runs mic nights, festivals, after school workshops, and community action projects. She has also  been trained to help people with emotional and mental episodes decompress. 
Monis is passionate about reaching out to marginalized communities and creating safe spaces for them. Her desire to help leads her to enjoy creating platforms for new innovative approaches to education, writing and opening up the conversation for our youth. 
She's had great experiences at her internship so far, including a time when she attended the Youth Speaks fundraising gala at the Masonic in San Francisco. Their branch-off project, Brave New Voices, performed slam poetry the whole night and left her in awe. 
This internship has taught Monis to conduct herself in a mature and respectable way. She understands and realizes her responsibilities in pitching in ideas and following through with them and staying committed to her tasks and attending all of the events. 
One of the hardest things about her internship is the emotional intensity and the commute from her house. With Monis' busy schedule, she wishes she could invest more time into the school workshops.
Her best advice to students given the chance to intern is to enjoy the opportunity given and make the most of it. 
"Don't be intimidated by competition," said Monis. "Welcome it and it will make you improve as a person." 
Senior Mitchell Bias has a completely different type of internship since his interests are in environmental sciences. 
Bias does environmental and geotechnical engineering at a firm called ENGEO in San Ramon. ENGEO is an award winning firm made up of geotechnical engineers, environmental scientists and hydrologists. 
Bias responsibilities in the firm vary from project to project, but he usually organizes and makes reports, goes out and takes measurements in the field, logs hours in the lab, and shadows the principal engineers. 
Since Bias is only a student intern, his biggest challenge is finding stuff to do. He mentions that it's hard getting hands-on projects when the workers have already been in the office from morning to afternoon. To avoid sitting around the office, he utilizes his time in the lab since it's always busy and has activities to complete.
"The coolest experience I've had at my internship is getting to help use a nuclear gauge that tests for certain ground characteristics on field sites," said Bias. "I've also gotten to drive a forklift at the lab which was pretty fun."
He said the iQuest class has also helped give him insight to the "adult world". 
With Gagnon's fun lectures and activities he has learned correct workplace behavior, how to craft a resume and interviewing skills since professional development is crucial to succeeding in the workplace. 
His best advice to students pursuing an internship in science or engineering is to be prepared for boring office tasks at first. But by showing patience and proving himself as a hard worker, more interesting and hands-on experiences have come his way. 
For artistically inclined students, Katie Kravitz's internship at Rogue Mark in Berkeley is impressive. The illustration and video production company specializes in graphic recording, where artists create graphic notes live on talks or seminars given usually by companies, organizations or speakers. Rogue Mark also makes videos for companies. 
Since Kravitz is an artist, she hopes to attend an art school in the future because she wants to pursue some sort of art career. This allows Kravitz's internship at Rogue Mark to explore artistically related fields. 
Kravitz preps posters, does a lot of sketching, and gives creative input to help create mockups and designs. She sketches and plans graphic recordings as well as making props for the videos. She makes sure to observe and learn the programs the company uses as well as how her mentor runs her business.
This internship has been a new experience for Kravitz as she has felt more independent ever since she started. The commute to Berkeley from BART has made her gradually feel more confident with this sense of independence. 
She enjoys her internship as new opportunities are open to her, like going to the Girls' Festival in Oakland and similar events. At the Girls' Festival she helped her mentor at a booth where they empowered women about going after careers. It was warming to her that the whole event was about empowering women, something she strongly supports. 
She recently designed a poster for a Stu Steinberg documentary which is one of the chosen 15 documentaries for the Oregon Documentary Film Festival. 
"It's pretty cool to see the poster you helped create on websites and know that it's being seen by others on a greater scale than I'm used to reaching," Kravitz said.
This internship has allowed Kravitz to make connections and utilize the experienced adults around her. They've given her helpful advice in applying to art schools and technical skills in storyboarding and animation. 
"One of the hardest things to deal with is feeling the lack of experience in age or skill which can make you feel really exposed," said Kravitz. "Overall though, it's become a great feeling because it has motivated me to want to learn more." 
Gagnon said her students' internships have a huge impact and give them a competitive advantage in rich academic and professional experience.