Florida shooting spurs student walkouts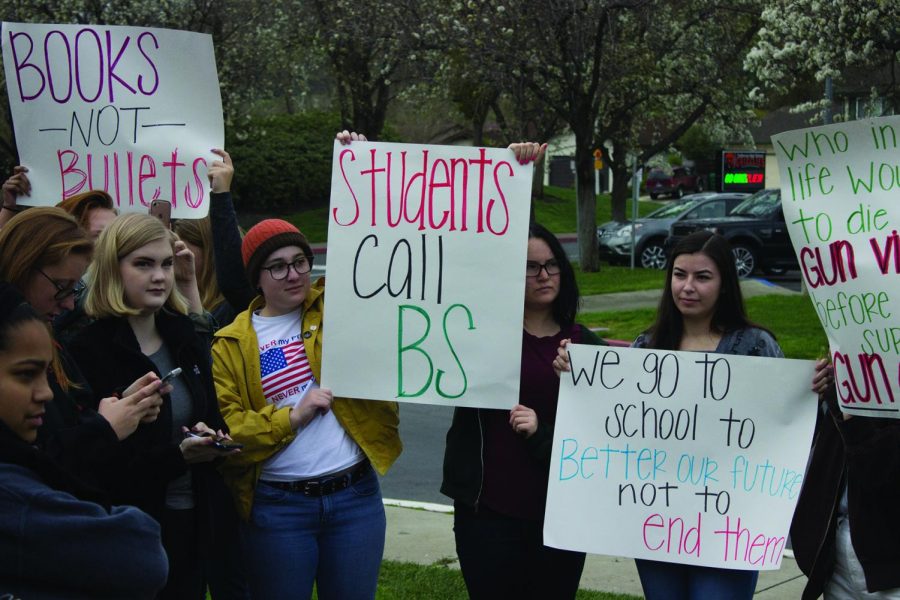 In the wake of the deadliest school shooting in American history, students, parents and teachers are turning to mass protest and political action in an effort to achieve their goal of putting an end to such gun-related tragedies.
Soon after the Feb. 14 tragedy at Marjory Stoneman Douglas High School in Parkland, Fla., multiple national marches and walkouts were planned for this month and in April, with large organizers like the Women's March coordinating with high school students.
"I believe that if students come together, they can make change," senior Gabrielle Reid said.
A local rally and march against gun violence was in San Ramon on March 9. Community members marched from Bollinger Canyon Road to Bishop Ranch. 
But this event was specifically targeted toward community members,  rather than specifically students. 
Unlike the march and rally organized by adult community members, there are three dates planned by students, including the first of two walkouts happening today. There is another rally scheduled on March 24, and a second walkout on April 20 to coincide with the 20th anniversary of the shooting at Columbine High School in Littleton, Colo.
Columbine was the deadliest school shooting in American history at the time.
Cal students who have strong opinions about gun control have no hesitation walking out of class despite any district consequences.
"I think participating is standing for the right issue," said senior Madison Ellis.
Students hope that by partaking in the protest, it will not only  support the cause but impact the issue of gun control as a whole. 
But some students still remain wary of what the consequences might affect them if they choose to participate. 
"If there were consequences I might not participate because of my parents," Reid said.
San Ramon Valley Unified School District Superintendent Rick Schmitt sent last Friday an email to district families specifically addressing the walkout.
"The district is encouraging students who wish to participate in these activities to remain on campus," Schmitt wrote. "However, should students choose to leave campus, we will ensure that they are accompanied by both staff and law enforcement."
Schmitt wrote that students who choose to leave class today for the 17-minute protest will receive a partial unexcused absence for the period of time they are out of class.
Policies for makeup work for unexcused absences are up to classroom teachers, he wrote.
"While students will not face school discipline for student political action, it is important to know that disorderly conduct that disrupts school operations is not acceptable and will be handled compassionately, but firmly in accordance with Education Codes, Board Policy, and Administrative Regulations," Schmitt wrote.
Today's walkout is planned by the organizer's of last year's Women's March. It  is the only one of the two dates that could affect our school district as the organizer's website has walkouts scheduled at San Ramon Valley and Dougherty Valley high schools.
That walkout will occur nationally today at 10 a.m. and will last upwards of 17 minutes.
A march  scheduled on March 24 is being organized by Stoneman Douglas survivor Cameron Kasky. He started a GoFundMe after the tragedy to help fund his march and has already raised more than  $2.7 million.
The question for student organizers and protesters around the country is whether it is appropriate to stage a walkout during the school day or outside of instructional time.
"I believe that students have the right to protest whenever they want but cutting class is an inconvenience to the school so marching on weekends would be a better option," said junior Jonathan Chan.
The issue of the protest scheduled during school also brings up the civil rights of high school students. 
In the precedent setting Supreme Court decision Tinker v. Des Moines Independent Community School District in 1969, Justice Abe Fortas wrote in his argument, "It can hardly be argued that either students or teachers shed their constitutional rights to freedom of speech or expression at the schoolhouse gate."
But Fortas conceded that free speech at a school could be punished if the school could prove that the action interfered with the operation of the school.
So of course, if students leave during a class to protest they will face the consequences their school associates with cutting class.
"While it's important for students to express their political opinions it shouldn't have to interfere with school," said junior Alex Radzanowski. 
This opinion is being echoed by superintendents and districts around the country.
In response to news of impending walkouts, the Needville School District in Texas threatened students who choose to participate with three-day suspensions.
Justifying his decision to enforce this policy, Needville School District Superintendent Curtis Rhodes wrote in a Facebook post "A school is a place to learn and grow educationally, emotionally and morally. A disruption of the school will not be tolerated."
It is also important to remember that the significant dip in attendance that would accompany a large walkout would affect the school and student body as a whole. 
California is a state where school funding is directly tied to attendance rather than enrollment.
"If every student in the district walked out we'd lose out on millions of dollars of funding," said teacher Joanna Condon.
But some students are willing to accept any consequences to be able to voice their opinions.
"Its time for students to take our lives and safety into our own hands," said senior Des Jower. "I'm a senior, so at this point it doesn't matter. The district can do what they want, I'm still participating."