Gender Sexuality Alliance promotes acceptance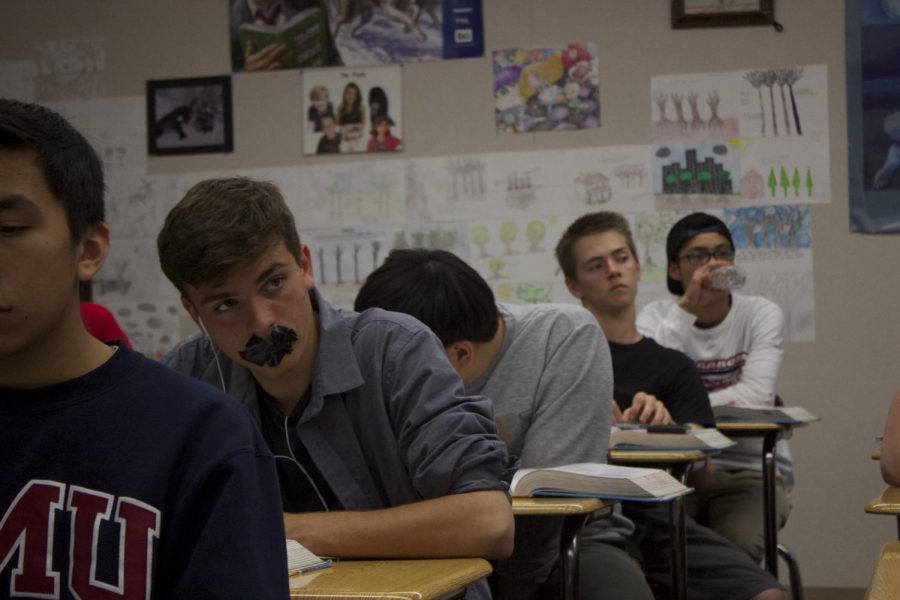 The Gender Sexuality Alliance (GSA) has been a club at Cal High for almost five years, helping create a safe space for members of the LGBTQ+ community and allies every year. 
The GSA meets every other Tuesday and is open to all students. It promotes acceptance and equality for all, and is primarily a student-run club advised by AP Psychology teacher Brandon Quick. 
"I've always been very involved in the LGBTQ+ community," Quick said. "In the past I was involved in the Human Rights Campaign and other organizations." 
As an adviser, Quick wants GSA to educate people on issues and provide a safe space. 
But the big focus of the club is to create a community without separation.  That's also one of the goals of Pride Week, which is celebrated this week in the school district and nationwide.
 Today is the Day of Silence where students will wear duct tape covering their mouths to symbolize the silence LGBTQ+ members have faced because of marginalization and oppression over the years.
After school today there's a Break the Silence event in the library from 3-5 p.m. This event allows students to speak out about their experiences associated with LGBTQ+ issues.
A lot of the students who attend the event are the ones who participate in the Day of Silence. But the event is open to all students and staff.
"The Day of Silence is a day to help us remind ourselves the struggle members of the LGBTQ+ community face," said junior Madi Wade. "It's an incredible message and important in the march toward a future of love and respect for everyone."
Pride Week will culminate with the Gayla dance at Monte Vista High tonight from 7-9 p.m. Admission is $15. All proceeds go to support the Trevor Project, which supports LGBTQ+ youth. 
Although leadership organizes all events associated with Pride Week on campus, the GSA is actively participates in many of the events.
"I've been a member since my freshman year but an officer since the beginning of this year," said sophomore treasurer Nan Raghuraman. "We as officers are here to educate people about the community and also bring together members of the community over issues we face at school and try to solve them." 
GSA is not only for LGBTQ+ community, but for their allies who want to be informed about the community on campus. 
"Our meetings tend to be education based where we educate on different sexual orientations or genders, sometimes about current events or media involving LGBTQ+ figures or rights," said junior Briana Berastain, who is the club's vice president. "We always try to have a discussion about how we can help fix issues or try to understand why they happen." 
Berastain joined freshman year because she wanted to advocate for LGBTQ+ rights. She became an officer last year because she enjoys shaping the club to have a bigger role in the community. 
"I joined because I love my community and I wanted to learn more," said junior Brooke Friedel. 
High school is a place where students find out who they are and it can be scary doing it alone. 
"GSA means a lot to me because I feel like people are still figuring themselves out in high school and having an outlet like GSA can be helpful for them," said freshman Brandon Amor. "It's a really welcoming environment that accepts everyone for who they are." 
The club focuses crucially on treating everyone equally and welcoming all. 
"The club has always felt like a little family which is truly special," said Wade. "It's doors are always open to new members."