Honors Chemistry added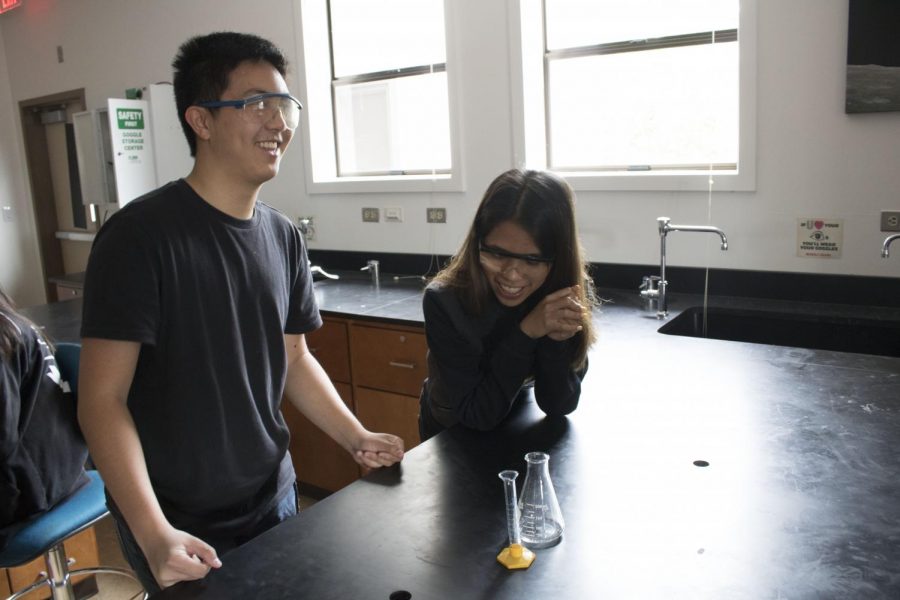 When next year's class selections came out this spring, many Cal High students were surprised by one course addition in particular: Honors Chemistry.
Known to challenge students with its grueling concepts and difficult subject matter, chemistry is required for students who want to move on to higher-level science classes such as AP Biology or AP Chemistry. 
The year-long class also is among Cal's physical science courses, one of which must be taken by students in order to graduate, as stated by California's graduation requirements. 
In addition, students who want to apply for a University of California school must pass chemistry.
With Cal not having the option of an honors chemistry class for many years, students are wondering about the purpose of the new class.
"Changes [to chemistry classes] were made because we're trying to increase UC acceptance for all students," said chemistry teacher Jack Sarkany, who serves as the science department curriculum leader. "The fact is that all students need to pass chemistry [and classes like it] in order to graduate high school so these classes can make more students eligible for UC's, or other more advanced schools." 
Additionally, Sarkany thinks that the science department's decision to create an Honors Chemistry class will help students with a passion for STEM (Science, Technology, Engineering, Mathematics) to cultivate their skills and head down a more challenging path.
"We needed to make a class that was more for students going into science and engineering, which would be Honors Chemistry," Sarkany said. "Anyone who was not going that direction will be in general chemistry."
The addition of the class was talked about early in the school year, with the science department and the San Ramon Valley Unified School District working in coordination to modify Cal's science curriculum because of a change in the Next Generation Science Standards, which were developed by states to improve science education for all students. 
Cal's decision to incorporate the class also stemmed from the fact that all other high schools in the district offer Honors Chemistry. 
"Honors Chemistry is a class that has been offered by other schools in our district, so when I heard our teachers wanted to bring this class on campus, it seemed to make sense to me," said counselor Cheryl Youngberg. "So far we've had a good sign up for the class and there seems to be a lot of interest for it, so we'll be offering several sections of the class next year." 
Many students support the decision of adding Honors Chemistry to the curriculum.
"I think it's a good idea," said senior Gabby Bishoff. "Some kids learn at a slower pace than others. Some kids are naturally gifted in physical science and would like the opportunity to receive honors credit."
Although some students believe the change will be beneficial, other upperclassmen think the regular chemistry classes they took were difficult and that the district is making the classes they had struggled through easier for incoming students. 
"Chemistry was a really challenging class and it's unfair that they're making an honors class for it," said junior Lori Liu. "I think this combined with the credits being lowered [to graduate] makes it easier for the lower classes."
Administrators tried to acknowledge this perspective and recognized the challenging nature of regular chemistry classes, as many students have voiced their thoughts about the class.
"I definitely think that chemistry is a hard class, and I think that I hear it from kids too," Youngberg said. "That was one of our concerns when we talked to chemistry teachers and they wanted to do this. We had to ask how this class was going to be different.
"There's going to be changes made to regular chemistry, as well as to Honors Chemistry so that students that are taking their regular chemistry classes now are going to be able to get what they need and feel successful," Youngberg continued.
With the addition of this course, many students also wonder which teachers will be teaching the new class. 
"We're not really sure who will be teaching the class next year," said chemistry teacher, Dave Sandusky. "But it's better that we're making the addition [of the class] sooner than later."
Overall, teachers and administrators see the emergence of the new class as an approach to helping Cal students succeed in the future. 
 "We're going to have more students passing chemistry," said Sarkany. "I'm looking forward to seeing the effect of this in the future."