Not horsing around
Rhetta Haase, Lily Holtmeier are accomplished horse riders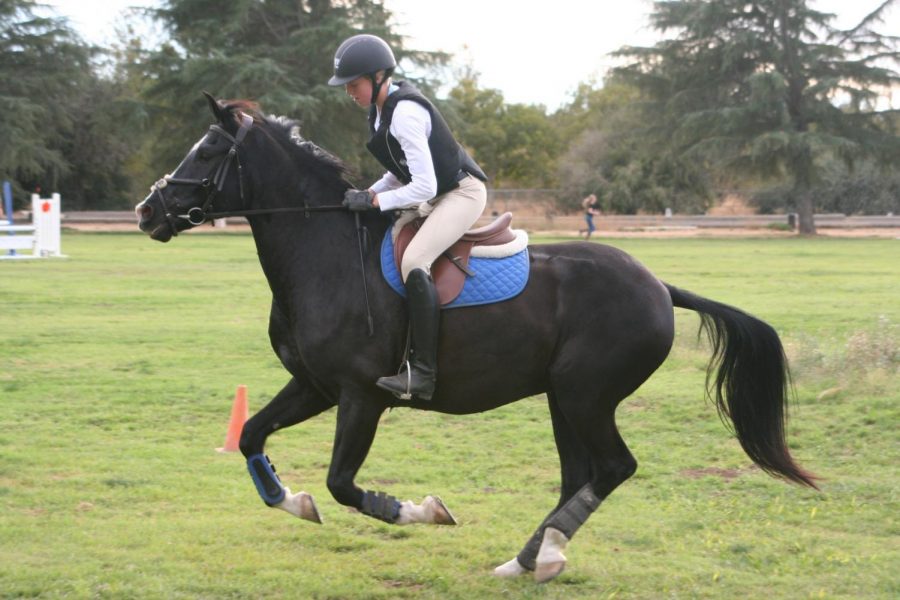 Emmy Burrus and Nikhita Dhamrait, Staff Writers
November 15, 2018
Senior Rhetta Haase was only nine months old when she was put on a horse for the first time.
Sophomore Lillian Holtmeier's first ride on a horse came when she was about seven years older than Haase.
But both girls share one thing: a strong connection to their hores-riding sports.
"A lot of people say I was born in the saddle," Haase said.
Although Haase was too young to ride the horse, or probably even understand what she was doing, she clearly made some connection with the animal while she sat on it in a pumpkin pactch before she could even walk.
Haase began riding horses officially a few years later at age three and she is now one of the top barrel racers in the state.
Last summer, Haase won Grand Champion barrel racer at the State of Champions, a week-long competition featuring riders throughout the state.
After earning enough points throughout the season to qualify for the event, Haase took home the top prize for her division.
"It's not just a sport or a hobby," Haase said. " It's a lifestyle and who I am, as a person."
Although Holtmeier hasn't been riding nearly as long as Haase, she still has been in the saddle for six years and now competes in three-day eventing, which includes dressage, cross-country and show jumping.
Holtmeier said she was introduced to riding by her father, who also rode when he was a kid.
"He signed me up for this [horseback riding] camp and I just fell in love with it," Holtmeier said.
Holtmeier has competed in numerous events, winning several of them. She  recently won novice dressage at the UC Davis Derby on Oct. 28, and took home first place in the one-meter jumper class at Valley Brook Equestrian Center in Napa Valley on Sept. 2.
Holtmeier's favorite part about being a three-day eventer is cross-country riding because she finds the speed thrilling.
Haase also has a need for speed as a barrel racer. In this event, the horse and rider try to finish a cloverleaf pattern around barrels as fast as possible.
Haase has competed for the past two years, winning several buckles and her grand championship.
The circumstances surrounding her greatest accomplishment as a racer are definitely unusual.
Last summer, Haase's horse, Rosco, was diagnosed with osteoarthritis in his left hip and could no longer compete. Haase had to use a friend's horse to finish the season.
Haase advanced to the State of Champions and won her title after training with her friend's horse for only a few months. Despite not competiting with Rosco anymore, she still visits him every day at the Las Trampas Stables.
Like Holtmeier, Haase's parents grew up with horses and are very supportive of their daughter's riding.
"It's really added a lot of enrichment to all of our lives," said Haase's father, Jamie Haase, who works in Cal High's resource department. 
Holtmeier's parents also are very supportive and impressed with their daughter's riding abilities. 
"I think it's a pretty normal reaction to want to ride them [horses], for any young girl," said Kelly Asplund, Holtmeier's mother. "I think that her obsession with it and how good she was was really surprising."
Haase's friends, many of whom also ride, are inspired by her as a rider. 
"I admire that she knows what she needs to do and gets it done, not in a mean way but in an assertive way," said junior Emmi Papageorge, Haase's friend who rides with her. "She's not easily pushed around by the horses." 
Holtmeier's friends are also supportive and love her two horses, Forest and Summer, which she keeps in Napa.
"Her horses are really fun," said sophomore Thomas Files, Holtmeier's friend. "She never stops talking about them."
Holtmeier competes at many significant competitions, while Haase typically competes more locally with a few larger competitions. But they both agree that they show to win.
 Despite their different sports, the two girls have managed to make many strong friendships throughout their careers as riders.
"A lot of them [her favorite memories from riding] are stories I have with friends," said Haase.
But horseback riding hasn't always been a walk-in-the-park. Holtmeier and Haase have both experienced some challenges throughout their riding careers. 
Holtmeier said one of the main challenges she experienced was developing a trust with Forest and Summer.
"It's kinda hard to ask them [her horses] to fly over a three- foot-six jump," Holtmeier said.
Holtmeier uses Forest for competitions, but prefers not to use Summer because she has anxiety after being abused by previous owners. Holtmeier said that the day they bought Summer is her favorite memory from riding.
Holtmeier and Haase have both been able to overcome any obstacles and have big plans for the future.
Holtmeier hopes to qualify to compete at Rebecca Farm in Montana next summer, and the American Eventing Championships in Kentucky in the Summer of 2020. 
Her ultimate dream as a rider is to compete in the Olympics. 
Since her horses are in Napa, she can only see them about three times a week. So, she said that it would be a dream come true if Cal offered horseback riding as a sport.
Haase agrees but they both recognize that this would be very expensive and possibly a liability.
In the future, Haase hopes to compete in the professional rodeo circuit and, one day, to open up her own stables.
"One thing I always learned was that if you fall off you have to get back on," Haase said.
Holtmeier agrees with this attitude, making it clear that mindset of these two young riders will help them go far in their careers.