Memorial dedicated to fallen student
Cal High graduate Kyle Crowley remembered for his military service and ultimate sacrifice.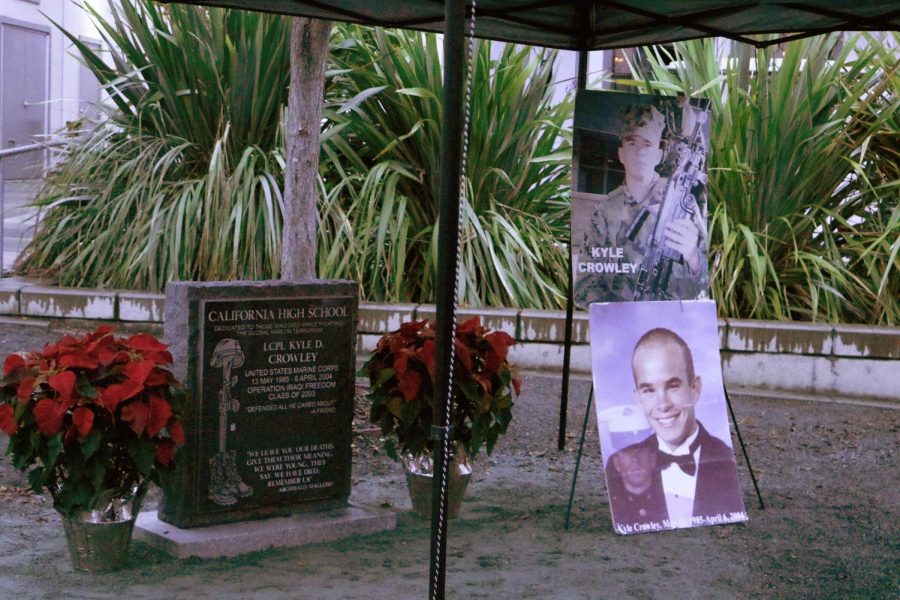 Ben Rettig, Staff Writer
December 18, 2018
The afternoon of Nov. 27 was one of remembrance for the Cal High community as one of their own was forever etched in the foundation of campus.
Lance Corporal Kyle D. Crowley, a proud Cal graduate and even prouder Marine, was honored with a stone memorial dedicated to him in the school quad.  
A 2003 graduate, Crowley enlisted in the Marines directly out of high school at the age of 18 and made the ultimate sacrifice for his country on April 6, 2004, in Ramadi, Iraq. 
Crowley selflessly died trying to help other Marines who came under enemy fire. Crowley was posthumously awarded the Purple Heart for his act of valor.
In an effort to preserve Crowley's legacy and to honor his service and sacrifice, it was determined that a permanent memorial would be placed on campus. In a joint effort between the East Bay Blue Star Moms Chapter 101, the Vietnam Veterans of Diablo Valley and the San Ramon Valley Unified School District, Crowley's  memorial was unveiled during a ceremony attended by the Marine's family, friends and mentors.
"Kyle was part of this school and it is important for the students to see that one of their own, one of their alumni, paid the ultimate price for this country," said Bill Green, president of the Vietnam Veterans of the Diablo Valley.
The rainy but peaceful winter ceremony was held in front of the memorial, permanently situated between Cal High's old gym and technology buildings.  
A wide range of organizations and groups came to view and take part in the ceremony, many of whom were also keynote speakers during the dedication. 
Distinguished speakers and participants included Crowley's father, Mark Crowley; Christine McCracken, president of the East Bay Blue Star Moms; the Vietnam Veterans of Diablo Valley color guard; Cal's chamber singers; Peggy Conklin, attendance secretary and co-founder of the East Bay Blue Star Moms; Superintendent Rich Schmitt; former Cal Principal Mark Corti; retired PE teacher Sue Goddard; retired Colonel Allan Cruz Marine Corps League; and Luisa Oriti, past president of the East Bay Blue Star Moms.
Several of the speakers were very dear to Crowley and knew him well during his time at Cal.
"Kyle came to my office after he completed basic training and he was in his uniform and that was really special because he was so proud in that uniform," Corti said. "Kyle was a wonderful young man who had some challenges that he overcame."
The memorial, a large, polished, dark granite stone, was furnished by the Vietnam Veterans of  Diablo Valley.  The facade of the stone mentions Cal, a dedication to those who served, Crowley's name, date of birth and death, rank, operation Iraqi Freedom, a memorial quote, and the battlefield cross.  
The battlefield cross is the symbolic identification of a fallen service member. It consists of boots, a rifle, dog tags, and a helmet atop the rifle. 
While friends and family want the memorial to symbolize Crowley's service and sacrifice, they also said that they would like the memorial to be symbolic on a larger scale.
"I want people to realize the sacrifice our soldiers undertake and the freedoms that our military provides," said Conklin, who served as master of ceremonies for the dedication. "I want people to realize that there are some of their peers who choose to serve in the military and they need to respect and have pride in that service. 
"I hope that they see this memorial to a former Cal High student and look at it as they pass by and realize that freedom isn't free."
Chad Higgins, a dear friend of Crowley's in high school agreed.  
"The message that I want people to take away from this memorial to Kyle is to just be thankful and to feel blessed because we are really here because of the men and women in our armed forces like Kyle," Higgins said.
Perhaps the most moving point during the entire dedication came when Kyle's father, Mark Crowley, came up to speak.  
Mark Crowley, an Army veteran himself, was initially against his son's desire to enlist in the Marines. Mark Crowley said he feared for his son's safety in the Marine Corps.  
He went on to explain how he chose to set aside his intuition in favor of his son's desire to fulfill a dream. 
"It was a tough decision to make but as parents there comes a point in our children's lives where we have to let them make their own decisions and that is what I chose to do," Mark Crowley said during the ceremony.  
Although originally opposed to his son's decision to join the Marines, Mark Crowley is now forever proud of his son's service to his country. He believes that every student can honor his son with a simple gesture.
"Students can pay respects to Kyle by never forgetting him and what he believed in," Mark Crowley said. "Kyle knew what his dreams were and pursued them so doing the same in your life would be an honor to Kyle."
Now a Blue Star father and strong advocate for the recognition of America's fallen service members, Mark Crowley would like to see what has been done for his son replicated elsewhere.
"I want people to take away how amazing it is that Kyle will always be remembered," Mark Crowley said.  "California needs to do this at all schools for every soldier who has sacrificed and died."
Corti echoed the call for other memorials like Crowley's to be dedicated at school campuses around the country.
"We should always remember the people who served, who currently serve, and the people who have lost their lives serving," Corti said.  "This is the patriotism of America."
About the Contributor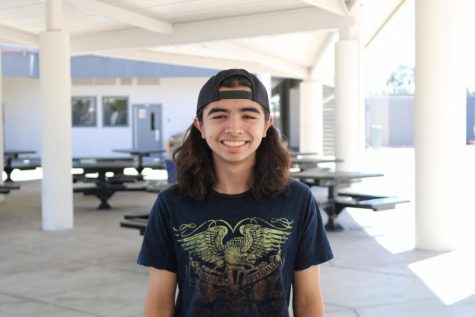 Eddy Cordero, Photography Editor
Eddy Cordero is a Co-Editor for photography in The Californian. He is a junior who enjoys mountain biking, skating, playing/writing music, And of course...