Celeste the singing superstar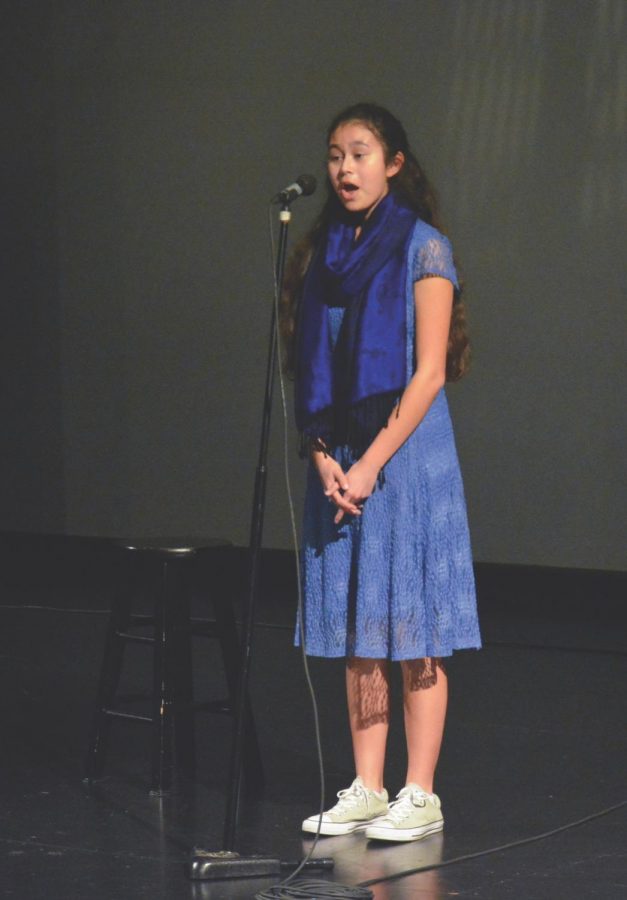 Emmy Burrus and Maira Nigaar, Staff Writers
May 2, 2019
ste Virador dreamt of becoming a singer. 
Little  did she know that years later she would be cast in the renowned San Francisco Opera Guild Summer Conservatory during the summers of 2016 and 2017.
But Virador isn't limited to just singing opera music. She recently performed "What Ever Happened to My Part?" from "Spamalot" during the school's Kaleidoscope concerts last week, and she has been part of Cal High's treble choir for the past two years.
Virador has been interested in singing from a young age, and this life-long love has shaped her into who she is today. 
"I've grown up with [singing]. It's a part of my life," Virador said. "So in a sense, it's just a part of my identity." 
Virador's mother, Jennifer Virador, originally discovered the Opera Guild Summer Conservatory online, and it sparked her daughter's interest. 
The Opera Guild is a hands-on experience where students are able to practice and perform. Since 1923, the Guild has been producing some of the best young opera singers and boasts that it is one of the top opera institutes in the world.    
"In middle school she decided she wanted to study classical voice," Jennifer Virador  said. "I found her a voice teacher who is an opera singer herself. I also found an educational program that runs a summer conservatory through SF Opera Guild."       
After a successful audition with the Guild, Virador spent the next three weeks pushing herself to be a better singer, traveling to the city on BART almost every morning with her mother.
"Celeste auditioned and participated in two summer programs and will likely participate in one more," Jennifer Virador said. 
The Opera Guild Summer Conservatory is a three-week program in San Francisco with mandatory attendance from 9 a.m. to 3 p.m. and with a final performance at the end. Commuting from the East Bay can be a challenge, but can be done with family support."      
Throughout her experience in the Guild, Virador's parents were always very helpful and supportive. 
"I'm really glad that [her and her mother] did it because I don't think I'd be the same person without it," said Virador. 
She first realized she could be a successful singer after being selected for a solo at her former middle school. 
Though the concert was canceled, she felt more confident about her singing. 
Consequently, she decided to take voice lessons and began fine tuning her singing abilities.
With the aid of her voice coach and through the songs they rehearsed, Virador was able to have a successful audition that she could feel confident in. 
Despite thriving as a singer, Virador struggles with asthma, a clear obstacle for any artist. This causes Virador to tap into her breath differently than others, a method that is guaranteed to cause exhaustion. 
"It's like running in a way that's really fast but not correct," Virador said.
Despite the difficulties that this condition brings, Virador has still managed to push through and continue singing.
Another musical influence in Virador's life is her choir teacher at Cal High, Nicholas Patton. Although she didn't know him while she was in the Opera Guild, he has been a great help to her since then. 
"[Virador is] hardworking, passionate, and a serious artist," Patton said.
This is Virador's second year in Patton's choir class. He says that this year Virador is focusing on soloistic singing, rather than choral singing.        
"She is honestly the most talented singer I have ever met," Virador's friend, Sofia Castellanos, said. "In choir, she is very reserved but she loves to sing, and you can tell."
The Opera Guild also provided an opportunity for Virador to improve her acting skills. Virador believes that since singing is so dramatic, it goes hand-in-hand with acting.
"You can be an amazing singer but people won't like you unless you can emotionally draw them in, and that's where the acting comes in," she said.  
Her passion for acting has led her to participate in drama class last year and has made her an active member of the drama club this year. 
Virador would love the opportunity to pursue her passion for singing, starting with potentially rejoining the Opera Guild this summer.