Grizzly athletes leave the den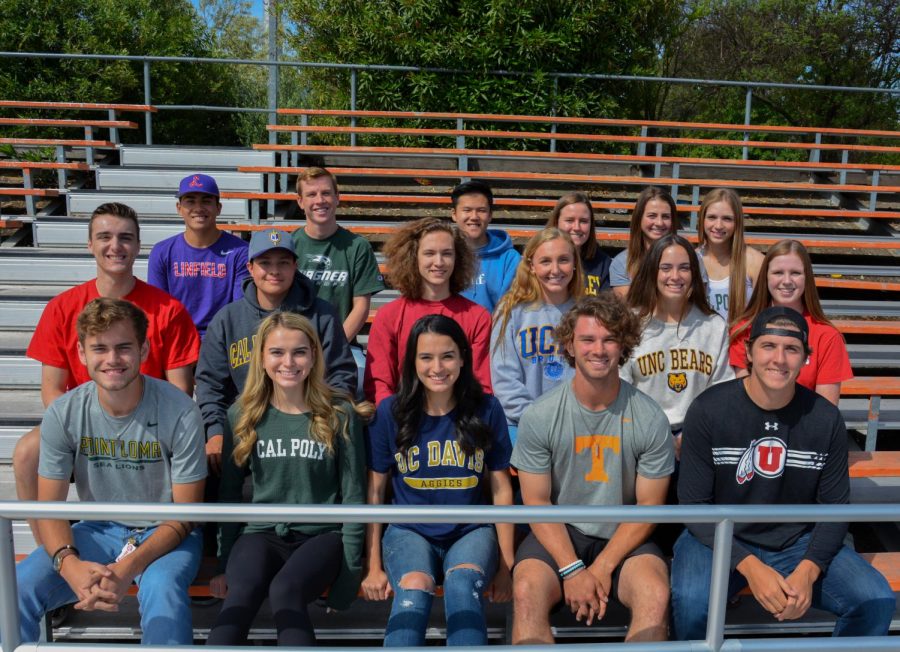 Ben Rettig and Cameron McKeon, Sports Writers
May 29, 2019
Cal High has 17 student-athletes who distinguished themselves to such an extent these past four years that they'll be playing their respective sports next year at the collegiate level.
Daniella Hawkins
After distinguishing herself as one of the top swimmers in the state, Daniella Hawkins will be swimming for UCLA next year.
Hawkins, who has swam for Cal all four years, placed in the top 8 in the 500 freestyle at the CIF State Championship three years, including a 2nd place finish this month. She committed to UCLA because of her love for the campus and their great aquatics program.
"What really made me want to swim for UCLA was the great team atmosphere and girls on the team," Hawkins said. "The amazing coaching staff, beautiful location and campus along with highly respected academics was also a great deciding factor."
Hawkins is very excited for many aspects of her upcoming college career.
"I am most excited to be traveling with the team for dual meets, Pac 12s and NCAAs next year," said Hawkins.
Nikki Trucco
Senior forward and attacking midfielder Nikki Trucco will carry on her decorated soccer career to Cal Poly San Luis Obispo this fall.
Trucco won NCS Sophomore of the Year her second year on varsity, and followed up by winning NCS Junior of the Year. She didn't stop there, winning NCS Player of the Year this season.
The superstar forward scored a ridiculous 33 goals in just 24 games this season. She finished her career with a school record 67 goals.
Trucco said she chose Cal Poly because  the school was an all around fit for her.
"The coaching staff is amazing and all the girls on the team are incredibly sweet and talented," said Trucco, noting the great academic atmosphere and beautiful campus contributed to her decision.
Although her achievements at Cal were tough to top, Trucco believes she can still grow as a player at the collegiate level.
Blake Hazelton
Playing soccer along the sunny coast of San Diego for Point Loma Nazarene University is senior player Blake Hazelton. 
The seasoned varsity athlete has many lofty goals for next year. 
"I am very excited to represent my school colors and hopefully make a difference on the field as well," Hazelton said.
In addition to being offered a spot on the Point Loma team, Hazelton looks forward to all  the campus has to offer off the field. 
"Point Loma offered me many things that I desire," Hazelton said. "It's an amazing location, there are great majors to choose from, and the soccer coaches are very good."
While Hazelton moves on to bigger and better things in his soccer career, he will never forget his time at Cal .
"The highlight of my Cal  sports career has been making first team all league my junior year and captaining the team sophomore, junior, and senior year," he said.
Connor Lawrence
Headed to the University of Tennessee, senior catcher Connor Lawrence is taking his talents to arguably the best college baseball conference, the SEC.
Lawrence's love for the game has always been evident, and he will look to take it to the next level at Tennessee.
"I am most excited to go play in a different part of the country and against really good competition," said Lawrence, who has always stepped up and risen above the competition he faced.
With a rocket for an arm  and intelligence beyond his years, Lawrence helps pitchers get through innings with ease.
When asked about the highlight of his high school career, Lawrence was quick to respond.
"Catching Josh Giffins' perfect game last year against San Ramon Valley," he said.
Lawrence heads to Tennessee with high expectations for himself, and he is determined to achieve them. 
 Sydney Frankenberger
Committing to play Division 1 softball for Cal Poly, San Luis Obispo, next year is centerfielder Sydney Frankenberger.  
Frankenberger, an all star for Cal softball, has had many tremendous achievements in her time playing. 
"Making the all-time leaderboard for batting average, and on base percentage were just a couple of the many highlights of playing for Cal," she said.
Frankenberger is excited to be playing for Cal Poly next year. With a great program and campus location, there is a lot to love about the school.
"The first time I visited Cal Poly I fell in love with the campus, and when I met the coaches they automatically made me feel like a part of the team," Frankenberger said.
Josh Giffins
Committed to play baseball at the University of Utah, senior pitcher Josh Giffins will look to make an immediate impact.
The future Ute had an outstanding senior season, posting a 1.47 ERA in 43 innings pitched to go along with 50 strikeouts.
The aura of playing Pac-12 ball definitely was a contributor into Giffins' decision, and he's excited to play top-tier competition.
"I will get the chance to try and make it to Omaha [for the College World Series] which has been a dream of mine for the longest time," Giffins said.
The highlight of his career was throwing a perfect game his junior year against San Ramon Valley. The masterful performance drew statewide attention as the right-handed ace mowed down all 21 batters he faced.
It wasn't too tough of a decision when Giffins chose Utah.
"Once I stepped off the plane in Salt Lake I was definitely able to see myself living and playing there for the next few years," he said.
Sydney Hammill
Entering the pool to play water polo for the Bears of UC Berkeley next year is senior player Sydney Hammill. 
Hammill chose to attend Berkeley next year because of her love for the campus and program.
"UC Berkeley is strong academically and is ranked very high for water polo," Hammill said. "It gives a great balance between competitive athletics and academics."  
A dual sport varsity athlete competing not only in water polo but swim as well, Hammill has had a tremendous career at Cal High.  The Grizzlies' water polo team was among the best in school history her freshman season.
"Finishing fourth in NCS my freshman year was definitely a highlight of my time playing for Cal," Hammill said. 
Hammill also noted that the women's fourth place finish in NCS in 2015 was the highest championship finish in Cal water polo history.
Hopefully Hammill can maul the competition at Cal.
Brody Steinhart
Heading off to Nampa, Idaho, to play basketball for Northwest Nazarene University next year is shooting guard Brody Steinhart. 
Despite being out with a broken foot his senior season, Steinhart has rebounded tremendously and has his sights set high as he prepares to take the court with the Nighthawks next season.
Steinhart chose to play with NNU after talking with several other schools. The program and school was the right fit for Steinhart. 
"The community at NNU was super welcoming and I loved the coaching staff and players," Steinhart said. "The team was also very successful last year and I think it is a great program to be a part of." 
 Steinhart has had a tremendous career with Cal's basketball program and many lasting memories that have came with it
"Playing varsity for three straight years has been a great experience that will resonate with me for a long time," Steinhart said.
The Nighthawks now have a very solid player heading their way for the next four.
Mark Balleza
Linfield College in Oregon is getting a stud outfielder this fall in senior Mark Balleza.
After getting cut from Cal his sophomore year, Balleza showed heart and determination to not only come back and make varsity the following year but to have a prominent role and become a committed athlete before his senior season.
"I worked out, hit and threw, and ran everyday. I also did a lot of meditation and worked on my mentality," said Balleza when asked how he got to where he is today.
In addition to their great 
coaching staff and philosophy, Balleza is excited about the environment he will be playing in at Linfield.
"Linfield is a small school with a tight community which I really loved," Balleza said. "I felt that I can build a brotherhood with the team that will last the rest of my life."
Balleza is proof that a player can come back stronger after being knocked down. 
Amanda Robman
Shortstop Amanda Robman will be playing softball next season at Pomona College.
Robman is a standout both on the field and off. She's a remarkable student, making Pomona a suitable college for her.
"I love how Pomona gives me an amazing balance of academics and athletics," Robman said.
In addition to boasting an exceptional softball program, Pomona also has a reputation for being academically strong.
During her four years at Cal, Robman made sure to make close relationships with those around her while excelling both at short and at the dish.
"Softball at Cal has allowed me to make some of my best friends who I have had a lot of fun playing with," Robman said.
Karl Lovett
A standout on the water polo squad, Karl Lovett is committed to play at Wagner College in Staten Island, New York. Although Lovett's going from the west to east coast, he isn't fazed by the idea of meeting new people.
When asked about why Wagner seemed like the best place for him, Lovett said,     "It was because of   my new teammates and a love for the sport."
He's most excited to make lifelong friendships and has no doubt Wagner perfectly sets him up to do so.
Lovett was the starting driver for Cal water polo and was a key factor in a team that made headlines, finishing with a 16-10 record.
Just as he helped the Grizzlies exceed expectations, Lovett will definitely do the same at Wagner College.
Alexis Burt
Senior first baseman Alexis Burt is headed north to play softball at Simpson University in Redding.
The left-handed slugger was a mainstay at the first base bag through all of Cal's softball success in the past few years.
Burt was impressed with a lot of what Simpson had to offer.
When asked of what factored into her decision, Burt said, "The welcoming atmosphere of the school, small class sizes, location, and the successful softball program."
She will strive to become a stronger player at Simpson, but has other pursuits off the field as well.
"I want to make lifelong friends with my teammates, to travel, and to play at a higher level while working towards a degree," Burt said.
Burt is a huge part of a historic Grizzly softball group, and she will do great at Simpson University. 
Lainey Hanehan
An absolute stud on the softball team for four years, pitcher Lainey Hanehan is committed to the University of Northern Colorado.
After an impressive junior year, Hanehan threw nearly every inning of Cal's extremely successful 2019 season. 
The highlight of her career at Cal was placing first in the EBAL Mountain Division, and she was one of the main reasons that happened.
Hanehan felt that UNC gave her everything she needed in a college.
"I chose UNC because of the great coaches and extremely welcoming players that made me feel at home," Hanehan said.
She will look to take advantage of every opportunity she is given at the D-1 level as she did at Cal.
University of Northern Colorado is getting an ace in Hanehan.
Lexi Trucco
Midfielder Lexi Trucco will be an Aggie this fall as she committed to play soccer at UC Davis.
A multi-sport athlete, Trucco excelled in both soccer and lacrosse during her four years as a Grizzly.
"I love soccer and have been playing for as long as I can remember," Trucco said. "It has always been a dream of mine to continue playing at the collegiate level," Trucco said.
In addition to constantly being on the field, whether for soccer or lacrosse, Trucco was able to maintain exceptional grades, shining in the classroom.
Trucco set up her twin sister for goals many times, and reflected how amazing it was to always have Nikki by her side.
When asked of her favorite Cal sports memory, Trucco said,"being able to play with my twin sister, especially playing our very last season together our senior year."
This coming Oct. 13 is a date the Trucco twins are sure to save on their calendars this year as the sisters will go from teammates to rivals as UC Davis takes on Cal Poly SLO.
Dylan Lisle
Midfielder Dylan Lisle is committing to play lacrosse for Eastern University in Pennsylvania.
The multiple time varsity athlete hopes to stick the competition next year on the East Coast.
"I've always wanted to go east to play college lacrosse and I chose Eastern over other schools because of their lacrosse success, good education, and campus location," Lisle said.
 Lisle noted that some of his best memories playing for Cal were times where the team set unprecedented records.
"The highlight of my lacrosse career at Cal was beating Monte Vista for the first time in program history," Lisle said. 
JP Guimaraes
JP Guimaraes will be playing golf for California Lutheran University under the sunny SoCal skies next year. 
A three year varsity athlete and captain of Cal's men's golf team, Guimaraes is eagerly awaiting to start chipping away at the competition with the Cal Lutheran golf team. 
"Next year I am most excited about playing golf all the time and really improving as a player and as a person," Guimaraes said.
Playing for many years, Guimaraes feels that his experience and ability to perform under pressure will give him a leg up on his competition. 
After receiving several offers to play collegiate golf, Guimaraes decided on Cal Lutheran for its golf program and well rounded campus. 
"I wanted to be on a team that was competitive and could help me be the best golfer I could be," said Guimaraes.
Alex Zhu
Joining the Ivy League next year is senior golfer Alex Zhu, who is playing for Harvard University.
Zhu only played for Cal's golf team his freshman season, earning first-team All-EBAL honors. But he still stood out enough among his peers on junior golf tours to be recruited by the East Coast school.  
"The coach, and team environment were the best fit [for me]," Zhu said of Harvard. "[I'm most looking forward to] bonding with the team and winning Ivies."
With great competition coming, Zhu will need to outdrive the competition in all aspects of his game.