What it's like to be a fast food worker during the pandemic
Staffer Lorelai Slaydon gives a firsthand account into what it's like being an essential worker
Customer service and taking care of their staff has always been the highest priority for In-N-Out Burger, and the coronavirus pandemic is even more of a reason to show that.
After recently becoming an employee to the company I feel lucky to have obtained this job while many have lost theirs, or had their hours cut because of slower business.
As a fast-food worker for In-N-Out, my job is to provide great customer service, along with the proper food our customers asked for, accommodating for each need. Even with COVID-19, I see that the aspects of customer service shouldn't change, but the process of how we might go about attending our customers' needs should.
As an employee, I enjoy the feeling of being cared for by the business. To limit the chance of the exposure of COVID-19, In-N-Out decided it was best to close down the dining area and only keep the drive-thru open with certain procedures in mind.
One of the few new procedures that have been put in place is the usage of masks that the company has provided to employees.
Even though some employees believe "the masks and gloves are annoying [to work with]," they help ensure our own safety, as well as anyone who we work with or serve. It's also suggested by our managers that we wear our mask before we even enter the restaurant.
As we enter the restaurant we are asked questions about our health, such as if my family and I show any possible COVID-19 symptoms. Our managers also check our temperatures.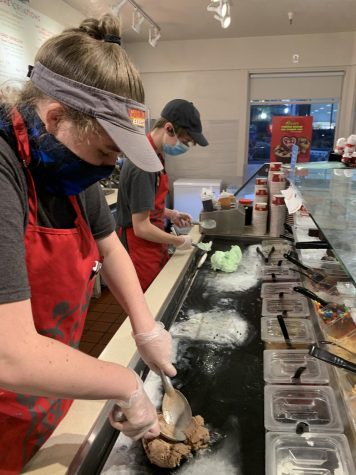 If no symptoms are shown, we sanitize our hands and head to the staff room, where we get dressed for work. Even though we use hand sanitizer it is always suggested that we wash our hands in the sink of the backroom too.
Another one of the new approaches to keep their workers and customers safe is at window jobs. We are now required to wear gloves while it's handing out food.
With the company doing so much for us, we always try to do what is best for the company during these times too. We take responsibility by not coming to work and reporting our symptoms if we are sick. After each shift at work, we wash the mask that has been provided to us, as suggested. 
Overall, In-N-Out does what it can to stay open to provide the community with food, as well as keep jobs running for their associates.