District board supports students returning to campus full time in the fall
A final decision is expected by mid-July
Students in the San Ramon Valley Unified School District will return to campus full-time in August if the school board has its way.
The district's Board of Education said it unanimously supports having students on campus for a full-time in-person schedule during Tuesday night's meeting streamed live on their YouTube channel.
Assistant Superintendent of Educational Services Christine Huajardo said the district recommends that school begins as scheduled on Aug. 11.
"Many of our students are anxious to come back in some capacity," Huajardo said, "and we do believe that that date is still an effective date that we need to consider."
Prior to the meeting, the district received feedback from parents through the Initial Input Survey, which was emailed to all parents in the district. Results of the survey helped in creating three proposed sample schedules for next year during the coronavirus pandemic. Students were last on campus on March 13, the last day of the third quarter for high school students.
The sample schedules were developed with input from the surveys, focus groups of parents and students, committees who represent the unions, and the district management team, said Danny Hillman, assistant superintendent of business operations and facilities.
The first option that is supported by the board calls for having students back on campus five days a week, six and a half hours a day. Nearly 46 percent of parents surveyed also support this option. The district hopes to make a final decision for reopening schools in mid-July, Huajardo said.
Although returning to in-class lessons would be the board's preferred option, board members indicated they would need to be able to adapt to future circumstances.
"It sounds like we're unanimous that we'd prefer the five-day [option], if we can do that," board member Rachel Hurd said.
But many students said they feel uneasy at the prospect of returning to campus full time.
"Considering that there's a potential in a second wave of coronavirus coming, I don't necessarily believe that administering all of our students by the start of school is the optimal solution," incoming Cal High senior Amanda Le said. "I understand that many would like to return as if it were normal, but taking as many safety precautions to ensure the student's safety is priority."
According to the updated key guidance provided by a Contra Costa County public health officer on June 22, students would have to maintain social distancing from four to six feet, according to the board's presentation. The presentation did not indicate who the public health officer was. However, the CDC maintains that "to practice social or physical distancing," one must "stay at least 6 feet from other people."
This restriction would force classrooms to physically adjust.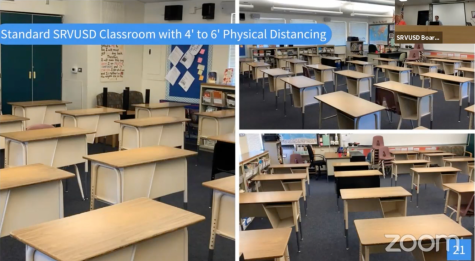 "Students will most likely be in rows facing forward," Hillman said.
Classrooms will also be cleared of all and any furniture besides student and teacher desks. Masks would be required for middle and high school students, and highly recommended for elementary school students, according to Hillman.
The second proposed option is a hybrid schedule that includes in-person class and remote learning.
"One of the things that we became very aware of was that COVID was going to be around for a while," Hillman said. "It became evident that all schools would be challenged in returning to school five days per week."
This option would consist of half remote learning and half in-person learning. With a hybrid schedule, high school students would attend school two days per week while split into two groups, according to one of one of the proposed schedules.
"For example, Group A would come on Monday, stay home on Tuesday, and come again on Wednesday," Hillman said. "Group B would come on Tuesday, mirror what was done on Monday, then come in on Thursday. Friday would be a flexible day for [different activities]."
Many students liked this option.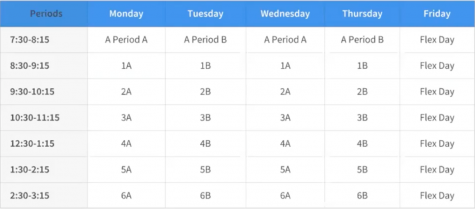 "I believe it's best and most effective to implement a hybrid schedule," incoming Cal High junior Melody Mulugeta said. "I feel like it's scary and unsafe to go back during a pandemic, but I do believe that in-school learning is more productive."
It is recommended by the district that special education students are on campus full time in the case of a hybrid schedule.
The third proposed option is a full-time remote learning plan similar to what district students experienced since mid-March. This option was the least popular among parents, with only 14.4 percent of those surveyed indicating that they supported full remote learning.
"All students would participate in remote learning from home, with an increased rigor, more interaction, frequent virtual instruction, and an improved structure for remote learning," Hillman said.
This option proved to be unpopular among incoming freshmen, who would miss out on their first experience of high school.
"[Full remote learning] would suck because I don't even know how to navigate the school campus yet," incoming Cal High freshman Hillary Kim said. "I'd rather go to school with masks on."
No matter the option the board selects, district administrators made it clear that families that feel uncomfortable returning to campus would have the option of doing full remote learning through Venture Independent Study or Resident School/Program Based Learning.
"That will be an option for all families," Hillman said. "We're prepared to design that if that's something that is wanted."
Huajardo also explained that social and emotional considerations will be highly prioritized.
"At the premise of any option we select, we want to make sure that our students are effectively supported and that we have systems in place where [students] have people they can talk to and that there are resources for families, students, and staff," Huajardo said.
No matter what option the board chooses, the grading systems will return to a standard A-F system for high school students.
"In any option presented, we feel it's crucial for grading and assessment to be in place," Huajardo said. "Secondary students should return to an A-F report card system."
The district will be hosting future live sessions to discuss other topics related to the return of school, such as physical education, lunches, recess, passing periods, transportation, athletics, and a finalized learning schedule.