It's time to check out these K-Drama shows
Editors share their favorite titles from across the world to spice up lonely quarantine lives
Winter time has finally arrived with the chilly, rainy weather and jolly holiday music filling the air. Yet here we are, still stuck in quarantine with another stay-at-home lock-down order in place.
We all have an abundance of time on our hands for this approaching winter break, so what's there better to do than lounge on the couch while bingeing some new shows?
With new dramas constantly being released onto streaming services like Netflix and Viki, more people have been indulging themselves into the rising K-Drama industry. Take a look at some of the drama recommendations that The Californian editors have in store, ranging from the emotional classics to the priceless latest shows. Just remember, unless you're fluent in Korean, you will be reading subtitles for these shows.
Kate's Top Five Recommendations: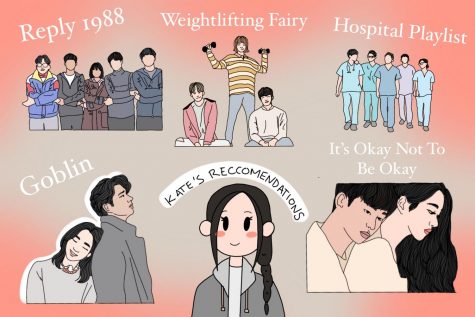 "Guardian: The Lonely and Great God"
More well-known as "Goblin," this fantasy-like drama connects parallels between the past and the present through the life of the Immortal Goblin, Kim Shin (Gong Yoo). After being sentenced to death and named a "traitor" in his past life, Kim Shin's punishment was to live forever, watching all his loved ones pass away. Only the Goblin's Bride could remove the sword from his heart to finally let him rest in peace.
The drama follows Ji Eun Tak (Kim Go Eun), a high school student who can see ghosts, also known as the Goblin's Bride. Prepare yourself for dehydration as you cry out all your tears while watching this one. (Available on Viki)
"Reply 1988"
Travel back in time to the 1980s! Taking place during the year of 1988 in the neighborhood of Ssangmundong, Seoul, South Korea, this drama dives us deep into the lives of five teenage friends: Sung Deok Soon (Hyeri), Choi Taek (Park Bo Gum), Sun Woo (Go Kyung Pyo), Kim Jung Hwan (Ryu Jun Yeol), and Ryu Dong Ryong (Lee Dong Hwi), and their families.
Whether it's getting into mischief in school or attempting to escape the struggles of family, the characters' stories send viewers through a variety of emotions while delving into a period of nostalgia. (Available on Netflix)
"Weightlifting Fairy Kim Bok Joo"
Make yourself feel a little less lonely this Christmas with this light-hearted Rom-Com drama. Taking place at the athletic college Haneol Sports University, aspiring female weightlifter Kim Bok Joo (Lee Sung Kyung), who never had any interest in dating, falls in love at first sight with a weight loss doctor, who happens to be her childhood friend's, swimmer Jung Joon Hyung (Nam Joo Hyuk), brother.
Filled to the brim with awkward, yet cute moments, this love triangle and the friendships built along the way will warm your heart eternally during these chilly winter days. (Available on Viki)
"Hospital Playlist"
If you've enjoyed the show "Grey's Anatomy," this one for you. Follow a group of five best friends through intense and blissful moments that occur in the lives of doctors. General surgeon Lee Ik Jun (Jo Jung Seok), pediatric surgeon Ahn Jeong Won (Yoo Yeon Seok), cardiothoracic surgeon Kim Jon Wan (Jung Kyung Ho), OB-GYN professor Yang Seok Hyung (Kim Dae Myung), and neurosurgeon Chae Song Hwa (Jeon Mi Do) juggle between work and personal life, facing the struggles of seeing the face of death nearly everyday.
Despite the stressful scenes in the hospital, this drama also brings us joy and teaches us the importance of family, friendships, and health. (Available on Netflix)
"It's Okay to Not be Okay"
Once upon a time, there lived a handsome caretaker, Moon Gang Tae (Kim Soo Hyun), who fell into tangles with a beautiful children's book author, Ko Moon Young (Seo Ye Ji), who doesn't know how to love. Growing up together with no parents, Gang Tae and his autistic younger brother, Moon Sang Tae (Oh Jung Sae), spent their whole lives running away from a so-called "killer butterfly" that supposedly murdered their mother.
Formatted similar to that of a children's fantasy book itself, this dreamy drama will take viewers through puberty once more with the roaring changes in emotions: giggling one moment and bawling the next. (Available on Netflix)
Christine's Top Five Recommendations: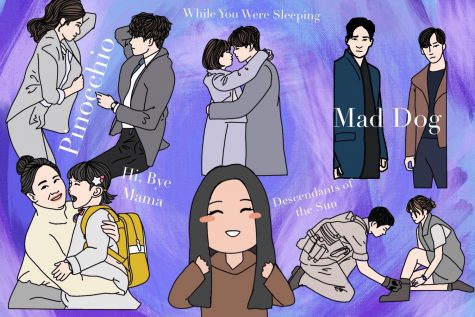 "Hi, Bye Mama"
Cha Yuri (Kim Tae Hee) is a ghost who has been dead for five years but has been rewarded life for 49 more days. Within those 49 days, if she is able to return to her original position as a mother and wife, she can remain alive. But her husband is now remarried and her daughter has a new mother.
Grab a box of tissues and get ready to dive into a roller coaster of emotions as the characters travel through the meaning of life, death, and everything in between, from friendships and enemies, to family values. (Available on Netflix)
"Pinocchio"
Fourteen years ago, Ki Ha Myung's (Lee Jong Suk) family was scapegoated by the media for a tragic accident. In the present day, Ha Myung attempts to restore his family's justice by becoming a reporter at the same company that led to his family's demise.
This drama will let viewers take a glimpse into how modern media works, while exploring themes like journalism ethics and privacy in media. With a tint of romance and comedy sprinkled in between, you can cry, smile, and laugh your way through Ha Myung's long but rewarding journey. (Available on Viki)
"While You Were Sleeping"
What would you do if you could see the future in your dreams? Nam Hong Joo (Bae Suzy) can, and she uses her powers to attempt to stop terrible things from occurring. But can anyone really change the future? She pairs up with the prosecutor who has moved in next door, using her powers to solve a series of mysterious cases.
Dive into this incredibly addicting drama as you explore the morals of justice, second-lead syndrome, a serial killer, and more. You won't regret it. (Available on Viki)
"Mad Dog"
For those non-romance genre fans out there, this recommendation is for you. "Mad Dog" takes viewers on a journey of five individuals all on a quest to uncover life insurance fraud cases, attempting to unlock the mystery behind the biggest case of them all – an airplane crash with clear signs of foul play.
This drama plays with the deep concepts of financial morals and family values, and how they affect everyday people. Your eyes will be glued to the screen, wanting to know what happens next. (Available on Viki)
"Descendants of the Sun"
While most travel plans may be canceled due to COVID-19, you can simply transport yourself to the beautiful fictional setting of Uruk in the Balkans in this drama. The main leads, a captain in the South Korean army stationed in Uruk and a highly respected cardiothoracic surgeon doing volunteer work in the same country, find their relationship at odds amidst the contrasting morals of their jobs.
This drama has a little bit of everything—thriller, action, comedy, romance, drama, and more. (Available on Viki)
Michelle's Top Five Recommendations: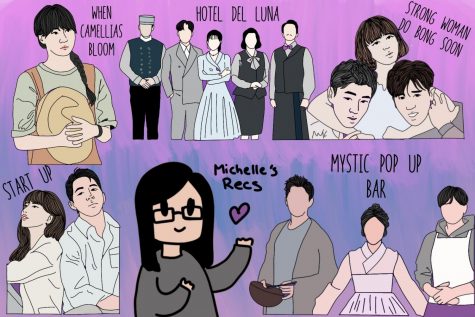 "Start-Up"
Taking place in South Korea's own "Silicon Valley" known as Sandbox, this drama follows Seo Dal Mi (Bae Suzy), a high school graduate with the dreams of becoming someone like Steve Jobs. She is helped by her first love and pen pal, Nam Do San (Nam Joo Hyuk), who is a mathematical prodigy with the goal of making a misunderstanding a reality.
It was so much fun learning about different aspects of starting a business from a show that has an ideal mixture of reality with idealism. "Start Up" has a great and unique start but honestly slows down a bit halfway through as it falls victim to cliches and typical tropes. Nevertheless, the show was a great watch as it instills that sense of empowerment in its audience, seeing the characters fall only to get up again. (Available on Netflix)
"When the Camellias Bloom"
The stigma of being a single mother is something Oh Dong Baek (Gong Hyo Jin) faces when she opens up a bar in the fictional town of Ongsan. As an outcast of the town for six years, she is surprised when cheerful police officer Yong Sik (Kang Ha Neul) declares his love for her.
This show is a great mashup of different genres from being a romantic comedy to a thriller as there is a serial killer on the loose, with Dong Baek as his target. This is one of my favorites to watch because all actors portray their roles extremely well. Plus, I love seeing Dong Baek glow. (Available on Netflix)
"Hotel del Luna"
Where do we go after our untimely deaths? Follow the moon and you'll find yourself in Hotel Del Luna where you can spend your afterlife settling your grudges and resentments to move onto your next life.
The show is beautiful from the cinematography to its soundtrack and poetic story. The characters all have their own stories to tell, ones where you'll find yourself crying and smiling as you learn more about them and see them move on. (Available on Viki)
"Strong Woman Do Bong Soon"
Don't underestimate her just because she's cute. Do Bong-Soon (Park Bo-Young) actually has superhuman strength, something only the females in her family have. But she can't use it selfishly or she'll end up like her mom. Easier said than done as a rich CEO of a gaming company hires her to be his personal bodyguard.
This show is a mix of all genres, you got action, comedy, romance, and thriller. Being one of the first shows I watched, this one was definitely special in its own way of being well written and well-acted. (Available on Viki)
"Mystic Pop Bar"
After committing a sin so great that it killed the sacred tree along with 100,000 lives, hot-tempered Weol Ju (Hwang Jung Eum) is forced to spend the last 500 years settling the grudges of 100,000 souls.
"Mystic Pop Bar" is fun to watch, taking a more comedic approach in a story about growth and moving on. The ending was extremely good, heartwarming as it concluded a story going on for hundreds of years. (Available on Netflix)