Virtual visit to Santa leads to the question: Why aren't we all getting immunity to COVID for Christmas?
St. Nick is hiding something and editor Nick Harvey is determined to get to the bottom of his big red bag
Last year, I wrote for The Californian about my experience of visiting Santa at the ripe old age of 15. I thought my interaction with St. Nick had ceased at that point, with my Christmas experience forever being devoid of Santa Claus. 
But little did I know, I would be wrong.
As we celebrate the year's best holiday in the middle of a once-in-a-century pandemic, it's important to remember how Jolly Old St. Nick and his North Pole operation is being affected. It's not, because as the world recently learned Santa is indeed immune to the coronavirus. 
"Santa, of all the good qualities, has a lot of good innate immunity," Dr. Anthony Fauci told USA Today on Nov. 20.
This begs the question: How exactly is Santa immune to the COVID-19? And can we use Santa's immunity to accelerate the development of a vaccine?
I decided to face my fear of the big red man once again and get the inside scoop.
Conveniently, last Saturday Santa happened to be visiting San Ramon's favorite giant aluminum box, our semi-beloved City Center. In front of the large storefront that has not yet been occupied by an extremely overpriced business that will likely die in two years, and behind a small grove of Christmas trees, stood a large flatscreen TV containing Santa.
On the screen, Santa sat on his chair and was dressed in his normal red attire. The screen was angled so Santa towered over me, like the Great and Powerful Oz looming over Dorothy. Unlike Dorothy, I hadn't been kidnapped by a tornado – though I might as well have been if I knew I wasn't going to find my answer.
Unlike last year, where I had to wait awkwardly behind a long line of tiny children, the line this year was extremely short. Sadly, visiting the jolly old fat man isn't worth it when he isn't even there in person.
Even worse, I forgot to ask Santa my question. Yes, that's right. It's as if Edmund Hillary just suddenly forgot to ascend Everest, or if George Washington just forgot to found a country. Then again, isn't visiting Santa at 16 pretty pointless anyway?
Down on my luck (or rather, my memory), I decided to send a message to Santa and ask him my question. Through a quick search, I found a very sketchy-looking website that claims to send a letter instantly to Santa. 
I wrote to Santa that I wished for a vaccine, and I additionally asked him how he was immune to coronavirus. His reply was nothing short of breathtaking. No mention of my requests whatsoever.
"The elves have been very busy this season making wonderful new things for you," wrote Santa.
Not only did I get a form letter, I also likely contracted multiple computer viruses from the 2005-esque page design.
At my last wits, I decided to scour the web for any piece of information that could help us solve our problem. At last, I found it.
Neal Hoffman, the creator of Mensch on a Bench (the Hanukkah variant of Elf on the Shelf), told Newsweek, "We are pleased to say that this immunity appears to extend to many members of the magical variety", in reference to both Santa and the Mensch.
Did you catch that? Magical variety. Magic.
Santa isn't immune to COVID because he's secretly hiding a vaccine somewhere under the North Pole. Santa isn't immune to COVID because he has antibodies. He's immune to the virus because he's magical.
The implications are eerily clear. Santa isn't unable to provide his immunity to us because of some scientific, earthly limitations. Santa could use his magical powers to grant us all immunity to the virus that is plaguing our world.
Except he isn't.
Why?
Santa's character becomes even more tarnished when we review his workplace safety protocols. Dr. Greg Poland, the director of the Mayo Clinic's Vaccine Research Group, told USA Today there have been two mild infections of COVID-19 at the North Pole, both of them amongst the elves.
This begs the question: why are the elves succumbing to COVID, despite their boss' immunity to said virus? Why is Santa not granting his immunity to them? If Santa can power a sled with several reindeer, and somehow have the stamina to fly to every house on Earth to deliver presents, surely he could grant us his immunity?
Not only did Santa endanger the health of his elves, he also is sacrificing his own wife. When I visited St. Nick, Mrs. Claus was standing there, live and in-person. 
While the world has been saddled with fighting a pandemic, Santa has sat on his large, cushy behind and decided to ignore the world's plight. Meanwhile, he is blatantly putting his own workers and wife in harm's way.
For the first time in history, a pharmaceutical company has proven itself to be more moral than the man who literally gives presents to every child on Earth.
Childhood ruined. Merry Christmas.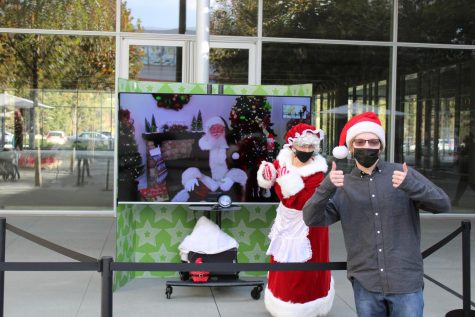 About the Photographer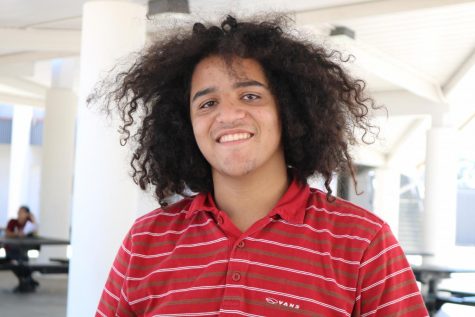 Logan Visola, Photographer
Logan Visola a senior, as well as a returning photographer for The Californian. His interests are competitive gaming, photography, and video editing. ...