Cal's new club focuses on making original films
Film club does everything from writing scripts to making final movie edits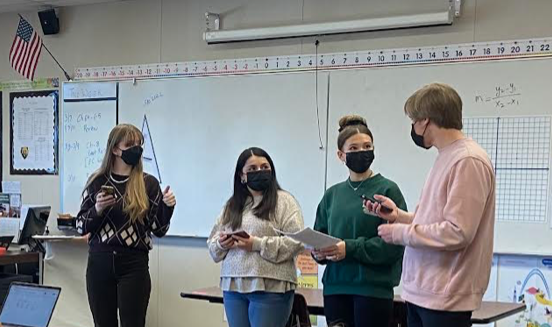 "I never really cared about not being the same as those around me. But that doesn't mean I don't want to be the same."
Junior Brianna Marbella writes these lines in her first screenplay for Cal High's Film Club,  focusing on themes applicable in every high schoolers day to day life.
 With this new club on campus, students now have the opportunity to gain experience and knowledge about film making and the production process.
Junior Aleeza Zakai, the president and founder of the  film club, has great plans in store for this year and the future.
"Film club is a place for like-minded students to get together and make productions," Zakai said.
Her goal was to create an authentic crew, similar to what could be found behind the scenes of any big time production, and make 100 percent student-run films. The club plans on creating multiple productions all at once so that each screenwriter has the opportunity to have their scripts acted out and on film. 
Senior Ellie De Jesus, a screenwriter and director for their upcoming film, plans to pursue acting and directing as a career. Gaining experience onstage as an actor through Cal's theater program, the Film Club was a perfect way for her to get familiar with what goes on behind the scenes
"It's cool in Film Club that I get the opportunity to be behind the scenes because it's a different perspective," De Jesus said. "I love doing both and it's a nice opportunity."
The club's screenwriters have created a variety of unique story lines. This includes mysteries, dramas, and coming-of-age stories. Each of the films share important themes and express a great deal of symbolism.
 Marbella shares her excitement about producing her story into a film and can't wait to gain experience creating a film to express important lessons.
"The lesson I want to be taught through [this film] is that if you seek happiness, you won't get it, it has to be natural," Marbella said.
After writing the scripts, the club moves into the preproduction stage which means finalizing scripts and scenes and having actors practice through their lines. The next step is the production stage, which includes the actual filming and recording. The last stage is post-production, where  editing is used to add visual and sound effects.
The club worked together with De Jesus' plot idea to execute the perfect story. De Jesus shared that the plot line follows a girl who wrote disturbing stories in a notebook that all resulted in death. Years later, these stories turn into  reality as they begin to happen in her life just weeks before her 16th birthday. The protagonist and her friends are determined to stop these horror stories from happening. 
Freshman Sami Kuncharapu is already eager to feed her passion for film acting in this club while also dipping her toes in other aspects of film making  to gain perspective on the process of it as a whole.
"With the film club you can experience a little bit of screen writing, acting, producing," Kuncharapu said.
Zakai hopes members will leave having gained some knowledge and experience about how film production  works and what interaction between colleagues feels like. 
The club completed their first day of shooting their short film "Truly 16" last Sunday. The actors and film crew met on campus to use as their set for the film.  
This new club available to Cal students has become a gateway to new opportunities in the film world. The club has the possibility to open doors for students to enter festivals and receive national recognition, Zakai said.
"A lot of our members are planning on going into the industry and really, there are not a lot of opportunities in the area we live in to get involved as a student," Zakai said. "If you're even slightly interested at all in any component of film making, this is the place you want to do it. It's flexible, student-run, and no adults restricting your creativity" and telling you what to do."