Cal student stands against bullying in documentary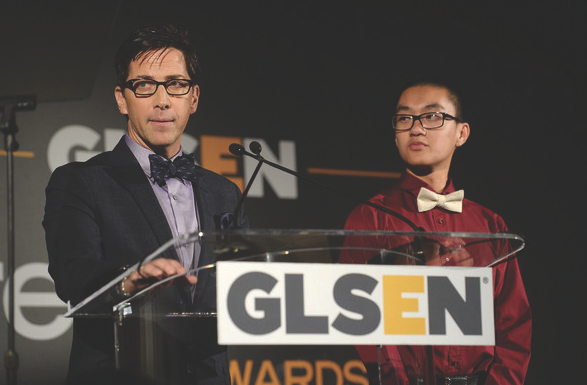 Erica Drake, News Editor
November 22, 2013
While some students spent their summer hanging out or doing homework, junior Matthew Yeung spent his becoming a celebrity.
After becoming a student ambassador for Gay, Lesbian, and Straight Education Network (GLSEN), Yeung attended a four-day media summit in Los Angeles, where he participated in the filming of an anti-bullying documentary and commercial.
He also took part in a national media campaign for GLSEN, an organization that works to ensure schools will be free of bullying and harassment based on sexual orientation, gender identity, or gender expression.
After a rigorous application process, Yeung beat out 600 hopefuls to become one of nine student ambassadors in the country.
The GLSEN blog describes student ambassadors as students that have "proven to be outstanding advocates for LGBT students in schools."
Yeung has definitely proved himself as he was interim President of Cal High's Gay-Straight Alliance(GSA) club his freshman year and the club's secretary his sophomore year. He was recently elected to the GSA Network California statewide Advocacy Council.
"He has always wanted to be part of something big that would help make a difference in the world," said friend junior Vidhi Amin.
GLSEN sent Yeung and the eight other ambassadors to a four-day media summit in Los Angeles where they met with professionals from television networks, such as ABC7 and HBO, as well as print publications, such as the Huffington Post, The Advocate, and Fandango, according to the GLSEN blog at blog.glsen.org.
At the summit, Yeung was constantly busy, between filming the documentary and commercial, attending photo shoots, and meeting celebrities.
The documentary Yeung filmed was for ABC News, Disney Studios, and the Annenberg Learner Foundation, which uses media and telecommunications to help improve teaching in America. It is geared toward teachers who are working towards their credentials to equip them with skills to deal with bullying.
But Yeung said that more than the documentary he enjoyed filming an anti-bullying commercial sponsored by Post-its and GLSEN.
The commercial premiered in October on ABC Family and Disney XD to an estimated 6 to 10 million viewers, Yeung said.
Yeung filmed both the commercial and the documentary on his second day at the summit for eight to 10 hours, a slightly intimidating task.  Both can be viewed on the official GLSEN YouTube channel.
"There are hundreds of people working for [me] so it was kind of scary," he said.
During the final days of the summit, GLSEN sent the student ambassadors to photo shoots, where they met celebrities such as Perez Hilton for a national media campaign promoting the organization. They are to be featured on billboards to promote GLSEN sometime next year.
Yeung admitted he had never really been interested in media before becoming a student ambassador and attending the media summit.
"I was really surprised that I got in, in the first place," he said.
While he has not always been interested in media, Yeung has always been a strong advocate of equality and sees the merit in using media to help promote anti-bullying.
"Media is one way for me to share and expand my passion," he said. "Media is definitely a useful tool to advocate."
Yeung said spending time with the other students at the summit was a good experience.
"All the other ambassadors inspire me a lot," he said.
GSA club adviser and Spanish teacher Julie Gilbert sees Yeung as an inspiration as well.
"He's really outgoing and he speaks up for what he believes in," said Gilbert. "I think it's not easy to come out when you're in high school and he's a good role model for the school community."
Yeung said because of his time at the summit, he has started the school year more confident than before.
Friend Vidhi Sachdeva has noticed the difference in Yeung's attitude this year.
"He's always cared a lot about other people and equality but ever since GLSEN I've seen a huge change," said Sachdeva, a junior.  "He's a lot more outgoing and ambitious now than he was before the documentary and I honestly believe that making this film has helped him more than anyone else."
But Yeung's role as a student ambassador doesn't stop with the summit.
Yeung went to Los Angeles on Oct. 18 to attend the GLSEN Respect Awards, an annual red carpet event held in Los Angeles and New York to honor those who have made a significant difference regarding discrimination and who serve as good role models.
Because of his role as a student ambassador, Yeung was able to attend the event for free and rub elbows with celebrities from shows like "Glee," "White Collar," "Doctor Who," and "The Big Bang Theory," as well as several YouTube stars.
"The Respect Awards was an inspiring and motivating event," said Yeung. "Aside from the red carpet and the media attention, bringing awareness to LGBT bullying is important to me."
Yeung will also be going to Washington, D.C., next year to help pass the Student Non-Discrimination Act and the Safe Schools improvement Act.
The Student Non-Discrimination Act is a bill that would prohibit the discrimination in public schools based on actual or perceived sexual orientation or gender identity, according to the GLSEN website.
Students can read more about the bill by going to www.glsen.org/learn/policy/federal/SNDA.
The Safe Schools improvement Act would require all public schools K-12 to enact an anti-bullying policy for protection against bullying because of gender identity and other similar areas, according to GLSEN's website.
As part of being a student ambassador, Yeung has set up a YouTube channel series answering questions about sexuality as well as a Twitter account:
@YeungChewy.
"It's really cool to get messages from people telling me that I inspire them," Yeung said. "Knowing people look up to me makes it all worth it."