Sophomore kicks off football career
Hang on for a minute...we're trying to find some more stories you might like.
Although it seemed like just another football season for the Cal High Grizzlies, there was something slightly different this year: one of the JV kickers was a girl.
Sophomore Olivia Duba has set a new standard at Cal for female athletes by joining and suiting up for the JV football team.
As a child, Duba was never into playing dolls and hosting tea parties. Instead, she enjoyed playing football and other sports with the guys.
Duba has played soccer for 11 years, and last year was on Cal's JV soccer team as a freshman. She had no formal football experience before this year, but was introduced to the idea of joining the team when her freshman PE teacher and varsity football coach, Eric Bellici, asked her if she would be interested in kicking for the JV football team this season.
"When Mr. Bellici asked me about joining the football team, I was all for it," Duba said. "I have not played football before, but I really wished I did."
Duba mainly kicked PATs (point after touchdown) and sometimes performed kickoffs for the team, which finished the season 5-1 in league and 8-2 overall. She attempted and made her only field goal, a 22-yarder, and hopes to become more than a kicker next year.
"Kickers have the good life," said Duba, who would like to be a running back for the team next season. "We only go to practices on Tuesdays and Thursdays, and games on Fridays. We don't have to participate in any conditioning with the rest of the team, but I am in the sports conditioning class with my teammates."
Although she can't be in the same locker room as her teammates, she is treated no differently on the field. Her teammates respect her abilities and encourage her to push herself every day.
"I think it's great Olivia is on the team," sophomore JV football player Zack Gamble said. "She contributes a lot and is a solid player."
Although Duba is mostly viewed as just another one of the guys on the team, some of her teammates admitted that they have to treat her a little differently.
"We can't talk in ways that would offend her," sophomore teammate Jagger Gin said, "and we can't high five her in places we would any other teammate."
While this is a new direction for Cal football, other schools such as Amador Valley in Pleasanton include girls on the football roster. Girls participating in all male sports are becoming a trend, not only in EBAL, but also nationwide. There has been a 17.5 percent increase in female high school football players within the past four years, according to ESPN.com.
It has become increasingly accepted for a girl to play on an all-male team, or even on a sports team at all. In the past, it was impossible for girls to join high school sports teams until Title IX was passed in 1972. Title IX is a civil rights law prohibiting discrimination in education programs and activities, such as high school athletics.
Because of this law, an equal number of male and female sports need to be offered at schools. If a female equivalent of the sport is not offered, girls can join the boys' teams, just as Duba has done.
"She has a strong leg and a stronger demeanor than most of the guys," Bellici said. "She's a tough girl and that's what stood out to me."
Although injury concerns have become a huge problem in football for parents of players, Duba's parents don't have a problem with her playing a violent, predominately male sport.
"When Olivia asked me to sign the permission slip, I didn't hesitate for a minute," said Olivia's mom, Kathryn Collins Duba. "Since she's kicking I don't worry too much, but I have to admit I am taken aback by how big some of the players are when they line up against her."
Ironically, opponents usually don't even notice Duba's a girl until after the game when helmets come off and teams shake hands.
"My teammates really look out for me and encourage me to do my best," Duba said. "It really feels good to be part of such a supportive team. I strongly encourage more girls to come out and play football."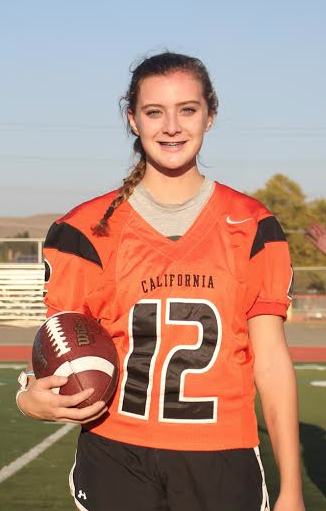 Most opponents only notice that Olivia Duba is a girl once the helmets come off at the end of the game.