Grizzlies take their studies abroad
Six seniors will spend at least a few years of college out of the country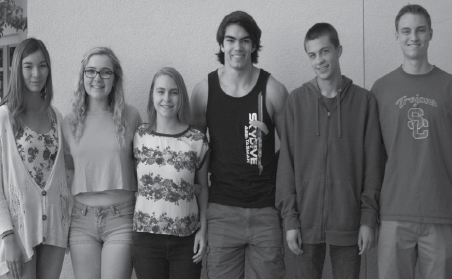 For many seniors, the transition from high school to college signifies the beginning of a new era of exploration and independence.
But a handful of students are about to take a bigger leap than some of us can even begin to imagine.
Seniors Luke Campopiano, Camila Craig, Jared DeVilbiss, Craig Hughes, Vanessa Lamare, and Samantha Merjano will all be studying overseas for at least part of their college careers.
DeVilbiss plans to spend his first year at the University of Southern California before moving to Hong Kong his sophomore year and Milan his junior year.  He never imagined that he would study abroad.
"This USC rep came to school one day talking about a study abroad program. I applied, but never expected to get in," said DeVilbiss. "I chose them because they are both great schools and focus on different aspects of business, finance for Hong Kong and international business for Milan."
DeVilbiss plans on majoring in business and finance and believes that studying abroad will give him a wealth of new important experiences that he can take into the real world.
Like DeVilbiss, Campopiano will be attending a college in the states his freshmen and senior years, while spending his sophomore and junior years overseas.
Campopiano is attending College of William and Mary in Virginia and University of St. Andrews in Scotland as part of a joint degree program.
"I really liked the program and the opportunity to get a degree from both countries," said Campopiano, who plans to study history.
For Craig, who will be attending American University in Paris, going to school out of the country isn't a foreign concept.
"I'm kind of used to it already because I moved here from Peru [last year] and my whole family is still in Peru," said Craig.
Craig intends to pursue a career in journalism and is majoring in literature.  Although the idea living in Paris may seem daunting to some, Craig is looking forward to meeting more students like herself.
"I hope to meet more international students there," she said. "I speak four languages and sometimes I feel out of place here, so I feel like I'll fit in. It's an adventure, and I'm excited about it."
Hughes is taking his adventure and aspirations to New Zealand, where he plans to attend aviation school for the next 18 months.
"I've always wanted to be a pilot, ever since I was little," he said. "It wasn't until this year that I considered going to aviation school, I always thought I would go to college first. I decided that this was the right thing for me."
Hughes hopes the transition between high school and college in another country will be made easier because he has family living in New Zealand whom he visits often.
"I'm already a citizen of New Zealand, so I think [the transition] will be…interesting," he said. "I won't say it'll be easier, but I do have family there so it could be a lot worse."
For Lamarre, family was also a core factor when it came to her deciding to go to the University of Ottawa in Canada.
"I was the only American born citizen in my family, everyone else was born in Canada," she said. "So I'm looking forward to going back and living there and being part of the culture."
Despite the presence of some familiar faces, it's clear that it will still be tough to leave behind the home she grew up in.
"My parents and sister are probably not going to move with me, and we've all become so close since we're the only family that we have here in America. I'm really going to miss them," said Lamarre.
Merjano is also heading to Canada to study animal biology at the University of Guelth in Ontario. Merjano is already a Canadian citizen and hopes to become a veterinarian.
"I hated it at first because when I visited it was 115 degrees, but then I got into their honors animal biology program, which is ranked number four in the world and I had to go," she said.