Cal's Podcast King
Senior Cameron King's Attic Antics features students and teachers in a cool, relaxed setting
At the beginning of the school year, senior Cameron King's psychology class was asked to present their short-term and long-term goals.
As King listened to his fellow classmates present their goals, he noticed that everyone's short term goals were the same.
"I wasn't about that," Kingsaid. "I wanted to be different,"
With that in mind, King said that for his short-term goal he was going to start a podcast.
Prior to his psychology presentation, King had been thinking about making a podcast for more than a year. His main inspiration stems from Joe Rogan, the comedic podcast host of The Joe Rogan Experience. He values Rogan's philosophy on human connections and how he creates a safe space for people to express themselves.
King intended to create his own podcast so that he could develop deeper connections with people. He wanted to create a space and time to simply listen to individuals and engage in great conversations.
"I think that's something we take for granted," said King, who named his podcast Attic Antics. "I call it Attic Antics because it's straight to the point. I film it in my attic and there are antics."
Since August 2019, King has created 48 podcasts which are currently available on Spotify. He tends to upload one podcast every week, but this frequency is subject to fluctuations. King conducts podcasts with mainly Cal students. The podcasts that he creates at school are called School Antics.
"It's funny. It's cool," senior Caelan Chamberlain said."He's like Joe Rogan, but he's Cameron."
King has discussed topics ranging from political and social issues to movies and music.
"The last podcast we did focused on the impeachment trial, but we've also talked about a lot of movies," said senior Alex Suhy, who's done numerous podcasts with King.
King's podcasts are simple, unrehearsed conversations in which students can talk about anything they desire.
"Cameron's mind is very open and his platform is an open discussion for people to just share ideas without much constraint," said senior Paul Jin, who has been featured in several podcasts. "It's so carefree, there's no pressure."
"Part of the beauty is that there's no script and it's just wherever the conversation take you," Suhy said.
King doesn't limit his podcasts to students. He conducts podcasts with teachers as well.
"When I make podcasts with adults, I have a deeper level of respect for them because they have more knowledge than I have due to their experience," King said.
Marine Biology teacher Doug Mason is one of the teachers with King created podcasts. Mason and King have discussed how Mason got into his field and the more general topic of climate change.
"I love Cameron's attitude," Mason said. "I love when he gets really excited and he seems to be really interested in the ocean. I enjoy being around him."
King values the beauty of engaging in simple yet meaningful conversations with others.
"When you engage in something long form, you really bring out the things you wouldn't get with just a passing in the hall or a brunch conversation," King said.
King's podcast-making has had a positive influence on students' lives.
"We did go into some deep territory and it felt really good to purge that from my soul at the time," senior Jake Emerson said.
Podcast-making has also been enjoyable for students.
"It was pretty fun," junior Gavin Preisser said. "We talked about Pixar for an hour and 15 minutes."
Equipped with his iPhone and laptop, King plans to continue making podcasts in the future.
"All podcasting really is, is a formal conversation," King said. "Formal conversations are never going to leave any of our lives."
No matter the location or circumstances, King will keep striving to listen to others and allow their opinions to be heard.
Listen to 'Attic Antics' on Spotify here.
About the Writer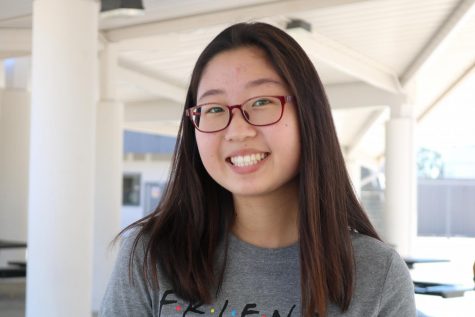 Jeana Lee, Staff Writer, Photographer
Jeana is starting out newspaper this year as a reporter and photographer. She's very excited to finally take this class as a senior. Journalism is something...