Freshman excels in history competition
Michael Bahk advancing to statewide division on May 8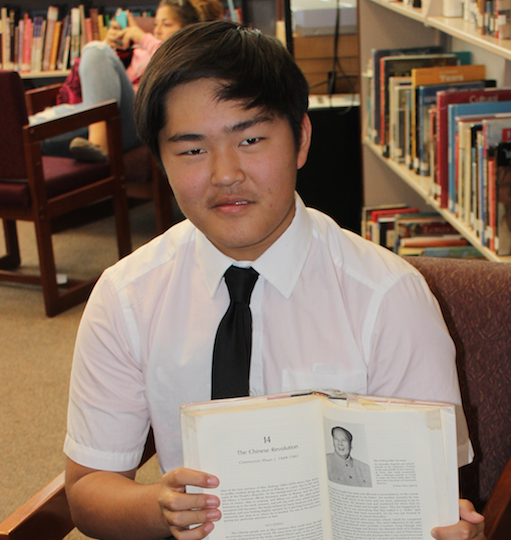 Hang on for a minute...we're trying to find some more stories you might like.
It's not everyday you meet a history genius who is only a freshman.
Michael Bahk recently won first place in the performance category of the Contra Costa division of the National History Day Competition.
His accomplishment advances him to the  statewide division of the competition in Rocklin on May 8.
The competition is judged by historians and teachers, and offers many categories for the elementary, middle, and high school students. About 300 students participating overall.
After selecting a historical topic that relates to an annual theme, students conduct extensive research by using libraries, archives, museums, and oral history interviews.
Bahk is interested in Asian history and learned about the competition while looking online for academic competitions in the Bay Area.
"I wanted to challenge myself and learn more about history outside of school," said Bahk. "(The competition) was a really great learning experience and a lot of fun."
Bahk prepared for the competition by spending hours researching famous Chinese leader Mao Zedong online and writing many drafts of his speech.
"I think it's really interesting how Chinese governments in the past handled issues," said Bahk. "They had really different technologies than Western nations and unique ways to solve problems."
The competition has many different categories. Students can write research papers, create websites, or act in a dramatic performance, the category in which Bahk decided to enter.
For this category, he had to choose a figure in history and impersonate him. The judges then grade him on historical accuracy, costumes, props, and acting ability.
Bahk chose to portray a worker under the rule of Zedong.
"Mao Zedong is a controversial character because although his citizens chose to die willingly, he ended up killing lots of them through his actions," said Bahk. "But ultimately he was successful in his goals because he focused on each problem one by one and then moved on to the next one."
Bahk made his own costume and props for the competition. His character, a Chinese farmer, mused about both the positive and negative aspects of living under Zedong's rule.
Upon first arriving at the competition, Bahk was somewhat nervous.
"There were a lot of people who had been doing this for years and had lots of props and costumes," said Bahk.
Luckily, all of his hard work paid off, and he placed first place in the competition. Now he is busy preparing for the statewide competition in May.
"The judges gave me a sheet of notes on how I could improve my performance, so I'll review those before the state competition," said Bahk.
If he places in the top three at the state competition, Bahk can compete in the national competition in Washington, D.C.
"Based on his work ethic, I think Michael will do really well at [National History Day Competition]," said freshman Cameron Harris, Bahk's friend.
An avid writer, Bahk has competed in many writing contests. He won the Student Recognition Project for creative writing this year.
He had initially wanted to compete in the writing portion of the National History Day Competition, but selected the performance category instead to add variety to his activities.
Bahk's first semester world geography teacher Brian Long believes his former student has a lot of potential and will represent the county well at the state competition.
"Michael has all of the skills and knowledge to compete and do very well in a history competition," said Long. "He was always a very good student in class."
In addition to history, Bahk is interested in singing and is a member of the San Francisco Boy's and Men's Choir.
A baritone, he sings opera music in Latin, Italian, French and English. The choir is nationally recognized and performs at concerts all over the Bay Area.
He is also a talented musician who plays the saxophone. Bahk is a member of the Cal High band,  and he won an honorable mention in the Student Recognition project for his saxophone piece.
In the future, Bahk would like to study at a liberal arts college.
"It'd be cool to go somewhere like Vanderbilt," said Bahk, who is unsure what he wants to study in college.
Based on everything Bahk has accomplished so far, one can expect Bahk to do very well in the upcoming competition.
"I wish him the best of luck," said Long. "I'm sure he'll make Cal High really proud."