Day of Silence now part of Pride Week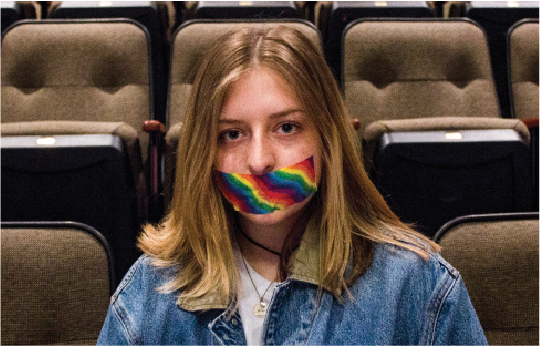 Hang on for a minute...we're trying to find some more stories you might like.
For the first time ever, Cal High's Gender Sexuality Alliance Club (GSA) and leadership have partnered up to create Pride Week, a week dedicated to raising awareness for the equality of members in the Lesbian, Gay, Bisexual, Trans, and Queer (LGBTQ+) community. 
Pride Week, which took place from April 19-21, included activities that allowed students to show their support for members of the LGBTQ+ community. 
During lunch, pins and M&Ms were passed out. There were also Spirit Days each day of the week, with the actual Day of Silence at the end of the week, on April 21.
Thousands of people across the nation participated in Day of Silence, a silent protest to represent the individuals within the community that are restricted from having a voice in the classroom and in public.
Day of Silence has been an event that Cal has participated in for more than five years.
However, LGBTQ+ related events have not been a popular motion within the San Ramon school district. In the past, some students who participated in Day of Silence faced oppression from their fellow classmates and teachers. 
"I did have a teacher and some classmates who kept trying to get me to talk and who would kind of tease me about it," said an anonymous student.
Because there were some complications last year when Windemere Ranch Middle School had its own LGBTQ+ awareness week, Pride Week, despite its name, lasted only three days.
"GSA, admin, and leadership agreed that it would be better to ease into it," said leadership student Samantha Meier. "We knew that high school students and parents are not always accepting. We knew there was going to be backlash. This is the first year and we all agreed that it was better to start with three days."
Meier was the first student to come up with this idea and presented it to GSA and leadership, which helped put the plan into action after seeing what Windemere Ranch did last year. 
Windemere Ranch was the first school in the San Ramon Valley Unified School District to host its own pride awareness week at school. 
Upon learning of this event, many parents started a Conservative Rights Petition and began to collect signatures to protest against the Pride Week. 
According to the petition posted on the change.org site, parents wrote, "The activities and week-long pressure planned for Acceptance Week will likely bring humiliation to students not in agreement with the LGBTQ+ lifestyle."
Compared to Windemere Ranch's Pride Week, Cal had a very successful experience with many students, teachers, and parents showing their support. 
Many students and teachers dressed up to match the Spirit Day colors, and many students had positive comments about Pride Week. 
"It was nice to see the school come together in support of people who may not feel as accepted by their peers," said senior Marie Gredell.
Added GSA vice president Aryana Nabavizadeh, "Both students and parents were very supportive and were very involved with the idea. There were just a few posters ripped down but, what's new?" 
At the Break of Silence event after school in the library on April 21, senior Saadhana Deshpande, sophomores Briana Berastain and Aimee Carvajal gave a presentation about GSA and the importance of the LGBTQ+ community.
There were discussions regarding LGBTQ+ climates at Cal, types of sexual orientation and heteronormativity, as well as identity, expression, and orientation for genders.
At the end of the event, there was an open mic for anyone who wanted to speak. 
There are many other ways to support the LGBTQ+ community, even after Pride Week. 
"Coming to GSA would be one," said GSA adviser  Brandon Quick, who teaches AP Psychology. "You can hear what the issues of the community are and find ways to help out with that." 
GSA meetings are on Tuesdays in Room 109. 
Other ways that students can support the LGBTQ+ community is looking online to see what pride-related events are offered. These activities could include parades, protests or meetings. 
"Don't be afraid to get involved," said Nabavizadeh. "Even if it's not your battle to fight, don't make that an excuse to not stand up for your fellow peers or for what you believe is right."
GSA and leadership are looking to increase the length of Pride Week to a five days next year and to add more activities  to expand student, parent, and teacher involvement. 
The school is looking into adding  teacher trainings,  guest speakers, and more student panels.